Before starting an eCommerce business, the first question in every merchant's mind is, "How much is it going to cost to build my online store?" It is critical to understand the costs beforehand so you can weigh the risks and determine your Return of Investment (ROI). Unfortunately, knowing the cost to build the store will not completely answer your question. The better question to ask is, "How much will it cost to own my online store?" The ongoing costs associated with the eCommerce site are equally or in some cases more important than the initial costs. To help illustrate, let's talk about eCommerce Total Cost of Ownership (TCO).
Total Cost of Ownership or TCO is the sum of all direct and indirect costs of a certain product or service. For eCommerce, Total Cost of Ownership represents the sum of all initial and ongoing costs related to the continued development and maintenance of a website (including all extensions (modules) and third-party integrations).
Why does eCommerce Total Cost of Ownership Matter?
Often, eCommerce Total Cost of Ownership is initially overlooked. Merchants are more focused on development costs and driving toward the go-live when they can start to sell and generate revenue. But considering TCO early can provide deeper insights and help to inform planning. Moreover, TCO clarifies longer-term expenses and risks. Let's explore the benefits of TCO in more depth:
First, Total Cost of Ownership helps the business evaluate

ROI or ROTI

(Return on Time Invested). This metric is crucial to any business because it demonstrates the profitability of an investment and if the time investment will deliver a return.

Second, TCO helps the merchant to

choose between different eCommerce platforms

. Calculating the Total Cost of Ownership for 3 or 5 years may reveal significant differences in platforms.

TCO gives you an

understanding of hidden and ongoing costs

. Many costs are not obvious and can significantly impact profitability. When included, these costs help to further clarify your financial situation.

TCO can impact your overall

eCommerce strategy or even provide the starting point to building the strategy. How fast should the business grow? When do you break-even? TCO can provide answers to answer these questions.

Calculating TCO is usually part of broader strategy development that includes a compilation of

a checklist of activities for the project

. After the process is done, you have a clear understanding of milestones and how to prioritize investments.
The Approach to TCO Calculation
To simplify the process of calculating eCommerce Total Cost of Ownership, let's divide costs into two areas, Initial or CapEx (Capital Expenditures) and Ongoing or OpEx (Operating Expenses). Of course, initial costs will be easier to calculate, but as your online business grows, it's the ongoing costs that will have more impact.
The best practice would be to calculate TCO for 3-5 years. Even if you are estimating some of the numbers, this will increase your planning horizon and improve visibility to future costs.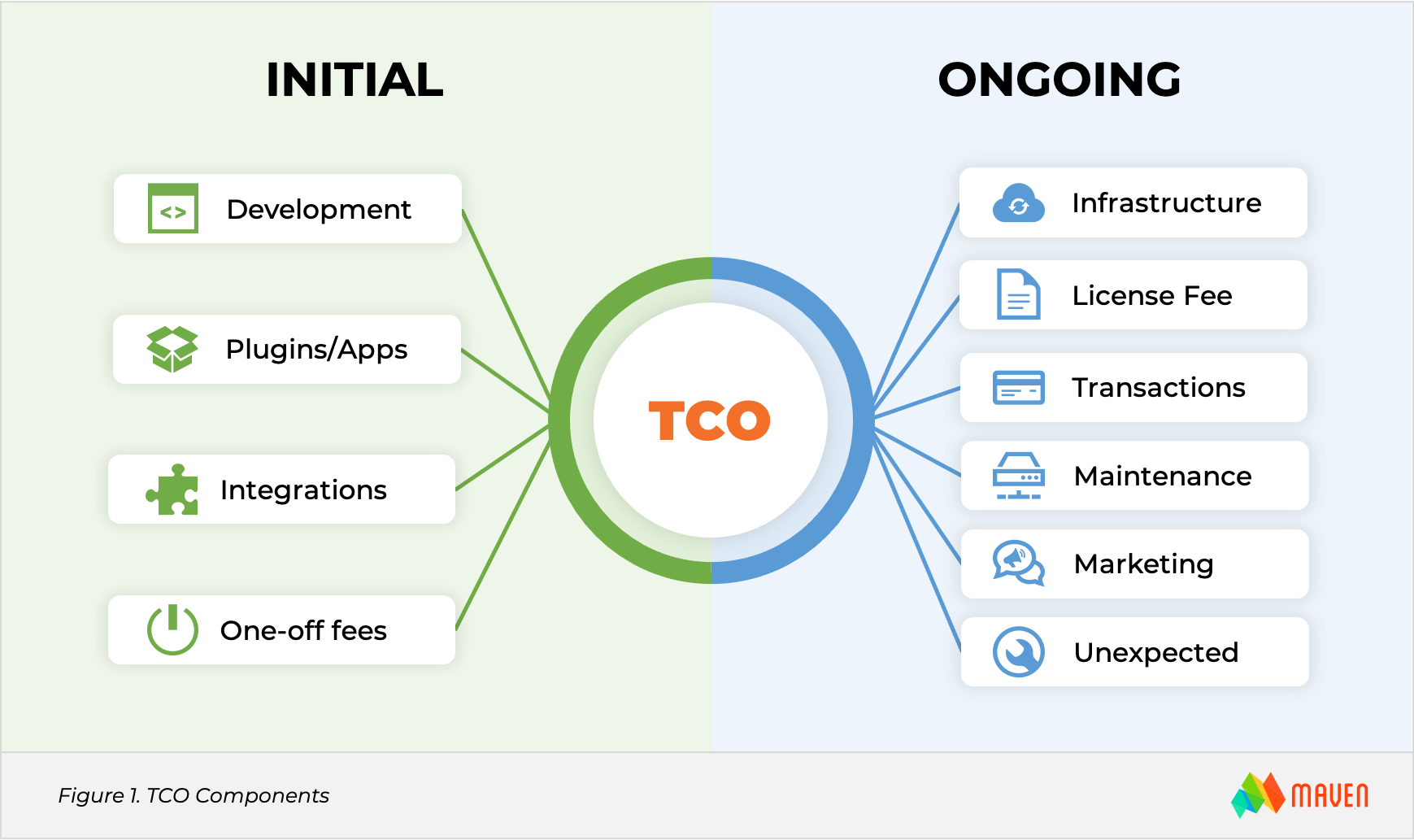 TCO Breakdown
Our goal is not to tell you the cost of each of the components like hosting or domain name. Our focus is to uncover cost components that, from our experience, are not usually considered when starting an online business.
Whether you are just starting to choose your platform or have a developed eCommerce presence, we want you to become a smarter merchant. This is a part of Maven eCommerce consulting services.
Initial (CapEx) Costs

Development
Development costs generally consist of 3 parts: Business Analysis (BA) or Audit, Architecture and Design, and Development itself. Let's take a look at each one in more depth:

BA or Audit. Our experience shows that any eCommerce business should begin with a BA or Audit. You and your solution partner (if you have chosen one) should understand your current resources, how they are performing and the current processes. At this stage, a 3rd party agency can be invaluable because, as a business owner, you may struggle to get the full picture of the business on your own.

Architecture and Design. Architecture can be important if you have a complex combination of business processes that need to work together. This can be calculated as part of development costs or could be treated as a separate service. When it comes to design, all eCommerce platforms have free themes from which to choose. Don't be afraid to use those, at least at the beginning. Should you decide to create a personalized design, first evaluate the design costs against profitability and goals. You have the option to purchase themes or hire an external designer to develop an image from scratch, but both come at a cost.

Development. Not all platforms require a development process. Closed source, SaaS solutions such as Shopify, typically do not require development work. With open-source platforms, like Magento, there will be a cost to engage a solution partner. The price for development will highly depend on the platform, country, urgency and level of proficiency of the chosen partner. Plus, there is an option of outsourcing software development that might become handy in terms of price or time.
Hire only a proven solution partner
, who has proven expertise in eCommerce. It may add costs in the short-term, but consider this as an investment that will 100% save money in the long-term.

Integrations
Should you need to connect your eCommerce website with ERP (Enterprise Resource Planning), CRM (Customer Relationship Management), PIM (Product Information Management), WMS (Warehouse Management System), or other systems, integrations will be required. Whether you use open-source platforms or closed-source, there will be a cost for developers in either case. 
Typically integration occurs at the development stage and is an initial cost, but it is common to perform integration later. Integration pricing depends on factors such as the number of systems to integrate, the complexity of those systems and the complexity of the overall architecture.
Related Post: 3 Proven Software Integrations to Boost Retail Business Process Efficiency

 

Extensions (Modules) or Apps
Each eCommerce platform has a different feature set. To add functionality, you will likely use extensions (sometimes called 'modules') or apps. These apps can have varying pricing models – on-time payment, monthly fee, transactions fee, etc. – and you should be aware of them. For example, some Shopify apps will be inexpensive at the beginning and increase in price as your business grows. This is a perfect example of the importance of TCO. 
Think about the features you need and consider what will be handled via extensions. Next, think about your growth goals, and calculate app expenses. These costs could impact the final decisions and may change your opinion about one e-commerce platform's total cost of ownership vs. another's.

One Time Setup Fees
Congratulations! You are finally ready to launch an eCommerce website. The final consideration is one-time setup fees. You might need to purchase and configure a server, buy a cool domain name, integrate your website into existing systems, put some content in a game, launch marketing campaigns, design emails and promotions and so on. Make a list of each of these and evaluate the costs beforehand.
Ongoing (OPEX) Costs

License
Today, licensing costs of eCommerce platforms can range from none to subscription-based. In most cases, an open-source platform will be free unless you choose to purchase an enterprise edition or advanced plan. 
Closed source SaaS platforms usually offer different plans or packages with different costs at each level. A basic plan is always very affordable but gives the merchant very limited capabilities versus a more expensive, but comprehensive plan that would be preferred for a developed eCommerce business. When calculating the total cost of ownership, don't forget that you might change plans as your website grows and your functionality needs to change. From a long-term perspective, it is an important cost to be aware of.

Infrastructure
Infrastructure costs typically consist of 3 areas: Domain, Hosting and Security. Let's take a look at each one in more detail:


Domain. You'll likely make a once-a-year payment for your domain name. The expenses are usually not significant but should be included when calculating long-term TCO.

Hosting. You might say that hosting is the easiest thing to calculate. This is true if the business is small and does not require any infrastructure. As the company becomes more complex, infrastructure can be crucial. Hosting should be scalable to handle the capacity for traffic spikes, e.g. during high sales seasons like Christmas Sales or Black Friday. Most SaaS platforms do not allow you to manage this. The hosting price will likely be included in the monthly subscription fee. More complex, open-source platforms do not provide hosting out-of-the-box, so be aware that it will be a separate purchase. The larger your business, the more you can expect to pay for hosting.

Security. You will need an SSL certificate which could be included in a monthly subscription fee, purchased separately, or be given for free, like Let's Encrypt.
Consider setting up a custom hosting solution. It may save money and add flexibility to the system. Remember that you will pay for both hosting itself and DevOps time for setup.

Transaction Fees
Transaction fees are another less obvious cost that should be considered while calculating the total cost of ownership. As a part of the license agreement, some eCommerce platforms may charge for every transaction made. This means that you share a piece of revenue with the eCommerce platform owners.
The danger of this fee is that no matter how much you earn, you must pay this extra fee. This could affect your long-term TCO. On the other hand, open-source platforms, like Magento, do not charge these fees, which could make them much more cost-effective and attractive from a long-term perspective.


Payment gateways, like PayPal or Stripe, may also charge an additional transaction fee. This fee would apply to any eCommerce platform because it is incurred at the gateway. A comparison list of different payment gateways is here.

Maintenance and Continuous Delivery
Your website infrastructure must be kept up-to-date. In the case of open-source platforms, these updates should be performed only with the help of experienced developers. SaaS solutions will do it in the background.
You also need to address bug fixes or minor functionality losses that may appear. SaaS eCommerce platforms will help you directly, and there is no need to pay extra for their support. That support is not reactive and, if your eCommerce system is complicated, may not be helpful. Open-source solutions don't include any maintenance out-of-the-box, so you need to purchase support elsewhere. To calculate the cost, review the support packages that some agencies offer. Typically, packages range from 20 to 200 hours of support per month.
You want your store to be growing and evolving to meet your customers' needs. To do so, you should be regularly adding new features and upgrading existing ones. These efforts are usually included in support packages. The important action is to have a clear growth strategy. Make your investment effective.

Marketing Costs
Budgeting ultimately drives marketing costs. The range of these costs also depends on your strategy and opportunities.

While calculating the marketing costs, don't forget that the launch of the eCommerce website is just the beginning. Ecommerce can be seasonal and may vary from year to year. Events like Christmas and Black Friday are mostly international, but some regional celebrations can be important selling and marketing opportunities. Do your research early and be thoughtful with your marketing budget strategy.
Related Post: Intro to Magento Marketing

Unexpected Costs
As the name implies, unexpected costs are just that and are difficult to calculate. The best practice is to include an extra 10 to 20% into the budget for unforeseen issues or extra charges. 

Team and Business Maintenance
We chose not to include these costs under any category on purpose. The question of establishing a dedicated eCommerce team and overall business staffing for the fulfillment, etc. is complicated and requires additional research. Remember that you should be well educated in eCommerce. As you grow your online business, it is important to hire an eCommerce manager who will be responsible for the day-to-day operations of the eCommerce platform.
When considering additional staffing, sometimes the better-built eCommerce solution can reduce labor requirements. Consider the example of 3 content managers to upgrade the catalog. Each can add 1 item in 30 minutes. That translates to 48 items added per 8-hour working day. By implementing a PIM system, you could add 100 items per day or even more. Such integration comes at a cost, but in terms of long-term eCommerce Total Cost of Ownership, it may result in savings versus hiring additional FTEs.
What's left?
While calculating eCommerce Total Cost of Ownership can be complex, it is a critical component as part of the preparation process or as part of the overall analysis of your business. While it is impossible to include every cent into the calculation, that is not the purpose of a TCO. The true goal of TCO is to illustrate that the cost of development and launch are only a part of the story. Knowing the total cost of ownership can dramatically change your approach to eCommerce and identify unexpected outcomes.