Why eCommerce software integration is inevitable
For the uninitiated, running an online shop may seem to be a no-brainer compared to a brick-and-mortar store. It holds true only for puny startups or for individuals selling their embroideries online.
However, when it comes to bigger eCommerce projects, web store management turns into a nightmare. You must handle large inventory, care about timely delivery and shipping terms, communicate with numerous suppliers, evaluate performance efficiency and do product planning.
Just relaying this to your disperse software is not enough. Boston Retail Partners survey report indicates that 73% of retailers plan to get a unified eCommerce platform implemented by the end of 2019. You also need to integrate all your digital solutions like content management system (CMS), customer relationship management (CRM), marketing automation platform (MAP) and other systems to seamlessly run your online business.


Management tools for eCommerce: ERP in brief
Our blog followers have already gleaned an insight into PIM, a product information management software and its role in eCommerce ecosystem. Now it is high time for the introduction of enterprise resource planning or ERP. As the name implies, it is a business process management software that gives an opportunity to utilize a composite application toolset to handle your online business. ERP helps facilitate work activities associated with technology and service processes, human resources as well as marketing and sales operations. All the business information is kept within a single database to expedite company's workflow.
ERP is usually comprised of various modules and applications, each of them being responsible for handling separate business aspects like pricing, system configuration, knowledge bases, project planning, task management, etc. Simply put, ERP enables you to oversee your eCommerce organization routine and enhances the entire business performance and productivity.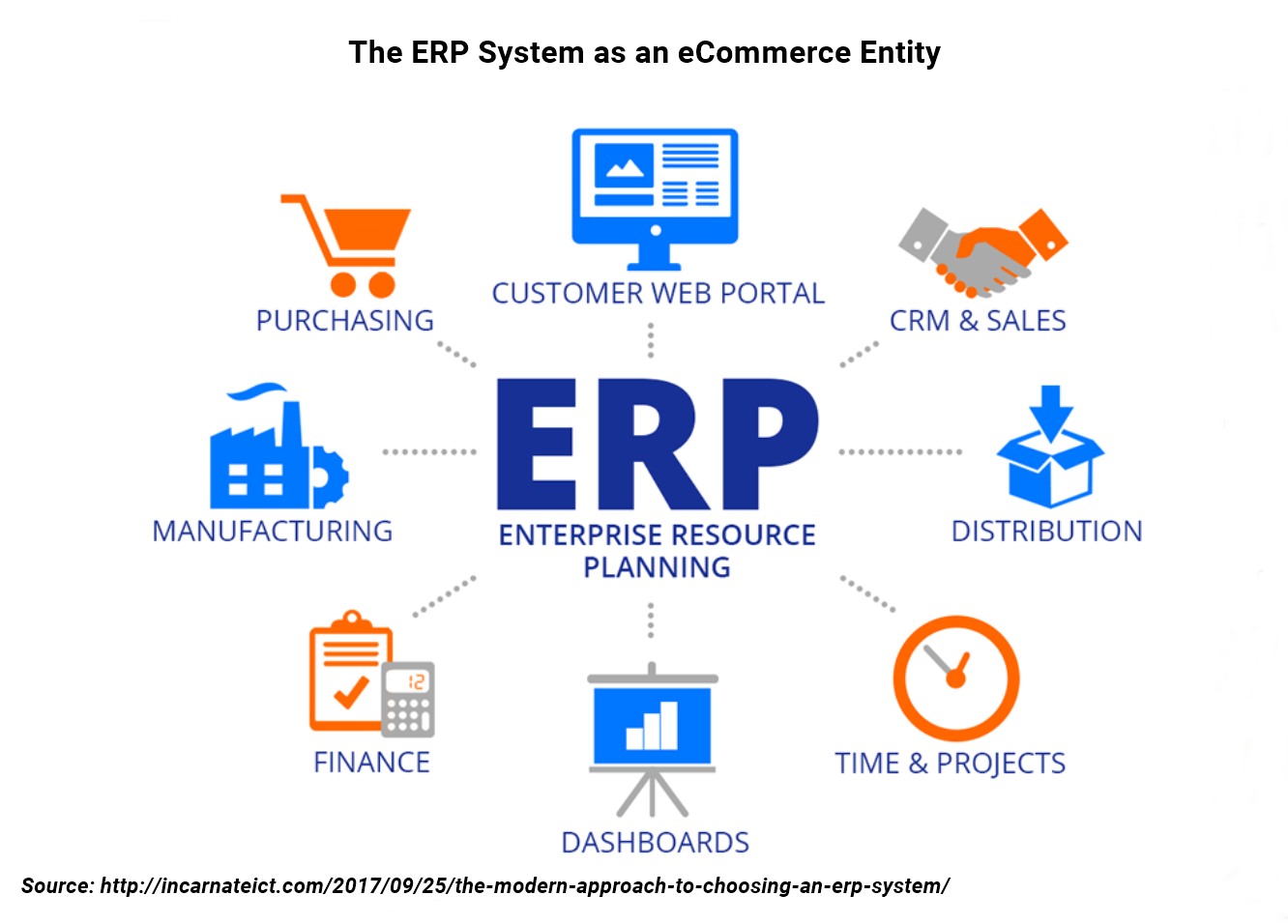 Factors to know when choosing an ERP system
Before opting for a certain ERP solution that will fit best with your eCommerce project, let's break down several practicalities for your keen consideration.
Large-scale or startup?
When you are looking for the most efficient ERP for your web store, try to think about the size of online business it has to maintain. One management solutions are better designed to serve small companies, others show great results with big enterprises.
Necessary functionality.
Select a certain ERP, which can totally comply with your business goals and objectives. As a rule, it depends on the type of company – if it is B2C or B2B, the range of products and services you are about to offer, target audience, geolocation and other factors. All these may require different embedded functions.
Migration reasons.
If there is previous experience of using ERP systems, ask yourself about the disadvantages and weak points the latter used to have. When it comes to buying a new ERP system, you will be definitely aware of what and how it should process.
Integration capabilities.
Integration capacity must be your first priority while choosing a decent ERP software. The baseline here is your current eCommerce platform. Far from every Enterprise Resource Planning system can meet the compatibility prerequisites. Since nowadays
around 25% of the eCommerce websites are developed utilizing Magento
, we will focus on those ERP packages that support this highly-popular platform.
5 Best ERP Solutions for Magento
1. SAP Business One.
If you are the owner of small of mid-sized online business, this Magento ERP solution suits perfectly to cover all your current and future commercial needs. Reasonable price is also a big plus to opt for this system. It demonstrates high efficiency to manage both B2C and B2B eCommerce projects. SAP's features include sales flow management, warehouse details tracking, HR and lead data maintenance, etc.
Joined together with your Magento platform SAP is able to cope with the following tasks:
to import customer data from SAP to Magento;
to export order information from Magento platform to SAP;
to sync inventory, pricing and catalog lists.
2. NetSuite.
This cloud-based ERP system is very popular all over the globe and serves more than 20,000 enterprises in over 100 countries. It provides a real-time visibility and reporting features that your decision-making process very fast and timely. NetSuite is one of the most flexible ERP solutions meaning that you can easily configure, customize and upgrade any sorted module or any of various business operations.
Together with Magento platform it lets you the following:
to import shipments from NetSuite to Magento;
to employ Magento Side Queuing function to process data in NetSuite;
to manage product information in NetSuite to be further updated in Magento;
to export order and customer data from Magento to NetSuite.
3. Microsoft Dynamics AX.
MS Dynamics is a full-fledged digital solution to streamline the workflow with smart customer account management and order creation instruments. It contributes to fast and simple ordering process that enhance customer experience. Being one of the best Magento ERP systems it provides you with a number of quite useful eCommerce features like multiple language and currency support as well as a powerful delivery, marketing and SEO optimization set of tools and many more.
Getting integrated with Magento eCommerce platform, it enables you to perform:
import of customer update feature to Magento;
export of order results from Magento to MS Dynamics AX;
export of customer creation feature from Magento to Dynamics;
import of catalog data into Magento;
synchronization of edited/updated order data between Magento and MS Dynamics AX.
4. Sage ERP.
This ERP package is geared for catering to online businesses of any type and size. As it is reported on the corporate website, Sage is mainly developed to handle financials and enterprise management. This Magento ERP enables you to control your web store with a help of mobile, cloud and on-premise management instruments. It is great for manufacturing, wholesale and services processes.
Your Magento platform with Sage ERP under its belt will be able:
to track inventory details;
to collaborate across divisions, languages and legislations;
to manage financial processes with general ledger, budgeting, cost accounting and more;
to control procurement, purchases and cash flow;
to update customer information.
5. Epicor.
This low to moderately priced ERP rounds out our top list of ERP solutions for Magento platforms. Epicor is an end-to-end ERP software that can help you effectively administer back office processes like planning and scheduling, human capital, production, performance and customer relationship management. This digital solution has more than 20,000 customers in 140 countries with localization versions for about 30 languages. Moreover, Epicor is great when it comes to facilitating anticipation and flexible response to customer demands, project execution, waste reduction and service coordination.
Being aligned with Magento platform Epicor allows you:
to keep history of reputable products;
to provide a viable VAR (value-added reseller) channel;
to support MS/SQL/SOA technology solutions;
to get greater data connectedness across departments;
to employ powerful finance analytics.
These are the best-performing Magento ERP systems on today's eCommerce market. In case you still have some hesitations, feel free to contact us and our experts will clarify you on the ERP-Magento integration matter in no time.