Product Information Management (PIM) is truly considered to be an indispensable component of any B2C or B2B eCommerce project. PIM software is mostly valued for its capability to keep track of real-time data about the overall range of company's production and disseminate the processed information across various systems within your eCommerce platform. PIM is synchronized with your SKU catalogs, ERP, CRM, multiple web stores, vendors' and suppliers' databases to provide you with a timely and updated overview of product information.
This software is also an essential tool for your customers. Forrester's survey has proved that accurate information is a customers' baseline expectation, since 64% of US adult audience prefer shopping online because the product content presented there is way more informative than that in brick-and-mortar shops.
Being integrated with your web store it gives a brilliant opportunity for e-shoppers to know everything they need about product availability and prices. In its turn, it greatly improves customer experience, increase conversion rates and significantly reduce returns, cart abandonment and customer churn. To get a more detailed picture of what PIM is used in eCommerce, please, refer to our recent article.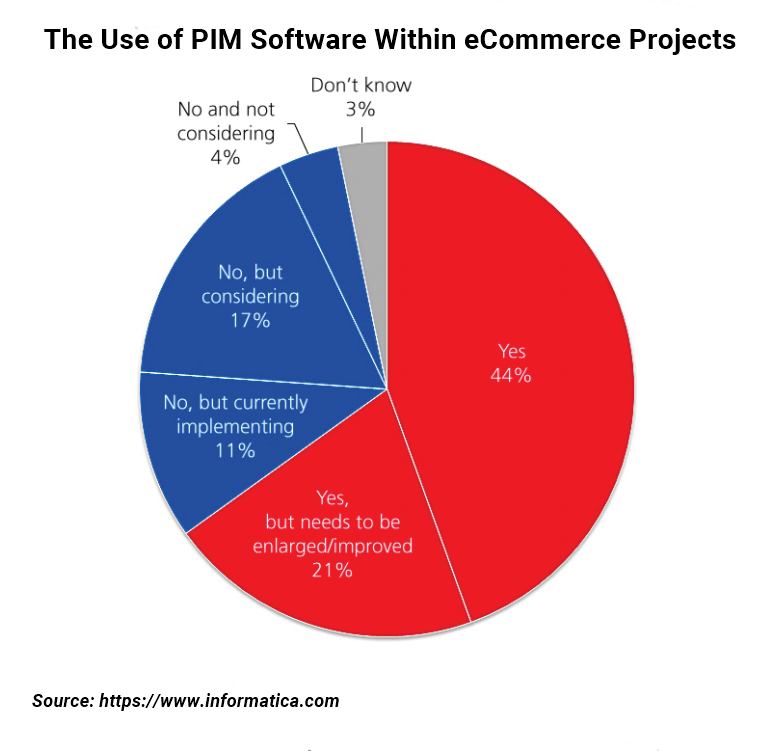 Most Rated PIM eCommerce Solutions
According to Informatica stats, 65% of companies have already implemented PIM software into their eCommerce environments. So we have taken the liberty to elaborate on the most tried-and-true PIM software that can help you orchestrate your eCommerce product data activities.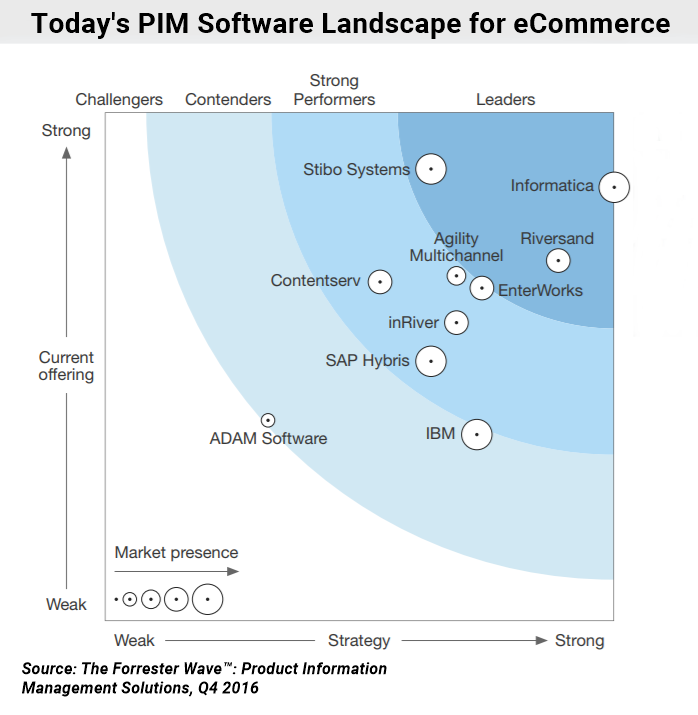 1. inRiver
InRiver enables you to exchange product information among every single channel you have got, including eCommerce websites, product catalogs, smartphones, in-store point-of-sale (POS) systems and many others. Moreover, this PIM solution allows you to gather specific data, like customer feedback comments and reviews, their preferences and behavior so to use it while anticipating further steps in business. inRiver is developed both for B2C and B2B eCommerce projects. It suits perfectly for web stores that involve great audience and need to deal with a lot of product information across various channels. Its main advantages are:
Own Magento 2 extensions to streamline a PIM-eCommerce platform integration
Instruments to fine-tune product information and increase data accuracy
Improved querying and search methodology
Smart scheduler for planning further production promotion strategies and campaign deployment
Quick sync capability so you can easily get up-to-date product data
2. Salsify
Salsify provides you and your front office with full real-time access to all the company's product data on the go and from any location. This PIM system is easily integrated with your other eCommerce software – CRM, ERP, warehousing activities, etc. Salsify is good at assisting large-scale companies to handle a great deal of product data due to its flexibility and a wide range of features:
Smart synchronization allows to update and distribute merchandise data across departments in no time
Import and transformation of digital assets from suppliers and agencies
Insights collecting to drive product discoverability and sales
Product content validation to publish via all the retail channels in the right format.
Scalability so you can adjust data with business growth
3. SAP Hybris
SAP Hybris Product Content Management puts you in real control of your customer experience. Due to tech-enabled solutions this PIM allows you to deliver meaningful product information across your marketing and sales channels. SAP Hybris has the following key features:
Product classification and categorization
Suppliers' Catalogs management and import
Single data hub for administering all the company's product information
Intuitive content creation and approval processes
Highly accessible and manageable product related content for multi accounts
Agility is an easy-to-use customizable PIM software that can cater to most enterprise commercial needs. It has lots of out-of-the-box tools for product data collecting and orchestrating content business processes. Agility PIM fits both for B2B and B2C eCommerce activities that require seamless product data management. Its main functions include:
Product data built-out
Flawless integration capacity
Automation of product related processes
Advanced analytic tools for performance evaluation
Content auditing and approval
IBM InfoSphere can organize your product data using a highly adaptable framework throught the entire production information lifecycle. This system gives you a wide set of management patterns to be applied to various business types. Smooth data governance and syndication provide you with actionable insights in product data. IBM InfoSphere is good at:
Supporting batch data processing
Enabling bundle updating
Data handling due to improved user interface
Delivering precise and timely product information throughout your organization
ADAM PIM software solution is designed with customers in mind – to deliver rich, informative and up-to-date experience across every channel. It makes your product data more coherent and personalized to drive better customer experience. You can easily arrange and group up products and accessories based on similarity. The most advantageous features are:
Single unified solution for both global and localized product data
Enriched creation and management of product relationships
Clear syndication of description, pricing and SKU data from CRM, ERP and other systems
Flexible customization to comply with individual and team needs
Real-time brand product data updating and approval capabilities
EnterWorks PIM solution is geared for driving rich customer experiences due to tech-enabled content collaboration engine. It lets you orchestrate all your siloed product information to get holistic value-driven product content. This comprehensive PIM solution collects and governs product data across various business channels. Enable by EnterWorks can help you:
Easily cleanse, synchronize and publish product related data
Personalize and tailor product content to fir any digital channek
Make transparent management procedure to optimize product data flow
Leverage digital asset management products
Categorize associate objects and product related data into multiple hierarchies
Stibo Systems' PIM solution is a part of a larger, master data management suite, which also includes digital asset management, multidomain MDM, data governance and data quality modules. The PIM module merges product information across organizations to ensure consistent, accurate data 24-7. It allows users to manage and update every aspect of their product data, including hierarchy, structure, attributes, approvals, versioning and validations, and see it changed in real time. Since the PIM software comes as a part of a larger MDM suite, Stibo Systems is best for retailers with larger data management issues on their hands. Stibo Systems:
Allows users to share information seamlessly with back-end systems
Eliminates data silos and ensure regulatory compliance with its multidomain MDM module
Lets users quickly search through digital assets and manage digital rights/usages with DAM module
Increases accuracy of printed materials with Print Publisher module
9. Informatica
Unlike most PIM solutions, Informatica one doesn't come in separate modules. It's a comprehensive, holistic hub of information taken from all a retailers' channels and platforms. Informatica is easy to integrate, and requires only simple configurations to start using. Informative is best for B2C retailers looking for a way to improve their product data accuracy and shorten their supplier onboarding process. Informatica's features are:
Simple supplier portals for self-onboarding
Intuitive tools that help you segment, personalize and get more from your sales
Manages and automates business processes
Integrates easily with ecommerce systems, point-of-sale devices, catalogs, mobile apps and more
Offers a simple web-based search
10. Riversand
Riversand ensures up-to-date product information is available for all areas of the retail business – from sales and merchandising to accounting, IT and more. The enterprise software solution manages workflows from the initial product creation down to its marketing and final sale. Riversand can handle millions of products and thousands of attributes, so any size retailer could benefit from this platform. Riversand capabilities:
Multi-region coverage, so multiple languages, currencies and classifications are simple
Supports publishing to e-catalogs and print media
Automates workflows and business processes
PIM Solutions for Magento 2 based eCommerce platforms
There also also 5 PIM extensions we have picked for the proud owners of Magento-based web stores, namely Magento 2. They can be smoothly integrated and have proved to seamlessly work with Magento 2 eCommerce platforms.
1. Bluestone
Bluestone PIM is a free-to-install Magento 2 extension with built-in marketing tools for e-mail campaigns, newsletters, social media efforts and much more. It gives retailers full control over their product-related content and supports building the omnichannel sales. Interestingly, Bluestone PIM is one of the few PIM software solutions built with APIs from the ground. In other words, it can be easily integrated with other elements of IT infrastructure such as ERP, e-commerce platform, MDM, and supplier portals. Its main features are:
API connectivity and support for webhooks
User-friendly interface
Widget-based customized dashboards
User-specific dashboards
Powerful media bank
Flexible import features
Wizard-based bulk editing option
Built-in image editor
Integration with Slack, InDesign etc.
2. PlumSlice
This PIM extension is built with retailers in mind. It lets multi-vendor retailers scale their workflow, simplify supplier onboarding and manage product data with a user-friendly portal systems. Suppliers enter their information into a personal portal, and that data is funneled into the retailers' portal. Finally, that product and inventory information can be managed and pushed out to selling channels online, in print or in store. This is ideal for retailers with a large number of vendors and suppliers, as it offers a self-onboarding process. This speeds up the time-to-market and cuts down on in-house labor costs. Useful functions:
Automatic data validation at any point of entry
Drop-ship modules
Built-in supplier notifications and alerts
Configurable business rules for attributes and validation
3. Advanced Admin Products Manager by Iksanika
This Magento 2 tool helps you add the necessary product attributes and edit products data right in the product grid as you do in Microsoft Excel, and proceed with a mass products update to drastically increase time efficiency of your product catalog management process. This extension can do the following:
One page bulk products update with in-grid editable fields
Custom catalog product grid columns
Powerful filters for quick and easy products selection
Mass product relater of cross-sell, up-sell, related products and grouped products
Mass price updater: support absolute and relative values
Show product categories on the grid and find products which are not assigned to any categories
4. Automatic Related Products by Mageplaza
Magento 2 Automatic Related Products is a module which uses sets of conditions and actions as rules to establish relations between displayed products and related items. Its flexibility in generating unlimited rules for each product makes itself an all-round product recommendation tool. Its main features are:
Catalog product rules applied on product page, category page and shopping cart page
Daily deals, new products, featured products, random products or bestsellers blocks
Easy to customize pre-made rules in the backend
Allows assessing performance of rules with A/B testing support
Supports regular data report
Displays blocks in roughly 30 positions or even in custom locations
Supports Ajax loading
5. Advanced Product Options Suite by Mageworx
Have-it-all solution to manage Magento 2 product custom options. The extension is fitted with a complete set of custom option tools that can help you create custom-tailored product offers and increase sales. Еase the pain of manual adding custom options for every single product – use custom options templates to add a multitude of product variations in couple of clicks. Create templates for a wide range of product custom options, including: Size, Color, Brand, Storage, Dimensions or whatever quality your products have. APO Suite enables you to:
Use smart templates to quickly generate an unlimited amount of product custom options on the fly
Create templates for products filtered by SKU/ID
Assign templates to any product/ group of products
Conveniently edit/delete templates and more
Should you get interested in having a custom integration PIM solution with your web store, feel free to contact us and we'll provide you with the variant that fits you best.