No one can deny the rapid growth of online commerce in recent times. And the coronavirus outbreak accelerates the pace of transition to online. A lot of entrepreneurs started their online business from scratch, but most of the companies apply O2O strategy. It means the migration of commerce from offline to online while keeping on both channels.
2020 Digital Economy Index mentions that online shopping has become the primary means of commerce for huge social distancing populations around the world. It's especially noticeable in grocery retail. A few months ago the purchase of food took from 5 to 10 places in the categories bought online, now it's in the TOP.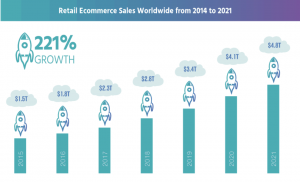 Developing an online store from scratch and applying offline to online business model are absolutely different challenges. Merchants have to be ready for any of them. We've told earlier how to set up the eCommerce business. And now we will take a look at the offline to online model. It covers a lot of aspects you have to consider. O2O transition is not so simple, because of existing business solutions and established processes. Experienced eCommerce solution partners know how to make the O2O process seamless without losing efficiency.
What do you have to think over before going from offline to online?
At the end of the article you will find the Checklist "O2O: offline business goes online". Download. Discover what's inside. Get inspired. Implement.
Choosing the right eCommerce platform. It should be easily customized and scalable
A lot of merchants in a hurry of eCommerce growth run their online stores on the most affordable platforms, like Shopify, WordPress, Jimbo, but without long term strategy and established processes. These platforms are limited in their functionality and ability to scale. As an entrepreneur, you have to think ahead and assess growth opportunities.  The goal is to provide exceptional service. So there is no time for an experiment, you could lose the money that everyone is trying to save. 
Also, online competition is tougher. In this context, an eCommerce platform should be usable and memorable.  
Thinking out where the information will be kept 
Depending on the size of business and volume of content merchants can implement any solution from the simplest ERP to the complex PIM. But in the context of offline to online migration, it can be assumed that retailers will need a trouble-free fast system. PIM exactly helps to increase the quality of provided information, to save time on data processing and their transmission to different sales channels. It's noticed that the conversion rate is on the rise and the number of abandoned cards is close to zero.
Offline to online business models cause the implementation of updated marketing policies
The part of offline buyers will move to online. But the other part will be an absolutely new audience. Retailers have two main issues to solve: 
how to provide equal service online as offline, saving the same customer experience;

how to stand out of competition, because for now, competitors are a click away. 
For example, merchants should take care of full data migration, including loyalty program conditions. Buyers should not lose accumulated points as well as bother with changing their physical loyalty cards to electronic. The transition has to be as seamless as possible for each side. 
The other story: when customers buy online, unlike offline, they use only vision and hearing. Therefore, design plays an important role, which is the "packaging" for the buyer.
Omnichannel approach is the new reality of O2O strategy 
The main principle of the omnichannel approach is to provide an ability to switch between different channels: laptop, mobile phone, social media, online & offline stores. And in this way customers have to remain equally involved, satisfied and with the same positive experience.
It is the way to fill the gaps in data analytics about customers' behavior and their shopping insights. Using the O2O strategy gives an ability to collect more data, analyze it more accurately, and create the most personalized proposals for customers. 
Personnel: are any changes needed?
Retailers should implement a new cooperation model. Henceforth employees serving online stores can work remotely. Launched support services and call-centers will be invisible for customers, all maintenance will be provided online. 
The courier services take first place for now. They are the last mile of the purchase process. Merchants always try to live up to customers' expectations. But just the couriers are those persons who meet buyers face-to-face and leave the impression of the whole brand. 
Make sure that your couriers are polite, caring and helpful personnel present the brand in a positive light and build trust with the customer. But the best way – take care of maximum automation of all processes and ensure the minimal influence of human factors. 
Organize Return Merchandise Authorization
Returning goods and receiving the refund complete the purchase process. The main thing to remember here is that the point-of-return is a real customer service "moment of truth". Thinking out the appropriate conditions for both seller and buyer, inform customers of these conditions in an accessible way affordable way in your online-store. 
Whichever channel makes sense for your business, the key is to understand the systems and solutions that are involved in bringing this to life, and ensuring there are robust connections between all processes.
The main thing you need to do very carefully before starting the O2O process is to choose a trustful solution partner that knows how O2O business works. Such a partner will guide you with a strategy that fits your business needs and help to move the offline business online as effectively as possible.