PIM (Product Information Management) in a Nutshell
Have you ever tried to get all your product information gathered into one impressive platform-agnostic data hub? If you still think it is quite doable by means of boilerplate solutions, you are totally missing the point. Not to lag behind your online business competitors, give it a try to realize that conventional tools, like Excel, ERP, or a bare eCommerce platform are not geared for handling product data. Forrester's analysts observed a considerable uptick in customers' interest towards a holistic digital solution to wield company product information at scale. To satisfy their needs, around 33% of eBusinesses have already prioritized the investments into PIM technology.
So what is PIM in terms of eCommerce after all? PIM is an efficient all-encompassing set of middleware tools and processes that complements your basic digital solutions like ERP, CRM and others. PIM serves to incorporate and administer the bulk of siloed product information that is scattered in between various manufacturers, suppliers, and company's departments to establish a single holistic product data ecosystem.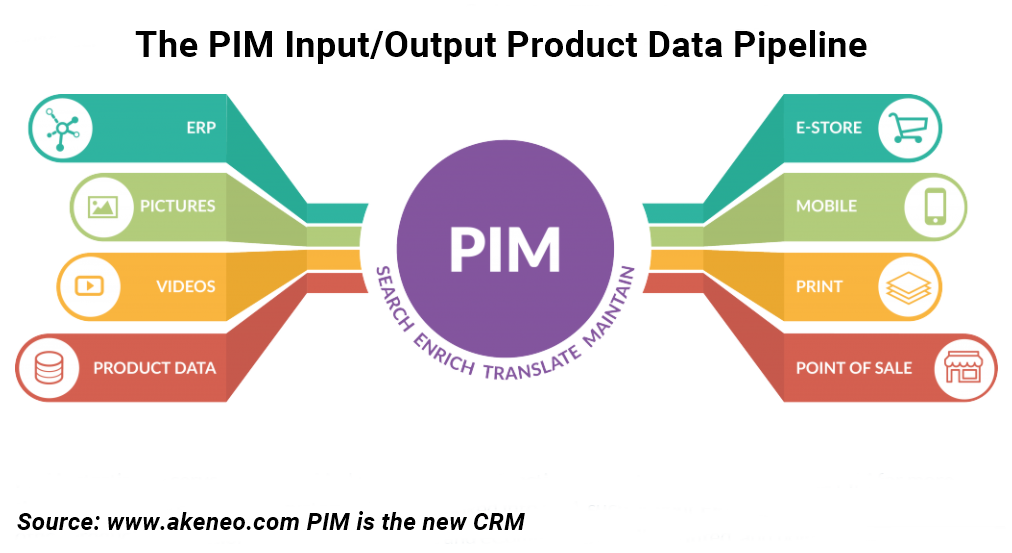 How PIM Can Contribute to the Overall eCommerce Development?
Informatica's extensive research regarding the business value of PIM solutions revealed that 65% of the companies surveyed, have already implemented PIM within their eCommerce projects. When exploiting PIM to get accurate product data centralized in one place, you kill two birds with one stone. It means that you can nurture all the stakeholders – both customers and prospects as well as suppliers and producers. All of them feel the necessity for timely and precise information on the products and services.
As you can see in the bar chart below, customers want web stores to optimize their product data in every aspect. So, PIM helps you with product data processing that will consequently lead to sustained customer retention and ROI acceleration.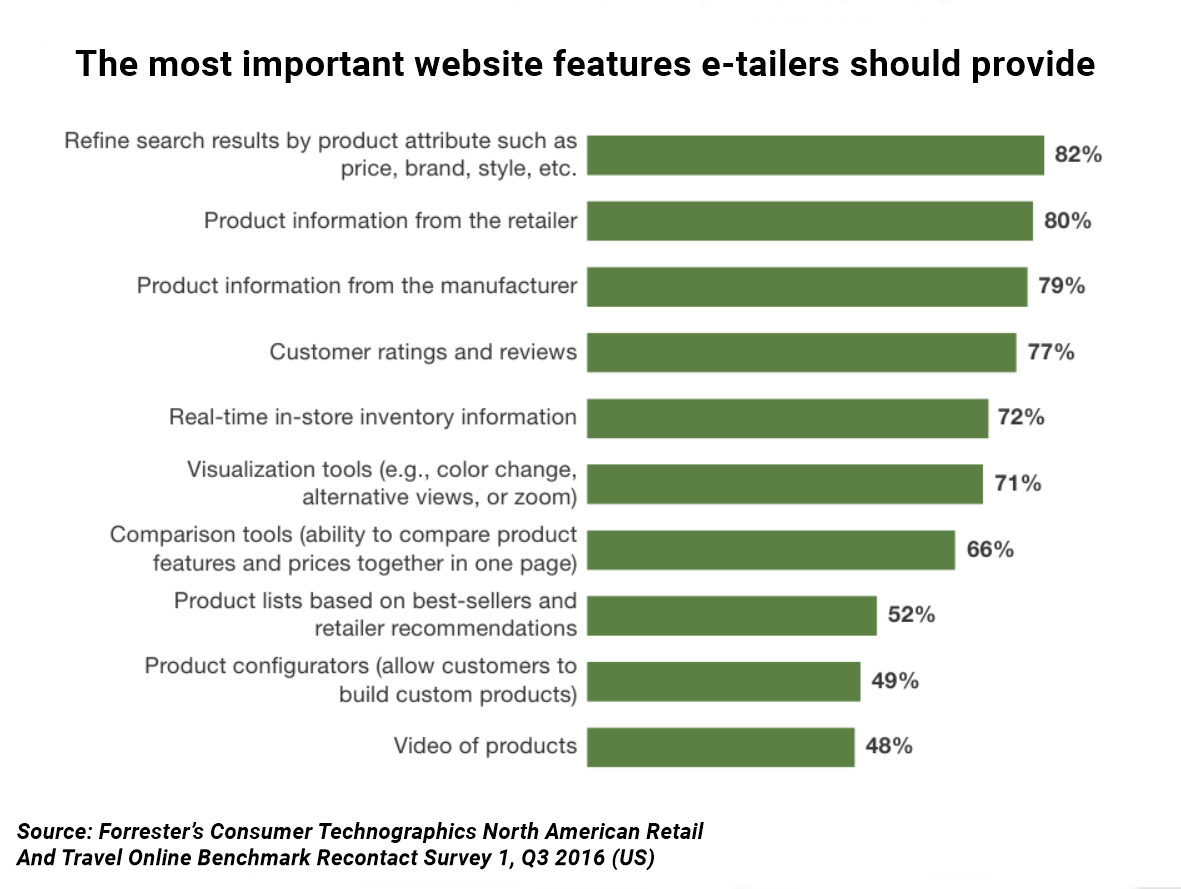 How Can You Infer You Need PIM Right Away?
Are you still on the fence about the necessity of integrating PIM solution into your eCommerce ecosystem? Well, just take a look at the most commonplace product data issues that may occur. If they do ring a bell, this situation spells trouble for your online business.
1. It's hard to pinpoint the necessary information. Each of your staff members deals only with some clusters of overall product data with strong regard to their position and responsibility. Sometimes it is next to impossible to find relevant facts and details in time.
2. You are never sure your product info is accurate and up to date. Such data incompetence may hit your revenue growth rates pretty badly since no e-shopper will tolerate getting fed with inconsistent product content. And if customer loyalty collapses, so will your ROI.
Related Post: Does Product card matter? Absolutely! 
3. The clunky omnichannel campaign brings no results at best. Forrester's PIM report shows that some digital channels are obviously more popular than others, so they can bring you more target audience. Thus, 65% of grownup e-shoppers look for product information on their smartphones and around 70% do the same way on Google. That's why delivering insufficient product information across channels leads to significant shortfalls in your entire marketing and sales strategy.
4. Poor product assortment. Managing a great number of stock-keeping units (SKUs) is not that easy – to say nothing of expanding your product range to comply with customer-specific requirements. Lack of robust product data makes you stay far behind the curve of large-scale eCommerce.
5. Sleepy and sluggish process of introducing new product items. No matter how often you are to stock your virtual shelves with new lines of production, you just can't manage to input all the new data in time. Without a decent PIM solution integrated into your eCommerce platform, it looks like a nightmare to add a great deal of new content, including SKU descriptions, images, item specs and prices. Recent statistical data revealed that PIM is able to reduce new product introduction timelines up to 80%.
6. Irrelevant product data spoils your SEO output. It's an open secret that Google, Bing, and other search engines always frown at unrelated content. In the long run, it can cause a drastic downturn in your website's ranking. Thus, implementing product information management tools will considerably help expand your reach in search results.
Related Post: Ultimate Magento SEO Checklist
Benefits from PIM-eCommerce Marriage
As you can see in the diagram below, PIM appears to be a central hub contributing immensely to the eCommerce workflow. When your PIM solution stacks up with other digital tools, it boosts the whole business performance by means of enriching, planning, organizing, and publishing meaningful product data.
To sum it up, let us break down the main advantages a PIM-eCommerce tandem can give to your online business.
a. Coherent product data is guaranteed across channels. PIM can provide your customers with clear and well-structured product information at any time and via any channel. Getting right with timely-delivered product data improves customer experience and drives your digital growth.
b Improved search results. When it comes to expanding your brand presence on the eCommerce market, organic search is a perfect way to promote products and services. Due to the relevance of your product content provided by PIM, it is quite easy to be at the top of search rankings. And Google will do the rest.
c. Efficient in-store upsells and cross-sells. Since PIM classifies all the product data and stores it into a single repository, AI together with cognitive analysis methods optimize interconnections between product items. It enables you to offer many more associated SKUs and sell them at the same time to maximize profit. According to recent research, 44% of online businesses that employ PIM, benefit from enhanced cross-sell and upsell potential.
d. Better shipping and fulfillment services. In our recent article, we have explained the reasons why the quality of the shipping process is the key to success with customers. That is why employ your PIM tools to improve online ordering procedures, fine-tune fulfillment and shipping processes and maintain quick and safe delivery.
e. Enhanced inventory processing to avoid out-of-stock situations. It's never been that easy to predict product demands based on customer preferences and make a good bargain with your suppliers. PIM helps you with all the stakeholders, thanks to accurate inventory-tracking information. On the one hand, PIM assists in building a smooth procurement process; on the other, it provides a better shopping experience to your customers.
f. Product personalization to cut down return rates. With a PIM toolkit on board, you can finally realize that being customer-centered is not just another marketing trendy hype. Based on smart data-driven algorithms, PIM enables you to exceed customer expectations and give e-shoppers the exact product information to fully satisfy their needs. As a result, you gain positive feedback with low (up to 23%) product returns that eventually drives customer engagement and loyalty.
Contact us to get all your doubts cleared by our experts. With over 7 years' expertise in providing turn-key eCommerce integration solutions, our in-house team guarantees you a customer-oriented approach in adjusting any PIM tools to perfectly fit your web store. Improve your online business by getting an optimal on-the-go PIM solution integrated.