Magento is the 3d world popular eCommerce platform for providing online business. It consists of many modules that help to provide complex and customized solutions for companies. Several years ago Adobe company had presented a new updated platform – Magento 2. Its developers informed that Magento support will end on 1 June 2020, so companies using Magento 1 have to speed up with making a decision about migration.  We remind you about the main reasons for migration:
Security 
Security is one of the most important things in providing online business such as an online store. When Magento will stop supporting Magento 1, the platform will stop releasing the updates for security patches and your customers' data will be threatened. 
Performance and Scalability
Compared to Magento 1, Magento 2 will run an average of 20% faster. The load time for the home, product and category pages on the first view will be fast (less than 1.5 sec per page) and faster when the cache is enabled (less than 0.75 sec per page). It can also better handle many catalog pages without slowing down. This makes it scalable for large stores and able to grow with an online business.
The most important feature of Magento 2 is the built-in full page cache. This FPC supports varnish as the back-end.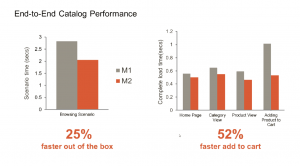 Easier Installations and Upgrades
Merchants always want to be in trend, so they wait for new updates and the latest versions of modules and extensions. Therefore Magento 2 makes the process of installing patches and upgrades easier, helping to get new features and functionalities without too much difficulty. Easier installations also enable smooth installations of security patches improving site security.
Updated Checkout 
Statistic says that almost 70% of items added to carts are never purchased. Much of this is due to friction in the checkout funnel. Magento 2 solves this issue by providing a more easier and quicker way from cart to completed order. When a customer goes to checkout, they are brought to a default guest checkout screen where they enter an email address. If this matches an existing customer, they are given an option to checkout faster with saved information. Guests can create an account in one click from the order Thank You page. These features encourage repeat customers.
Seamless Integration of Third Party Modules
Magento 2 has published well-defined APIs that serve as an interface to modules. This ensures that code changes within the module do not affect external modules and vice versa. This helps in customizing and enhancing the modules.
Related Post: 3 eCommerce Integration Stages: What and When
Mobile-friendly shopping in Magento 2
43% of mobile phone users make purchases online, so mobile shopping is the key to increasing sales. Magento 2 makes mobile commerce a priority. With the release of Progressive Web Application (PWA) Studio in Magento 2.3, customers can take their mobile performance even further. The new release includes new responsively designed themes, integrated video, and easier checkout. 
Migration to Magento 2 platform will ensure you new features and updated functionality. The migration process is not easy, but experienced developers from MavenEcommerce will make it the best way in the shortest terms.