Magento was first launched in 2008 and it demonstrates incredible growth from the very beginning. This absolutely marketable platform continues to change the world eCommerce industry. 
If you plan to do business on the Internet and open an online store you will compare at least 5 existing platforms. We collected 10 statistics that will let you know why this platform is the best way to organize your business.
1. 250 000 merchants use Magento 
According to Magento 250 000 clients use this platform to solve their business challenges. Therefore, Magento is one the leader of world eCommerce systems and takes 3d place after WooCommerce & Shopify. 
2. The number of sites has doubled between March 2017 and August 2018
BuiltWith informs that the number of Magento-based websites has been growing rapidly since 2011. And the data of the last two years is really impressive. The number of Magento sites has doubled between March 2017 and August 2018. This is absolutely obvious because of the great business solutions provided by the platform. 
3. Magento presents 5 000 extensions
The platform gives the ability to customize your online store according to any of your needs. It has more than 5 000 plugins and apps for their clients. Many of them are free of charge, the prices start from around $50.
4. Magento occupies 1.4% of the CMS market share
More than half of all websites on the Internet use a CMS. Among these sites, Magento in 2020 has a market share of 1.4%. Look for more detailed statistics at W3techs.
5. 9.5% of all Magento websites are in the USA
Magento is used all over the world. But the biggest part of users is in the United States – 9.5%. It is also very popular in Canada, West Europe (France, Italy, Germany, Sweden, etc), India, Australia.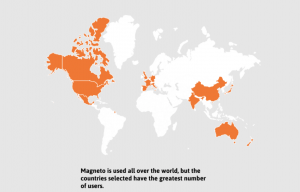 6. 202 Magento users are in the Internet Retailer Top 1000 list
More than 20% of the top 1000 e-retailers in the US and Canada use Magento, making it the most popular eCommerce CMS. Small & medium-sized businesses, as well as big enterprises, choose to use this platform because of the ability to be applicable and scaled at any time. 
7. Top brands use Magento platform 
It helps to create customized online-store with complex business solutions. Such big brands as Ford, Omega Watches, Christian Louboutin, Bulgari, Liverpool FC, Pepe Jeans, Land Rover, and Harvey Nichols decided to use Magento for their sites working across the world and having regular heavy traffic. 
8. There are over 150 000 developers around the world
Magento is covering all eCommerce areas with the ability to create the simplest store or the complex online-platform including, for example, CRM and warehouse management systems. Unlike other platforms, Magento isn't simple for usual users, but developers enjoy working with it. 150 000 developers across the world are able to use different Magenta tools, integrate systems, and look for optimal decisions for customers. 
9. Worldwide online eCommerce sales on Magento are expected to grow to $224 billion by 2020
Creative minds informs that merchandise volume will go well beyond the $200 billion mark by 2020. Newer data indicates Magento is very much on track to achieve these figures.
10. The 3d world-popular eCommerce software
According to Cloud Ways Magento powers 12% of the eCommerce world, which includes the enterprise and open-source versions. From 2018 Magento takes the 3d place between the largest eCommerce platforms.
Concluding, every company meets its own challenges and needs its own personalized decision. You can look at other platforms, compare their advantages and choose the best one. But the statistics given above is the evidence of Magento's ability to solve the problems of any business, from the beginners to already succeded. The platform can be customized for any of your requests.