If you are looking to improve the SEO of your Magento store to be easily found by Google (and other search engines), you're in luck: the platform is designed to be on-page search engine friendly by design. You don't need to do much, so long as you have done proper housekeeping – so let's review the common missteps in Magento SEO to avoid on your live website.
Our SEO recommendations for Magento websites come in two flavors: Content and Technical. Let's take a look at the Content Magento SEO part first.
Content Magento SEO Checklist
Although Magento is often described as "SEO-Ready" that fact alone doesn't mean that you can copy-paste any boilerplate text and sit back and relax. To maximize the advantages that the platform offers, evaluate how well you're prepared by checking the following:
1. Full Page Titles
Descriptive page titles improve your SEO visibility, providing more and better-targeted traffic. That's why you should put a lot of effort into product titles.
Write a few keywords related to your products, but without overdoing it. Start the name of the product and finish it up with key attributes and features/benefits. For example, a page with an "Eastpak Out of Office Black" backpack should be titled "Eastpak Out of Office Black Polyester Laptop Backpack", to better match possible search keyword combinations.
To gain some in-depth understanding of engaging product titles, check out this guide by DCKAP.
2. Focused Meta Description
Similar to Page Title, the
Meta Description
displays in search results, so it should contain 160 characters or less with 3 or 4 of the page's top keywords, expanding on the title further. Be aware that Magento allows you to easily set up Meta Description for product page, category page, or any other page of your online store.
To set up a meta description of a product or category page, go to Catalog > Inventory > Products/Categories > Search Engine Optimization.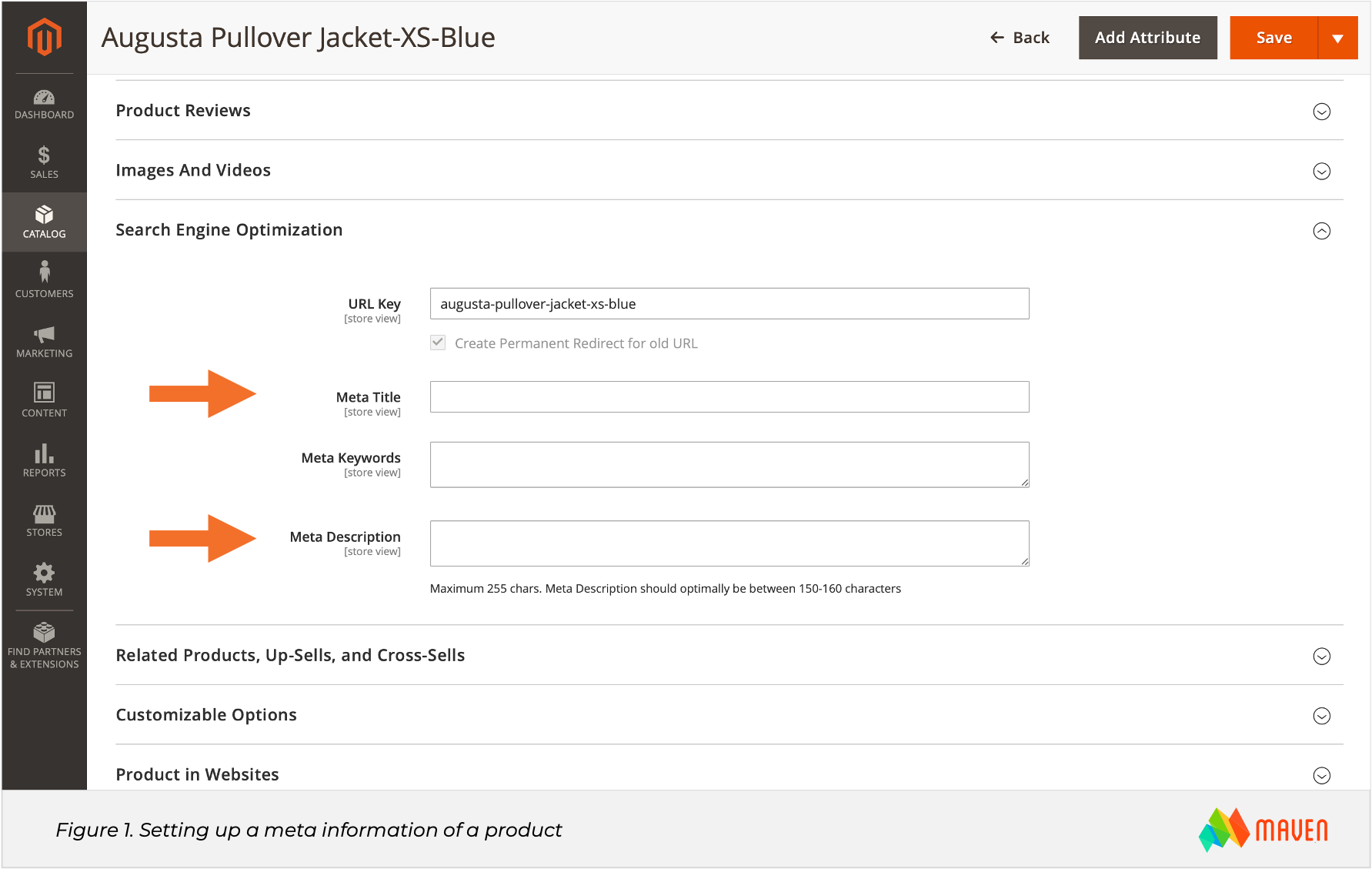 To set up the Meta Description of a page, go to Content > Elements > Pages > Edit > Search Engine Optimization.

Furthermore, you have an option to set up Meta Keywords. They are almost not considered by the search engines, but it is a great option to put common product misspelling there. Keep it up to 200 characters and do not cross 20 keywords per product or page. This text is indexed by the search engines but is never displayed to the users.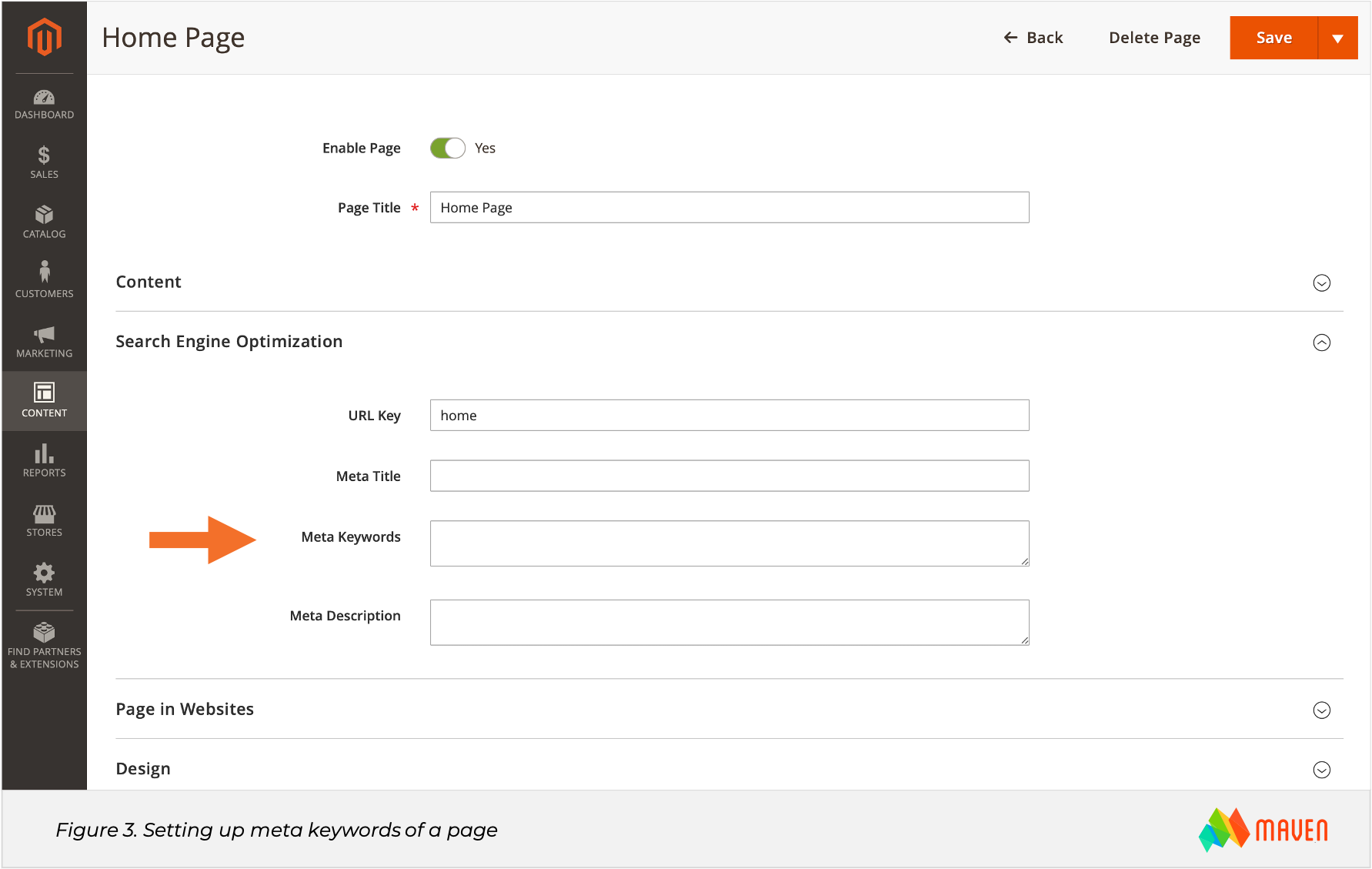 3. Unique and Focused Keywords in Body Text
Customers will find your products using many different search terms, so you should have about 300 words of text per page to include the most common ones. Use not only model numbers and brand names, but also don't be afraid to wax poetic about the benefits and ideal customer in your product descriptions and subheadings for an SEO boost. Just make sure you are still being accurate and focused on the ideal uses (weather, activity, season) and advantages (ease, size, shape, functionality, etc.) that customers may consider when comparing your products to the alternatives.

4. Labeled Images
Images with descriptive text are important for ranking by the search engines. Magento uses product names for images by default, but you should also consider editing tags to get more specific. The correct name of the image will help your products to appear in Google Images search higher than others.
5. Blogging
Regardless of how you feel about it, by selling a specific product and interacting with customers, you become an expert in that particular field. By answering questions, your prospective customers may have not only building your store's credibility but improving its SEO score and driving new Organic Search traffic.
Related Post: How to Set Up a Blog for a Magento Store?
6. Off-Page Magento SEO
Make sure you establish business accounts on social networks relevant to your target audience. You'll be able to benefit from word-of-mouth when making promotional announcements and special offers for people who connect with you and increase your competitiveness for relevant keywords.
Technical Magento SEO Checklist
Over the years we have seen issues that can be classified as both overlooked settings and mistakes due to complex store architecture. We mention the most obvious Magento SEO missteps – although they were not so obvious until they got noticed!
1. Set the Homepage Title
Magento CMS homepage title is "home" by default, so make sure to replace it with the name of your brand.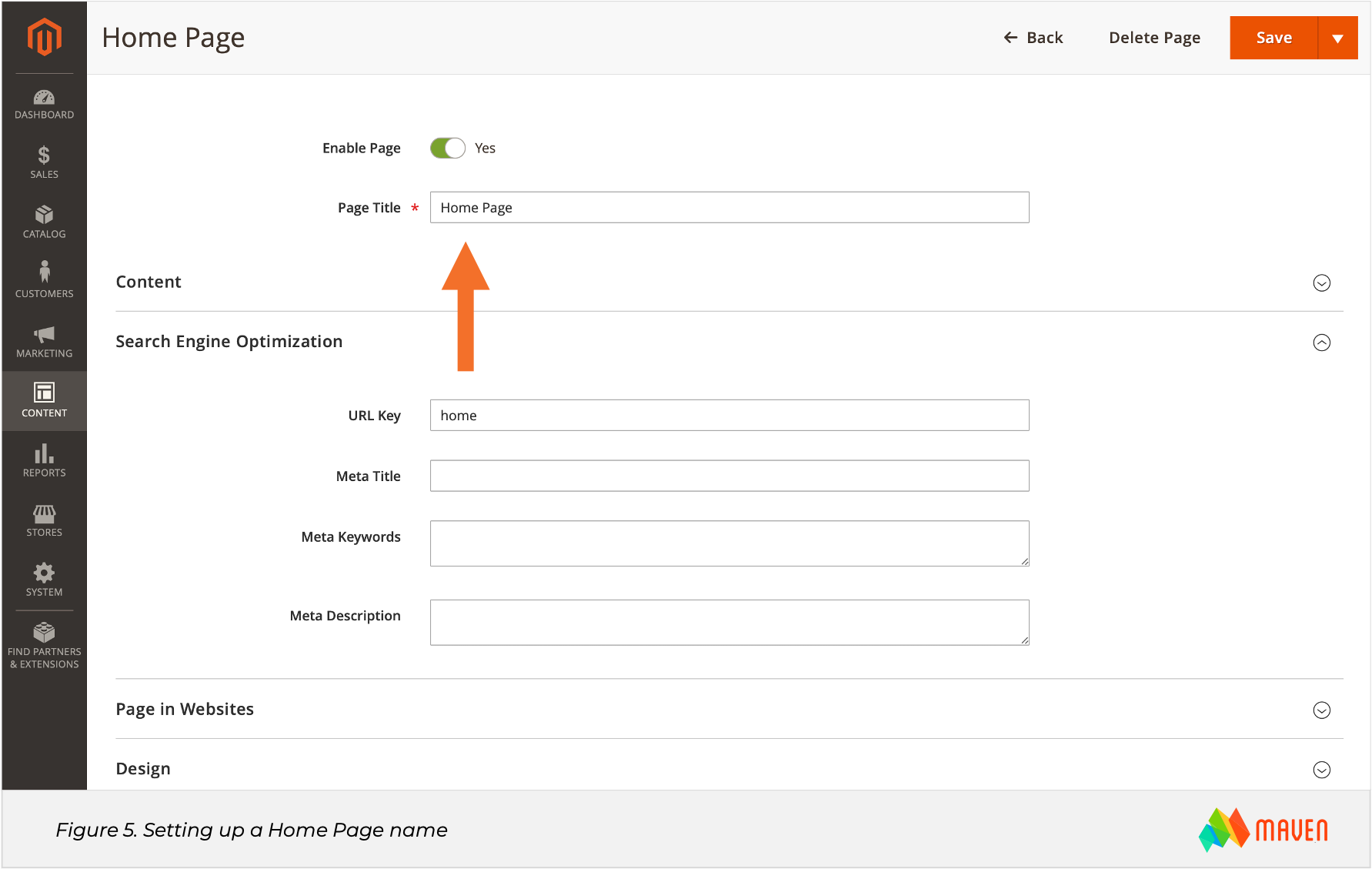 3. Set up HTML Head
Don't have "Magento Commerce" as your default page title. As with Home Page, this should be replaced with your brand's name.
The HTML Head's Default Description, on the contrary, is not – and shouldn't be – set for a
reason
. Avoid duplicate descriptions on your store that don't describe the given URL that it will be unbelievable.
To make sure that your Default Description is empty, go to Content > Design > Configuration. In there choose a store scope for which defaults you'll be editing and click Edit > HTML Head.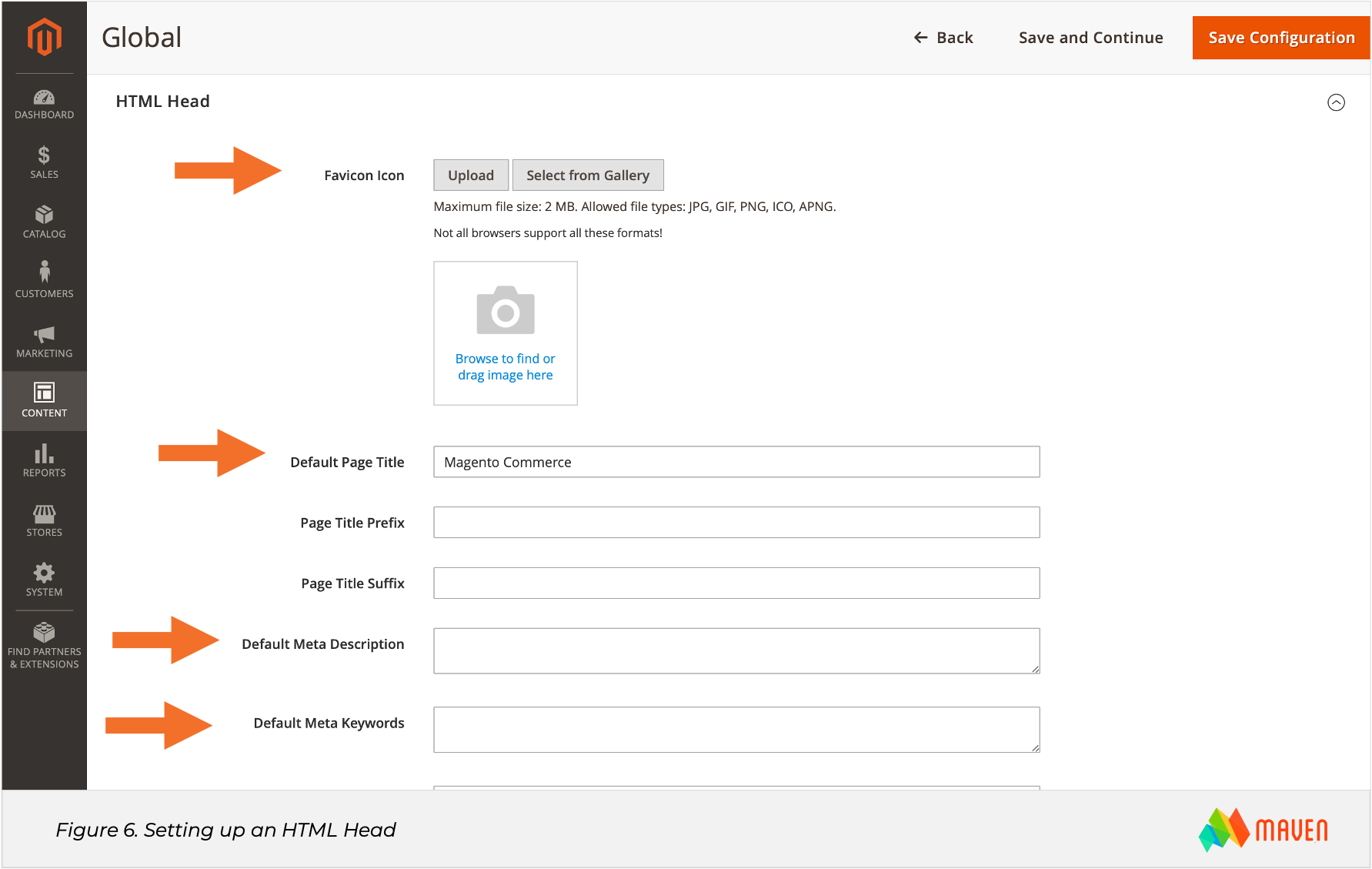 4. Unique Product and Category Pages
If you have products that appear in more than one category, by default Magento, will duplicate its description in the category. Such
duplicated content
could badly affect your Magento SEO, so it should be resolved quickly. To avoid this negative SEO hit, go to Configuration > Catalog > Search Engine Optimization and change the "Use Categories Path for URLs" setting from "YES" to "NO" and enable the two "Canonical Link Meta Tag".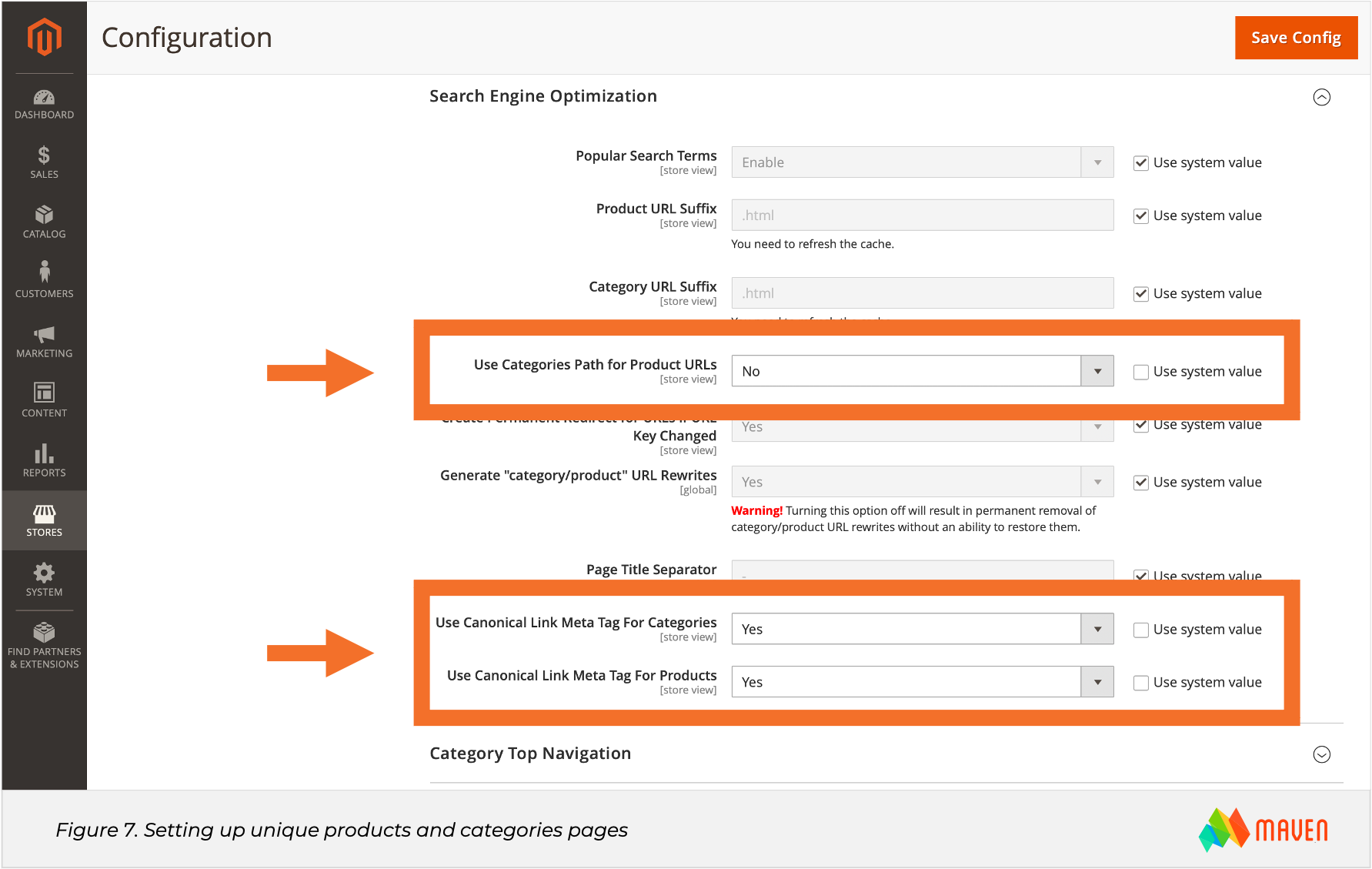 Additionally, Magento allows you to choose URLs structure. It could contain the category path or not. To set it up, go to Stores > Settings > Configuration > Catalog.

If you choose to use layered navigation, make sure that your Magento store is set up not to direct filtered results to the same category hyperlink for different results. For example, if your apparel store has a category for Women with a subcategory for Bags, filters for styles and colors would be logical.
In terms of the URL for a filter, it should be set up to include a "?" symbol to differentiate the filtered result, but keep the category intact, like:
http://www.website.com/women/accessories/bags.html?style=handbag&color=red
6. Remove Codes From URLs
By default, Magento adds identifier store codes to URLs. They may be useful to store owners, but at best add no value to your customers and distract them at worst. Go to Configuration > Web > Search Engine Optimization and set the "Add Store Codes to URLs" option from "YES" to "NO".

7. Build the Sitemap With Care
An XML sitemap is used by search engines use to crawl your content. Make one to ensure no inner page without one. You can rather generate them automatically or define the pages manually.
Remember that every page should ideally be no more than three clicks away from Home. Check your sitemap before submitting it for indexing to make sure no test or sample pages are listed there.
Related Post: How to Create Magento Sitemap
8. Set "index, follow" and remove robots.txt disallow
Hopefully, to go-live, you did not forget to change the "noindex, nofollow" setting the wall that keeps the web crawlers from indexing your Magento store.
Double-check by going to the System > Configuration > General > Design > HTML Head and setting Default Robots to "INDEX, FOLLOW".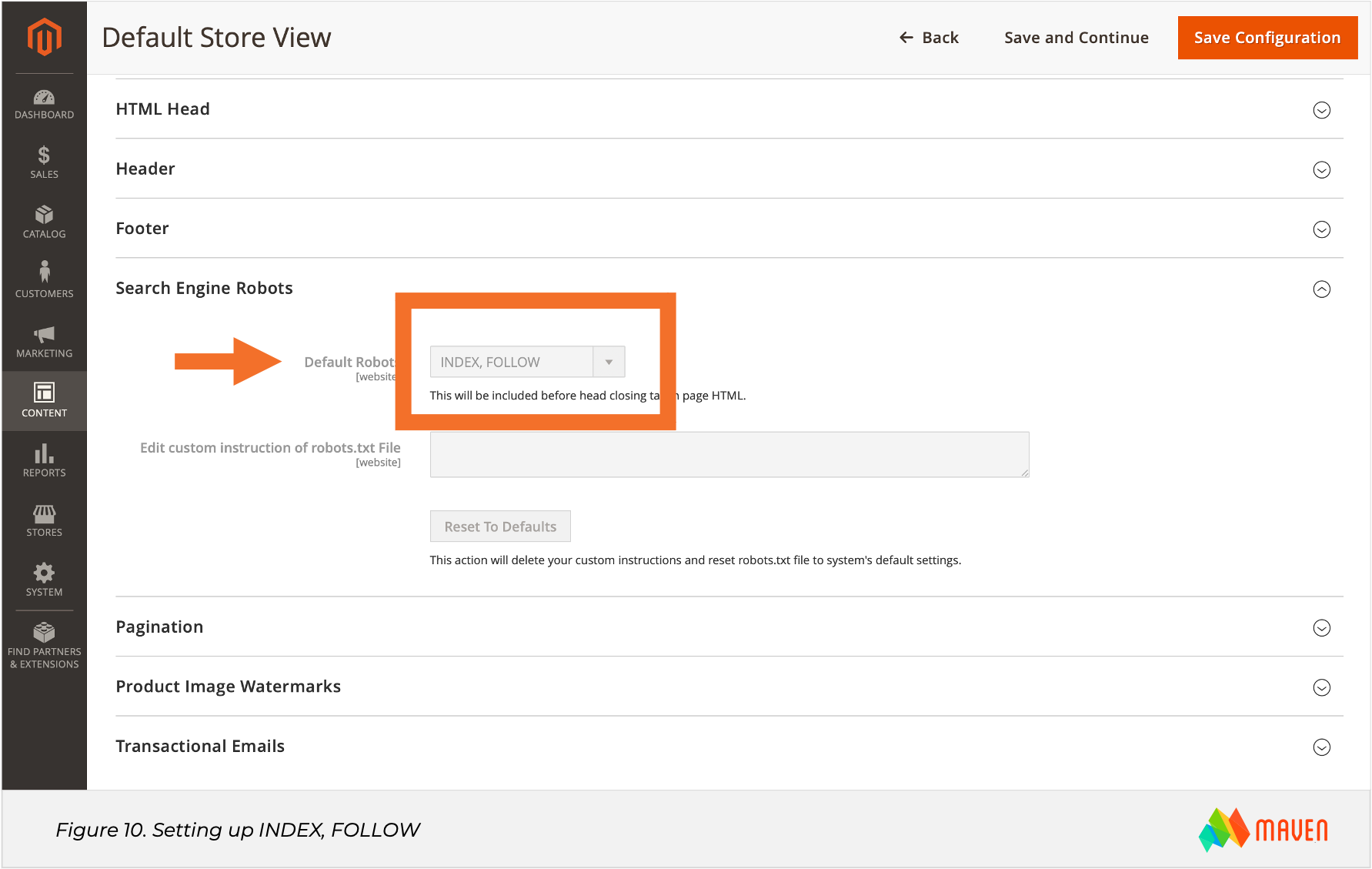 If you want to update your robots.txt with some specific rules, it is possible under the field "Edit custom instructions".
9. Website Performance
Nowadays, the acceptable page speed load time is up to 3 seconds. Yes, for eCommerce this number could be higher (depends on the website the but anyway, no one will buy from you if it takes 10 seconds to load the page.
Moreover, starting from May 2021, page experience will become part of the ranking, which means, if your website loads slow, you will lose positions in a search.
To keep your website performance, you must:
Keep Magento up-to-date.
Uninstall all useless extensions and plugins.
Enable caching. To check what is enabled, go to System > Tools > Cash Management.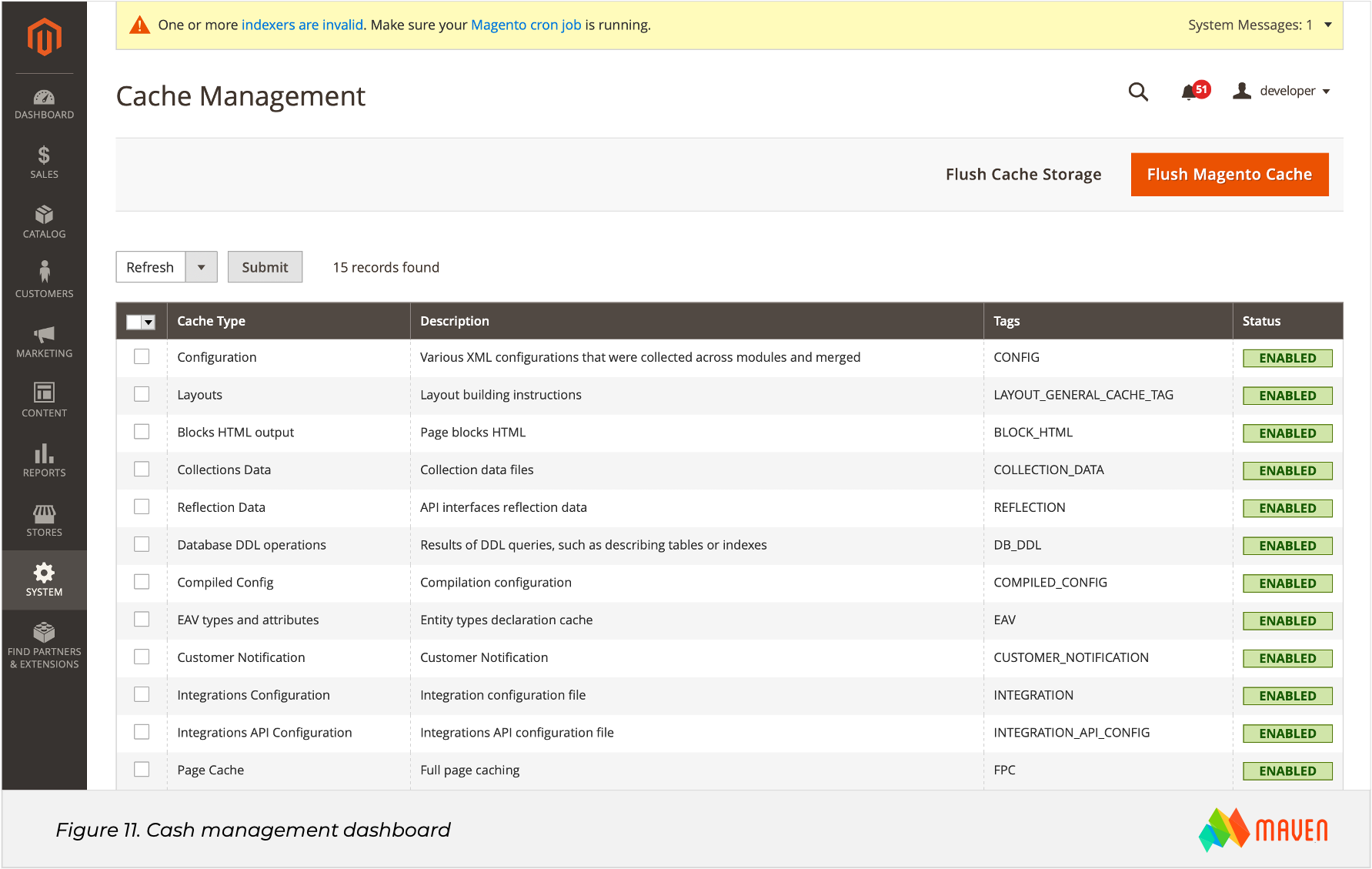 More advanced users could go through this blog post, where we investigate Magento performance topics in-depth.
10. Set up 301 Redirects
In case if you have URLs that have moved to a new location, consider adding 301 redirects. This allows you to redirect people who are visiting the old URL to a new one. Also, it saves you from duplicated content.
To set up redirect URLs, go to Marketing > SEO & Search > URL Rewrites.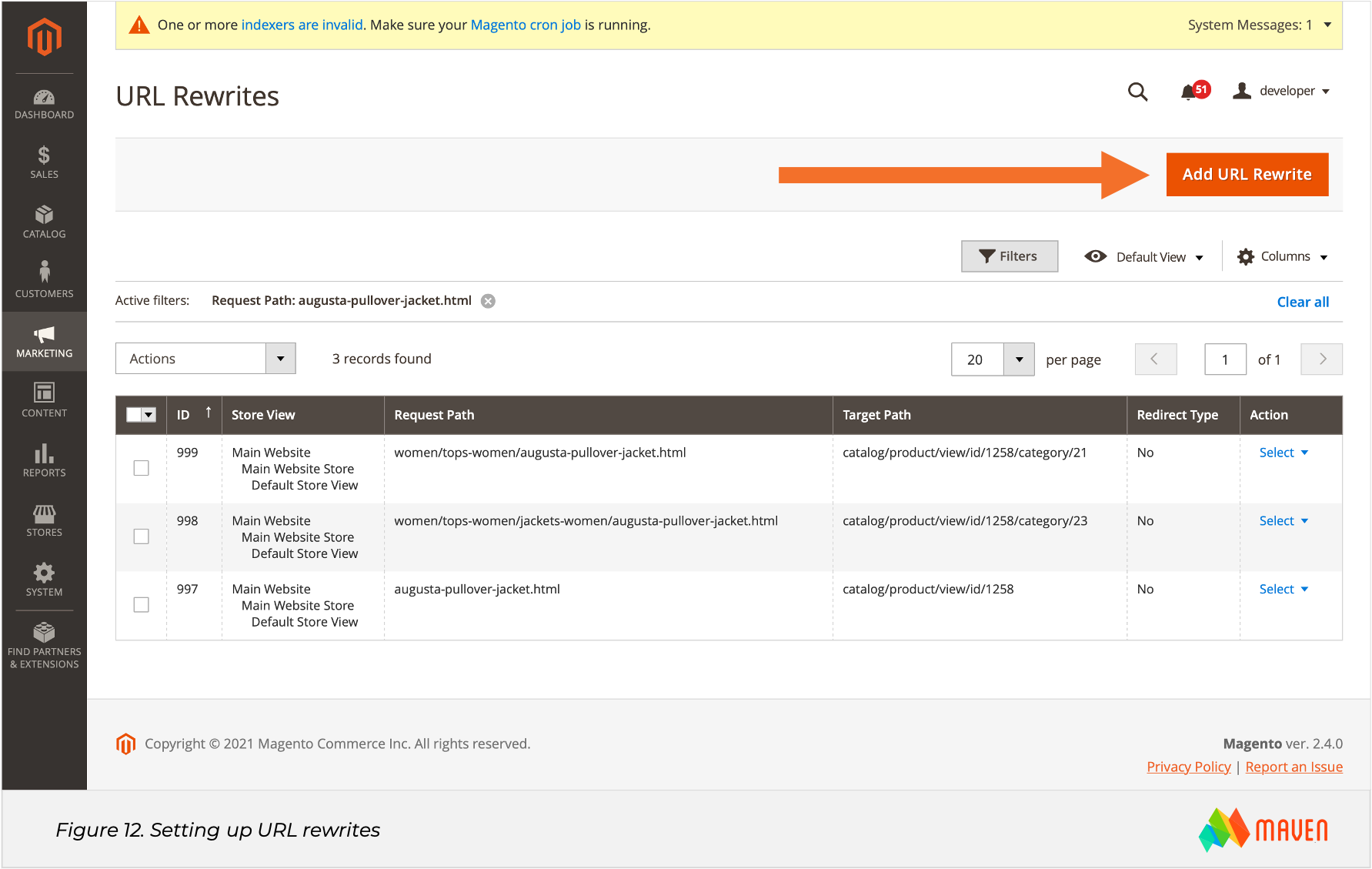 11. Connect Google Analytics
Once you have set up your Magento store you'd want to track how successful you are. Google Analytics will not just reveal where customers come from to your store and what they do once there, but also show you which search keywords are associated with your store. Even if you are not planning to use Google Analytics immediately, have it set it up as soon as you can to tracking your SEO progress.

Later, if you want to improve the quality of your data and the number of things you track, consider connecting Enhanced Ecommerce Analytics. Find out more about it in our BFCM blog post.
Magento SEO Summary
Spending some time and effort into getting Magento SEO set up properly is one of the cheapest and easiest ways to grow the number of your customers and your revenue.
Getting to "the first page of Google" does not happen by mysterious magic, but by creating quality content and proper technical setup. Don't hesitate about making that investment in your store's long-term success. Feel free to contact us to evaluate your Magento website's SEO in detail and to suggest and estimate possible improvements.