Magento and CRM Software. Reasons to align them all
Have you ever come up with an idea of bringing together all the software you use for commercial purposes to make an organic whole? Perhaps, it is not so crucial when your online business is relatively small and everything is in place. What has to be done, however, if you run a large-scale eCommerce project and organizing and managing an immense stock of units within the product catalog has eventually turned out to be an issue?
Since Magento is an open-source platform, many third-party development teams offer interesting integration solutions that let your e-shopping software function as single ecosystem. It can significantly take the administration weight off your shoulders and put things right while curating your customer behavior as well as employees' performance.
Integrating Magento-based web store with CRM software allows you to flawlessly keep track of all the merchandize, safely store customer data, timely fine-tune and deploy both sales and marketing campaigns and effectively measure and leverage the results of your business activities.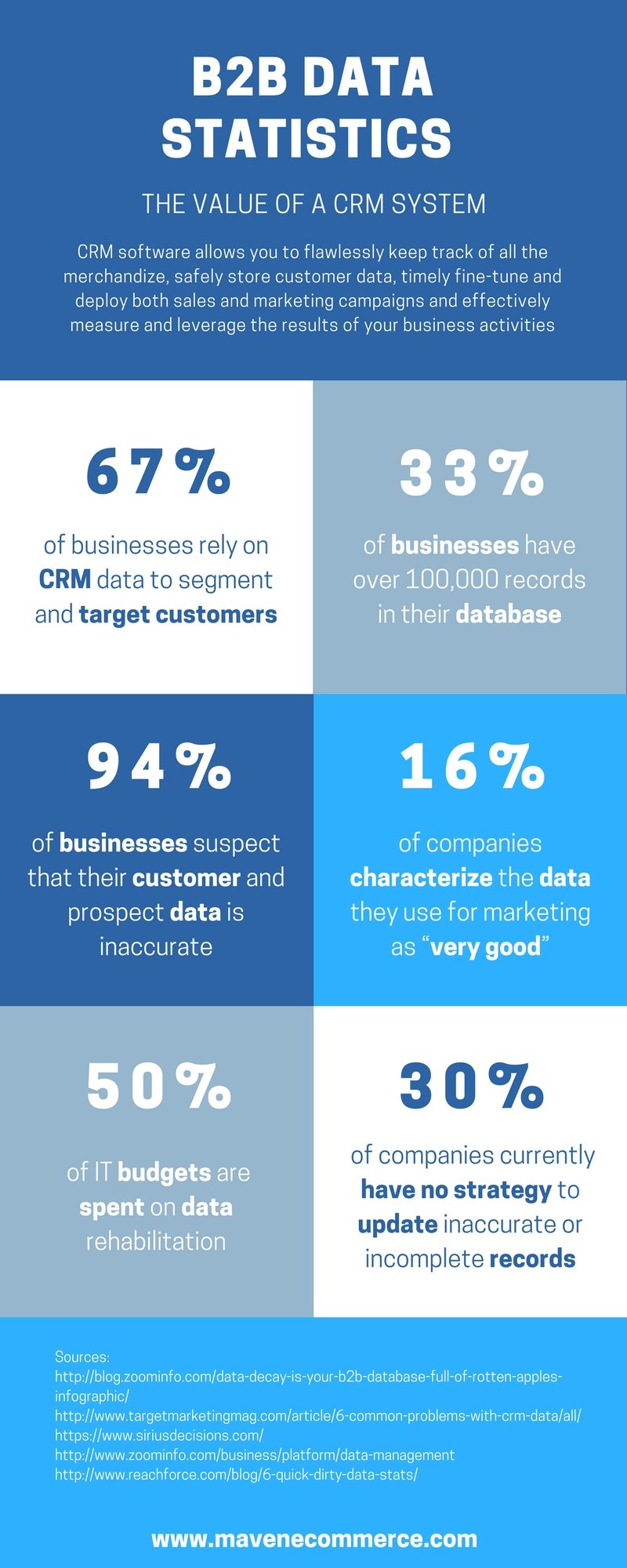 5 Signs That Indicate You Need CRM for Your Web Store
In case you have issues with administrating and measuring your customers' data and buying activities, it is high time for customer relationship management or CRM system to come into play. How do you know whether you really need CRM for your web store? We have broken down several factors for you to consider
You fail to handle the lead flow. It is not that easy for your sales team to cope with all these new prospects coming and arrange them in a proper way. CRM helps you effectively sort them and set priorities to drive better conversion rates.
Your customer database is sparse and scattered. When it's tough to make heads or tails of all the customer emails, inbound and outbound phone calls, tasks, prearranged meetings, etc., the ultimate answer is to get a CRM system integrated with your e-store. CRM serves as a unified center for all your data to be found in no time.
You are unaware of what and how your marketing and sales teams perform. How to keep an eye of the overall workflow efficiency if you are out of the office or just want to get a clear picture of what is going on at any time? Here, again, CRM seems to be the perfect option. You can easily keep track of all the initiatives your every single employee performs or (perish the thought!) underperforms at any certain date or moment.
Your customer service falls flat. You try your best to drive customer retention but the churn is way too revealing. It may put all your online business at risk, since repeating customers play a vital role in driving revenue growth. CRM assists you in following up your customers in the right way to engage them, to nurture their loyalty and make them return to your web store for the second purchase.
Reporting seems to be a nightmare. Analyzing weekly or monthly reports to measure your business progress is highly imperative if you want to reach any success in eCommerce. However it usually takes too much time for your managers to complete them, to say nothing of many mistakes, typos or any other inaccuracies that may occur. CRM system provides you with in-built reporting tools to help realize whether and when you have taken the wrong turn in business strategy. It also gives you understanding of what should be done to steer clear of any pitfalls in the future.
Since Magento 2 is an open-source eCommerce platform, it is quite feasible to get it integrated with a sizeable majority of today's popular CRM systems. Keep in mind though, that some of them may appear to be functionally deficient and lack essential options; some are not compatible with Magento 2 version; some are too pricey to comply with your business model. So make sure to drill down all the specifications of a CRM system before deciding on which one to choose. To get more insight of Magento integration capabilities, please, refer to our integration services page.
OroCRM Intergation with Magento: in a Nutshell
When it comes to CRM-to-Magento 2 integration, OroCRM showcases itself as a superb toolkit to manage your clients' activities. What makes it that matchable for your online store? Let's have a closer look.
According to Splendid Apple, a leading Magento marketing agency in the UK, Oro has been recognized as the most innovative CRM. And it has its reasons. OroCRM is an ideal digital solution to expand the functionality of your Magento-based store. Whether you run B2C or B2B eCommerce project, this tandem helps fulfill both your sales and marketing goals, namely keep an eye on all the existing customers as well as on the prospects and leads ever visited your web store. Oro is efficient at processing and storing big data, which makes this CRM optimal for large online merchants.
For customers. When integrated with Magento, OroCRM provides you with a full set of algorithms to:
effectively view and manage customer profile data
segment your customers with strong regard to age, geolocation, purchase preferences and history and other traits
interactively associate customer information via multiple channels, which prevents you from duplicating account data
automatically update and sync customer database
keep track of all the feedback and interactions to promptly respond to changing customer needs.
For Leads. OroCRM-to-Magento Integration enables you to:
collect lead information to better realize your target audience
identify and monitor lead website activities, including Abandoned Cart feature to customize your online store merchandise in accordance with the preferences of prospective customers
utilize an omnichannel approach to capture and nurture your leads and prospects with a help of email marketing campaigns.
All in all, Magento and OroCRM bundle equips you with a holistic solution to completely handle your online business at scale and stay ahead of the curve. Do not hesitate to contact us to learn how to get it easily installed and keep it running.