The Best Magento 2.0 Themes and Templates
Following the official release of Magento 2.0 in November, 2015, designers and developers all over the world are working on updating themes and extensions to comply with the new version of the most popular ecommerce platform. Even though merchants are still hesitant about migrating to Magento 2.0 despite its compelling advantages compared to the predecessor, it's already clear that Magento will focus on its constant improvement in the next few years.
Acknowledging the fact that complete migration to Magento 2 by all store owners will take time, the vendor has announced that previous versions will be supported till 2018. Most major merchants are likely to schedule the update for 2016. The hardest part of it will be transferring customization, as all themes and custom elements are to be drawn from scratch. We've compiled a list of the best Magento 2.0 themes and templates that have been released so far ranging in price from free up to $100.
Luma
Kicking off our list is Magento 2.0 default theme known as "Luma." It is free and comes with the product's download files. In both usability and design it is miles ahead of its predecessor called "Madison Island." Among its main features are tile structure and fully responsive design. Changes have also been made to product, category and checkout pages. It's a modern, clean and trendy theme for starting a Magento-based shop, although some merchants might feel it does not cover specific business needs. Another thing worth mentioning is that Magento 2.0 default theme might not work perfectly when accessed through low-resolution screens.
You can check out the demo here.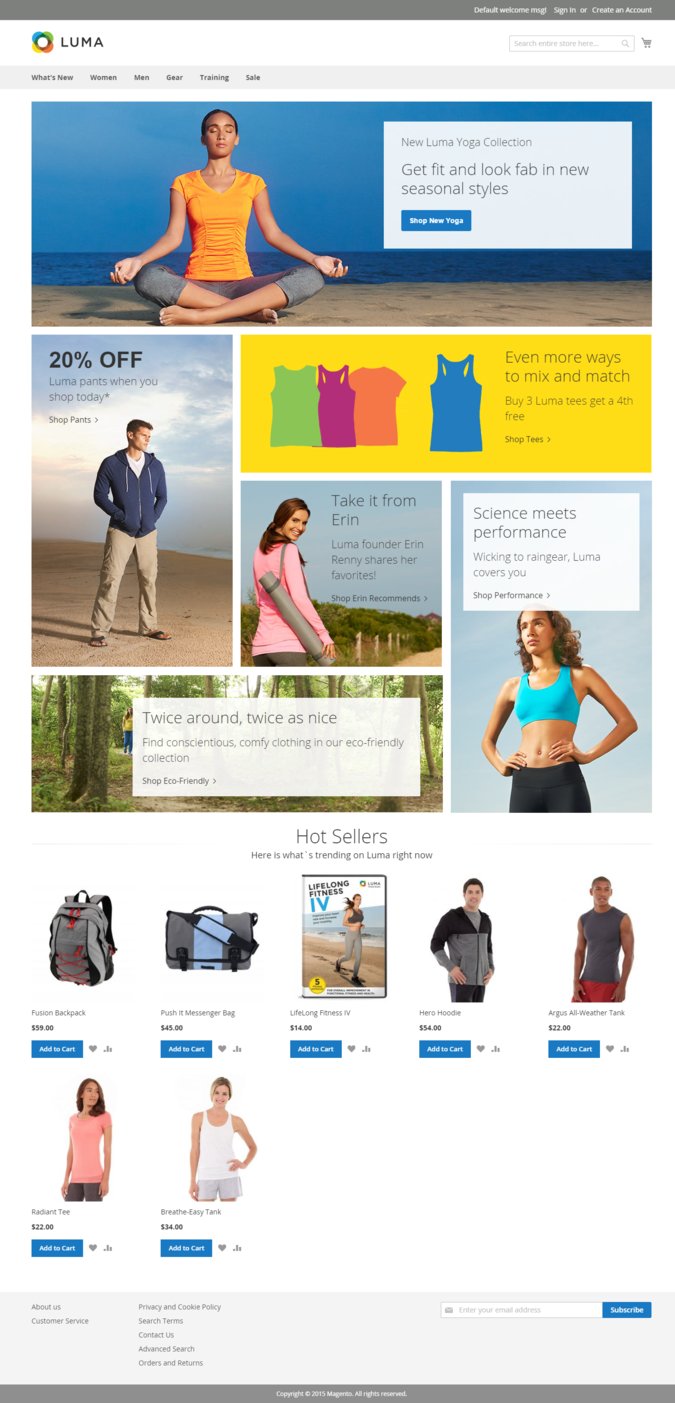 Crafts 2.0
Another free entry on our list is Crafts 2.0. Much like Luma this theme also features tile blocks at home page and is mobile friendly. For product page designers chose a grid structure to enable easier browsing.
To see the live demo or download this theme, follow the link.
Ves Yume 2.0
Ves Yume 2.0, a child of Venustheme developers and designers, is a free Magento 2.0 template released, as claimed by the company, "as a gift" following the platform's update. Ves Yume 2.0 inherited a few things from Magento's new blank theme and UI. Among the features of this theme are compatibility with Bootstrap 3.x Layout Components, Ajax Cart, checkout improvements and responsive design.
You can view the live demo and download this free Magento 2 template here.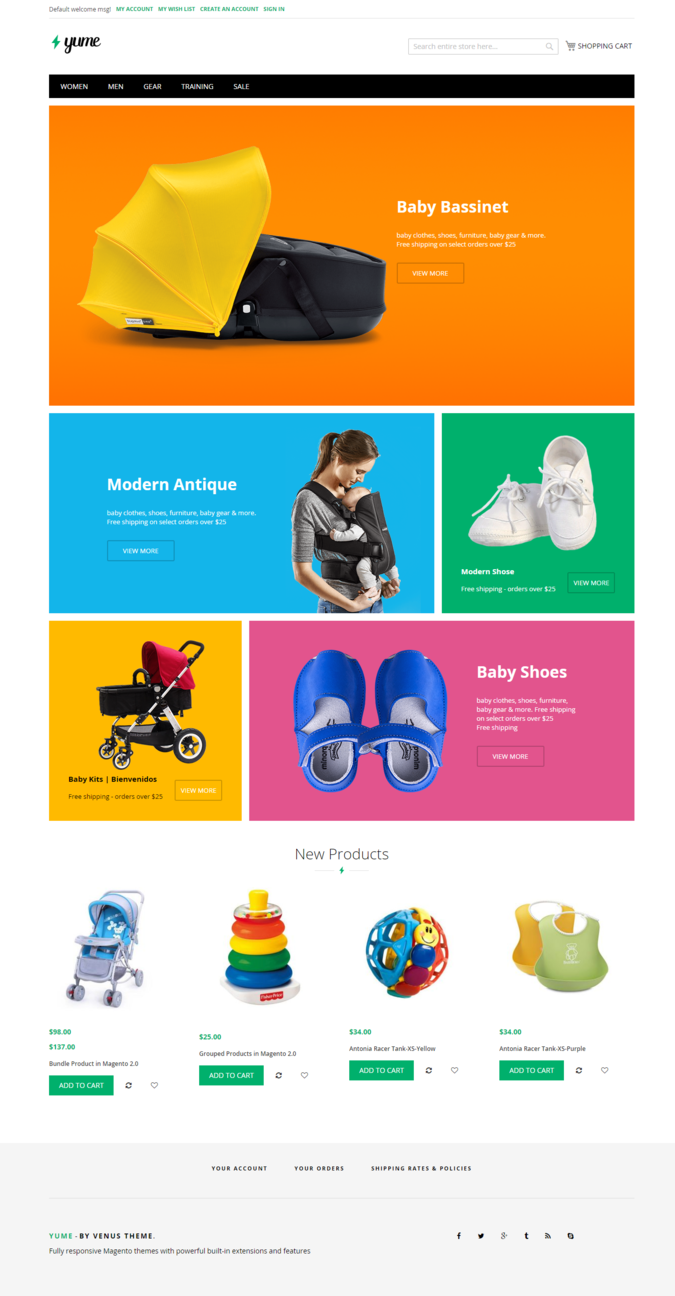 Ves Vigoss
Here's another free template from Venustheme crew. Dubbed "Ves Vigoss" this template was designed based on Magento 2.0 blank theme with Bootstrap 3. The features are pretty much the same as Ves Yume's: responsive design, scalability, Ajax Cart and Brand Logo Slider. Some sneaky ecommerce websites have already started offering the two themes mentioned above for a fee of $5-$50 therefore it should be stressed that those are free, at least according to their vendor.
Follow the link and download this responsive Magento 2 theme from vendor for free.

Ketty Magento 2 Beta
The last free entry on our list, Ketty Magento 2 Beta was actually one of the first Magento 2 themes to have ever been released. Among the most prominent features, apart from responsive design and Ajax Cart, are improved checkout, cross browser support, configurable swatches and a slider. The only thing asked in return for downloading this free theme is a tweet.
Get this theme for free.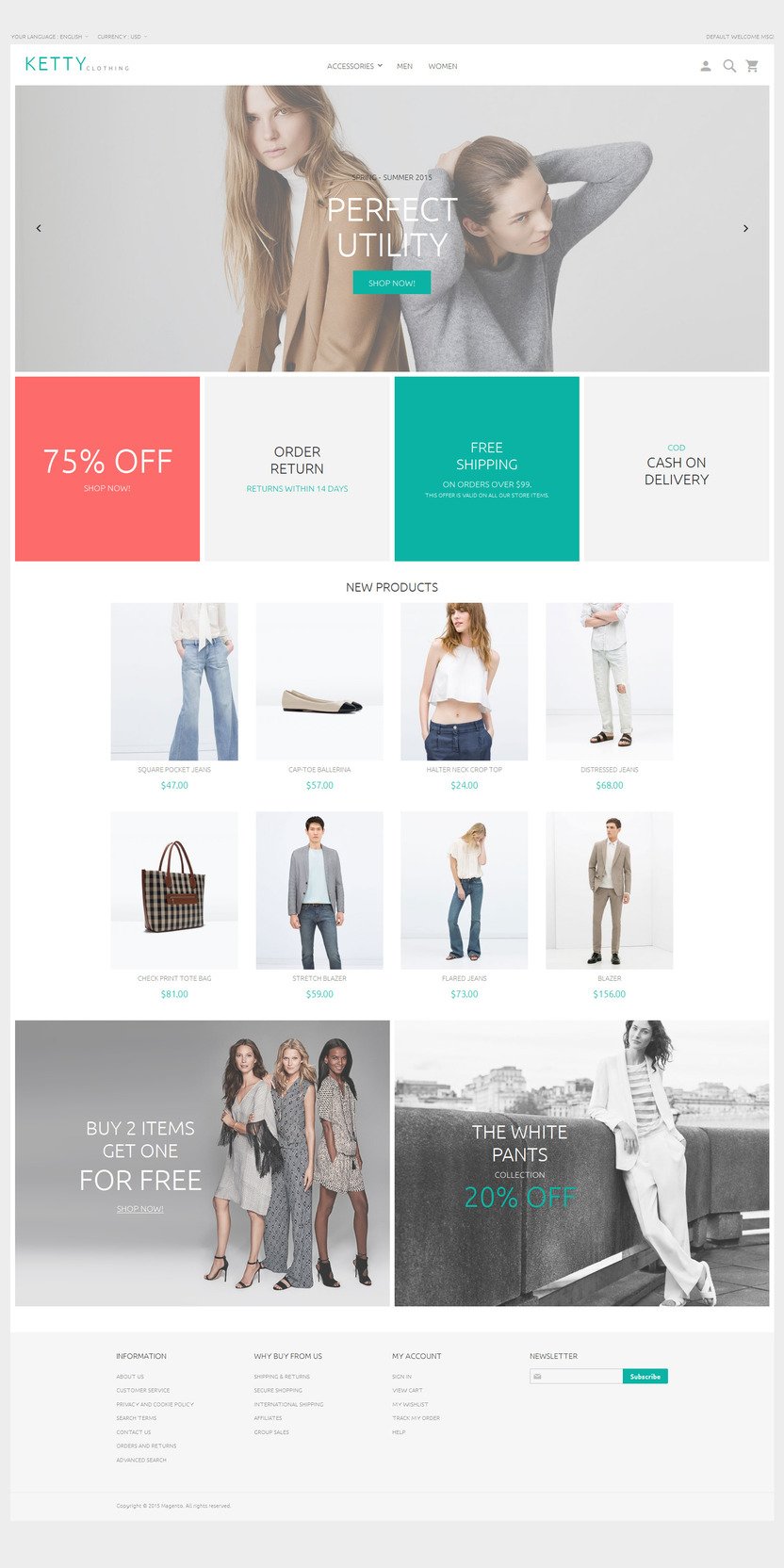 Magento 2 Fashion Theme
By the name of this theme you can understand the audience its developers were attempting to target. This template really does look fancy. Among its features are rich snippets support, customized home page, email to friend feature, color swatch on product page, full page zoom and cross-browser support. Unlike previous entries, this one is not free and is sold for $85.
To view demo and purchase it, follow the link.

Everything Magento Theme
The more expensive the product is the more features it usually incorporates. This rule applies to ecommerce in general. It also applies to themes and templates distribution. This template comes with over 21 various homepage layouts for different types of shops and unlimited color selection. It also features popup newsletter/login, multi header, cloud zoom, flexible block widget, and the blog extension for Magento. The price of this Magento 2 template is $89. To learn more about it follow the link.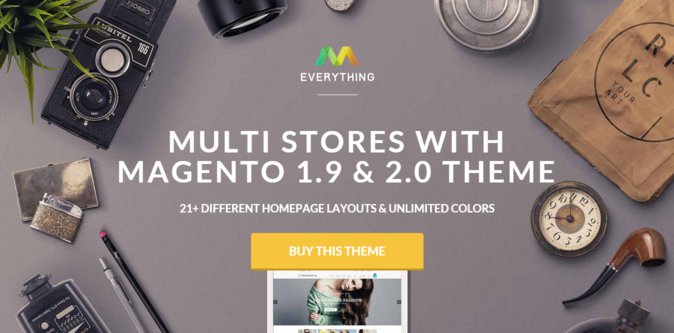 Porto
The most expensive entry on this list is "Porto." It took over 3000 development hours to complete this theme featuring 17 layouts, unlimited headers and footers, and RTL support. This theme is also Retina ready and SEO friendly. Porto is available for purchase for $99.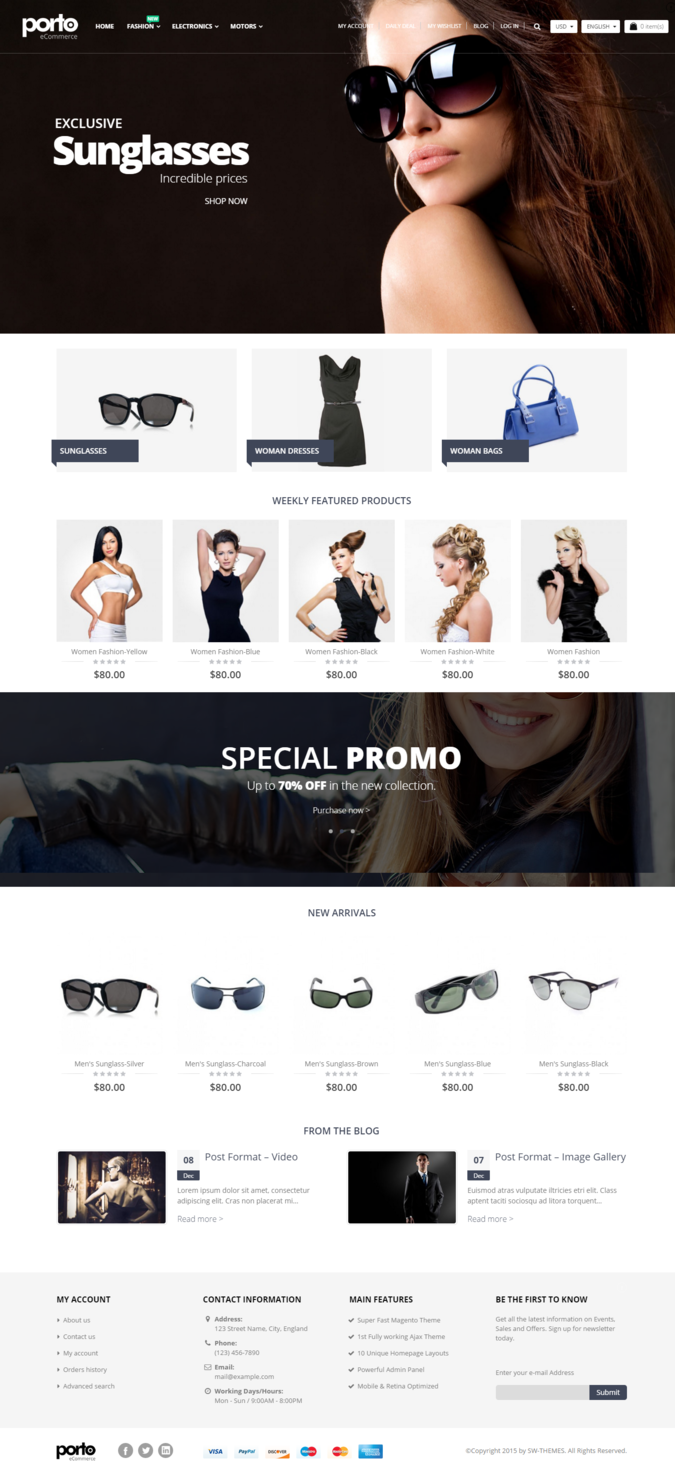 If you have any questions about anything I've mentioned in this blog post or anything else related to Magento, please feel free to drop me a message via this form. I am on the team performing Magento migration for large Magento projects.
Need Custom Magento 2 Theme?