One of Magento's attractive benefits is the opportunity to manage multiple sites and stores within just one installation. Many users wonder if there is any principle difference between Magento Multi Store, Store View, and Website. If you're about to launch a new online store, this question is especially relevant for you.
Whenever you wish to implement the original store looks or differentiate the benefits of your website, Magento is an excellent choice. But each of the listed above has its own advantages and disadvantages, so we have prepared this article to point to the major similarities and differences and help you with your further decision.
Magento Website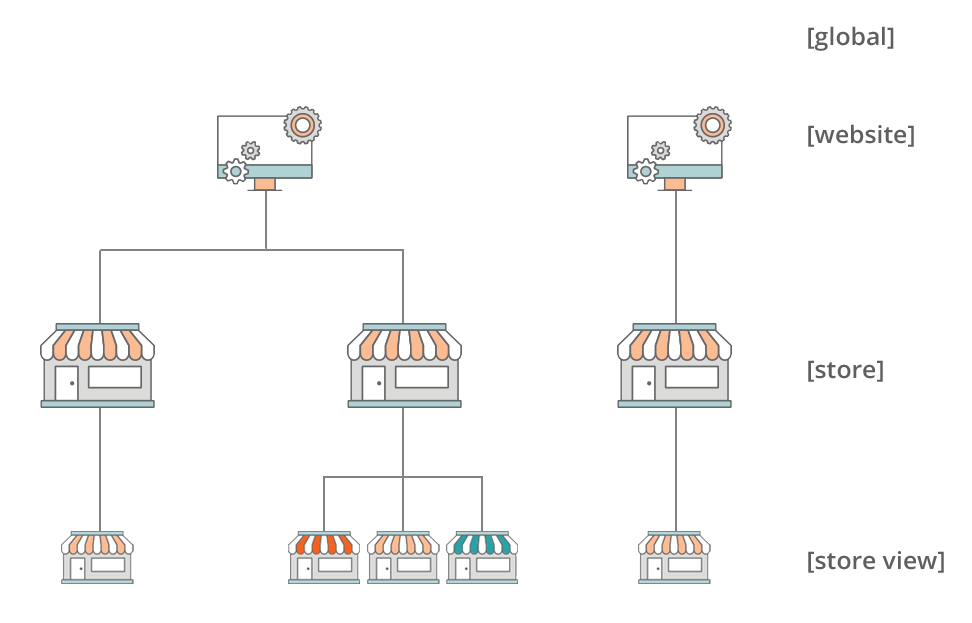 Source: Magento 2 User Guide.
Basically, we can call it "a parent of a store" as a website consists of one or several shops. A website signifies the source that hosts multiple stores. Here are 3 important things that you should understand about Magento Website:
When speaking about Magento Website, its basic advantage is having unique customers and order bases. Possessing a separate customer base is not the only plus – as a business owner, you can share customer accounts with all sites. You can divide customers into completely different sets to work with them all effectively.
On a Magento website level the merchant setting up basic business logic which includes choosing a payment, shipping methods, currency and price).
The main difference between Magento Website and Store is that the first one contains only customer data with no products and categories.
 In other words, each Magento website introduces a separate business unit.
Magento Multi Store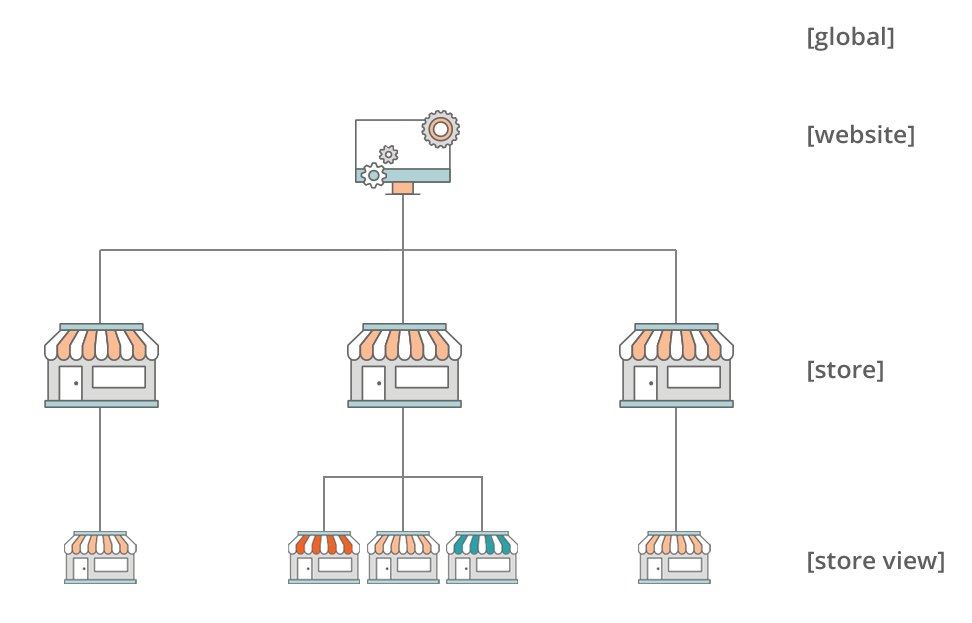 Source: Magento 2 User Guide.
When you wish to manage a range of stores at the same time, this option is right for you. For example, you own one brand which is offering both male and female clothing. You can have two separate sites for women and men respectively with only one admin interface to control two stores.
Mind that having a website is not enough: working with the front-end specific components like categories and product displays is possible only from the stores. What is Magento Multi Store good for?
First, Magento Multi Store can help you to sell many different categories of goods and services through a single web domain. You will be able to control all the products from a single admin panel. Product browsing, as well as catalog management, will make your assortment look even more attractive.
Second, the Store reflects a real shop with all offered products and services well described.
This feature makes it easier and faster for your customers to find the desired product on your website.
Such attributes as check-in, check-out, selective pricing, and add-to-cart options are all included.
Magento Multi Store setup requires a minimum of effort – you can install it from the first attempt. There is no need to log-in to various admin panels of each website to track purchases and customer behavior. You receive total control of all your online stores under different domain names and IP addresses.
The structure of your categories will remain the same for different store views.
By the way, here is how you can launch a new store. Setting up Multiple Stores can be done in several ways, so it's up to you to decide. First, you can choose the possessing of two completely different stores operating on the same domain. They can also have their own domains. When the primary domain is the way to access various stores, you deal with a mall type. Anyway, the URL structure does not influence the installation method dramatically.
A shared hosting caveat is another approach. This method exists for all those site owners who do not wish to share a single check-out and have an individual SSL certificate for each store. But in case you require an SSL certificate for all domains, you have to be in a dedicated hosting environment.
Follow this step-by-step instruction to add up another store in Magento 1.
Magento Store View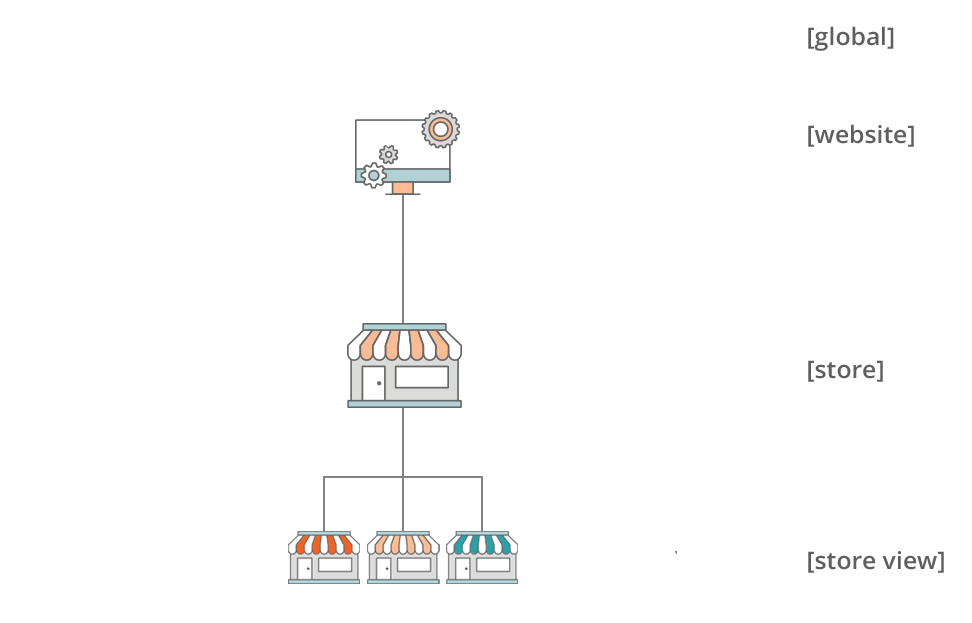 Source: Magento 2 User Guide.
Each store should contain at least one store view. To explain, think of this feature as store's translation (however, it's a lot more than that). The purpose of the Magento Store View is usually used to store alternative values for such informative content as product/service titles, descriptions, features, and more. In other words, Magento Store View is for displaying one business logic (Magento Website) differently without changing the logic itself. Here are the details:
Magento Store View is recommended for handling multiple languages at your site. It works this way: one Store View is per language. So, if you want your customers to switch quickly between one or more languages, Store View is exactly for you. It works great for multinational online stores.
This feature is also necessary for all those who wish to have different store themes and original designs. In other words, Store View will cope with everything that can be solved only by applying the design/template directory on the server or language pack.
As a Magento store owner, you can always enjoy granular localization support. It considers not only languages but the locations of your customers.
Also, because this feature is focused on adjusting the facing text of a setting and other elements of design, its functionality is isolated.
No specific payment methods are allowed for every store view.
No separate shipping methods are involved.
Category structure will remain the same.
You won't view the majority of reports based upon store view segmentation.
The main disadvantage might be the need for a native speaker to rewrite your product information in a particular language. However, with the variety of choices today, it shouldn't turn some problem.
Thus, Store View is simply a way your online shop is being presented/positioned.
So, it's up to you to decide what matters more for your online business: a pretty design with numerous available languages, or extended functionality for further speedy growth.