If you are lucky enough to have your web store run on Magento 2, you might already realize that the overall software integration is more than essential. A great number of extensions have been designed exclusively for Magento 2 to streamline eCommerce functionality and make your online business work like a charm. Our devoted blog followers may find useful our recent overview article. It covers different functional aspects and gives you a more generalized picture.
As this October's Shoptalk Europe speakers estimate, 85% of customer interaction in eCommerce will be orchestrated by Artificial Intelligence (AI) by 2020. We fully agree with this digitalization tendency, that's why we are going to elaborate on the extensions helping you enhance the inventory management performance.
Nuts and bolts of inventory management
How can we define inventory management? Simply put, it is the practice of handling the ordering, storage and usage processes of all the merchandise you are about to sell through your retail channels. Efficient management means here that you keep your inventory items in stock, fully classified and catalogized, that makes you data more accessible to the respective departments in real-time and exceeds your company's workflow.
According to the Journal of Theoretical and Applied eCommerce Research 2017, an accurate inventory control is crucial, especially in supply chain management, since 65% of inventory entries of a certain retailer appear to be erroneous. With this discrepancy in mind, let's break down the main factors impeding the effective inventory management.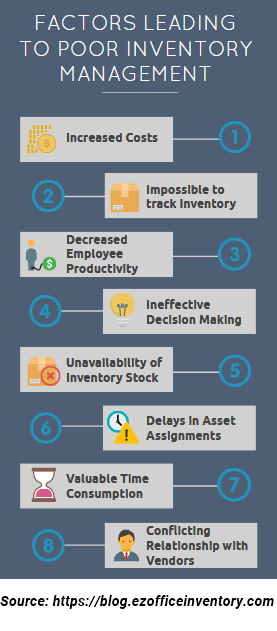 What makes your inventory management feeble?
Poor merchandise processing will lead to troubling results that can jeopardize your eCommerce success. It is worth mentioning that experts are fully aware when there is something wrong with inventory processing strategy in their businesses. Thus, 67% of supply chain professionals estimate their current ability to deploy proper inventory management strategy as poor to average. Sometimes this awful level of inventory control performance is just a matter of technology ignorance, since warehouses utilize only 40% of their available management systems' functionality. The following factors are the true signs signaling your inventory management strategies are in trouble.
Backward planning issues
Most online stock keeping units (SKUs) are time sensitive and vulnerable to seasonal changes, even if their quality remains unvaried. Understocking will eventually result in customer churn increase. That's to say nothing of a fast-moving consumer goods, since the FMCG sector will drastically expand its eCommerce presence by 2020. Planning your inventory in advance will make your business strategy much more precise and enable to predict all the expenditures for any certain fiscal period.
Overstocked with junk merchandise
Web stores always try to get advantage of any discount offers their supplier may provide and make bulk purchases of such merchandise. Firstly, it seems like a very promising business move for eCommerce retailers. Lower retail prices enables to stand up to big competitors and lure more customers. However, there are some traps and pitfalls of this approach without a decent inventory management system getting applied beforehand. If you are not able to predict further expenses for carrying all this discounted stuff, it will be just lingering on your virtual shelves that cost you a pretty penny. As a result, online businesses in the US have to carry $1.43 of inventory on hand for every $1 of sales. It means that managing inventory does require automated software to cut the bills.
No proper tracking solutions
Conventional methodology of keeping track of inventory are still employed by many online retailers. Such methods, however, are way too clumsy, time-consuming and pretty much behind the times. You will just gain no results in the best case scenario. At the worst, you will lose the complete control of your eCommerce inventory. What has to be done in this case? I can assure you that the early adopters like Walmart and Amazon are already in. As a recent research reveals a CAGR (compound annual growth rate) of deploying inventory management software will be around 8.3% by 2020. So the answer is quite obvious – let digital solutions come into play to streamline your inventory control.
Don't see what's trending
Bare in mind that customers' e-shopping tastes and preferences are fast-changing and may vary greatly with time. The problem here for eCommerce retailers is pretty much alike as the seasonal demand lurch, described in the first paragraph. Albeit, with an asterisk attached – it's even more complicated to analyze and plan future inventory acquisitions that will comply with hot customers' trends.
To add insult to injury, the manufacturers and suppliers won't be able to fulfill your orders in a timely fashion. According to the MHI Annual Industry 2017 report 75% of top tech respondents will adopt inventory optimization solutions in 1-2 years in their supply chain management. So eCommerce professionals has realized that only getting inventory management extensions integrated with a Magento-enabled platform will work the things out.
Poor inventory accessibility
You are totally wrong if you think your inventory is a top secret not to be shared even with your employees. The open data is an essential option for both your stuff and your customers. The PwC Total Retail 2017 report shows that 58% of customers get frustrated that stores are not be more quick and transparent about their inventory. So a smart inventory management application is beneficial for two parties – your teams can customize business process regarding real-time demands and customers get timely and interactive inventory experience.

Which inventory management extensions are to choose?
Today's market offers a wide variety of apps and extensions to power up your Magento 2 eCommerce platform. However, the integration process is not as easy task to complete as it may seem. Here we have listed only the most efficient solutions that can really help your online business.
1. Inventory Management Magento by Magestore. Once designed for Magento 1, this smart extension by Magestore has updated its functionality to meet Magento 2 features. It fully satisfies all eCommerce needs for keeping stock entities under control and is ideal both for mid-sized businesses and small online startups. Magento 2 Inventory Management solution lets you handle the following processes: multi-warehouse management; managing and transferring your stock; adjusting inventory items; predict supply needs; analyze understocking alerts and even more.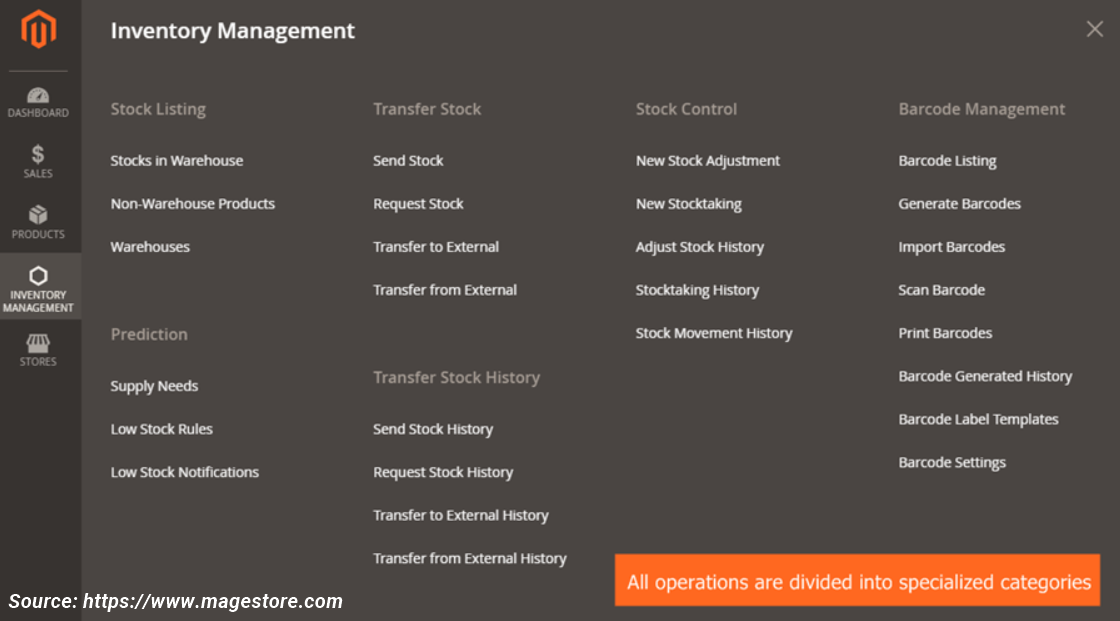 2. Advanced Inventory for Magento 2 by Wyomind. This is a popular tool from Wyomind, a Magento-certified developer, gives you full control under multi-stock and dropshipping management functions. You can create on the fly as many points of sale (POS) and warehouses as you need. An easy-to-access table makes it much easier to handle numerous inventory entities than using a standard out-of-the-box grid solution. The extensions enables you to automatically synchronize POS/warehouse inventory list with your Magento inventory database. The last but not the least feature to be mentioned here is a manual and automated option for dispatching your orders, using zip codes.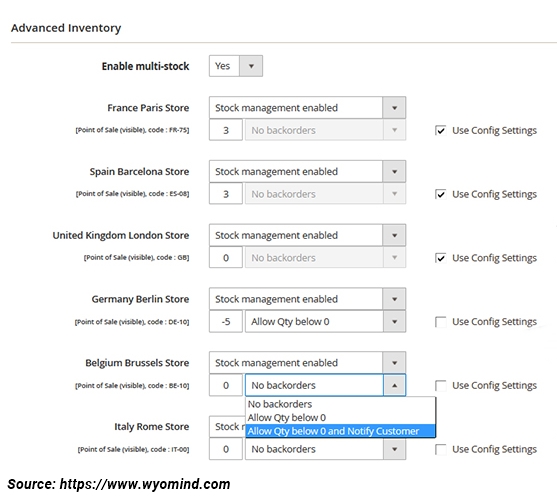 3. Multi-Location Inventory for M2 by Aitoc. Yet another great extension developed by Aitoc just for you to jot down in your eCommerce rolodex. It can overcome Magento initial limitation to create multiple warehouses and assign products to suppliers. Using the most relevant data about each of your warehouses you can smoothly manage restock operations and monitor understocking issues in a user-friendly inventory grid. If communicating with suppliers is your every day routine, this extension reduces your time for messaging and sending mass emails right from the Magento admin panel.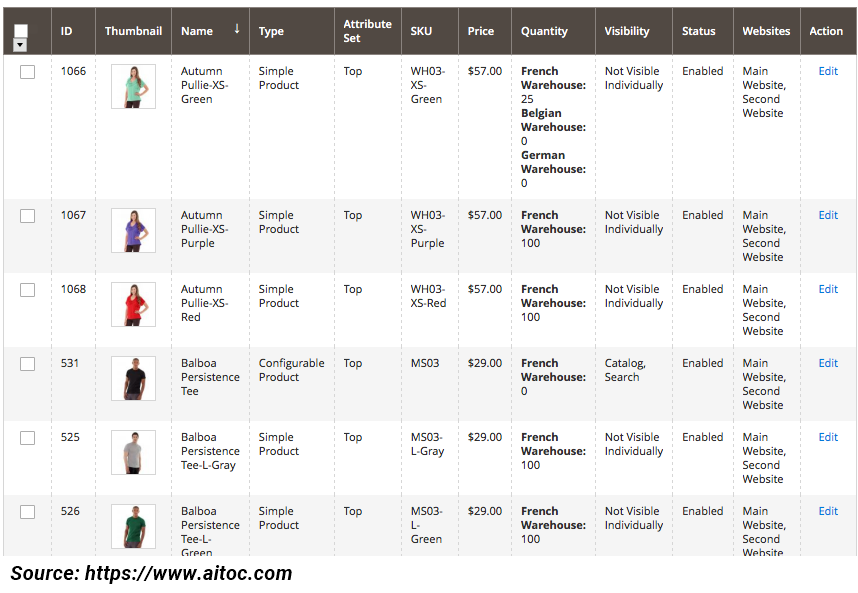 4. Multi Warehouse Inventory for Magento 2 by Amasty. This inventory tool is designed for your Magento-powered eCommerce platform by Amasty, a premier Magento extension builder. It proves to be the best at distributing your inventory items between manifold warehouses and assigning them to customer groups. It utilizes an intuitive algorithm for shipping methods and rates customization and for making separate orders from different warehouses. Another great thing is its ability to support multilingual web stores as well as stores with multiple admins.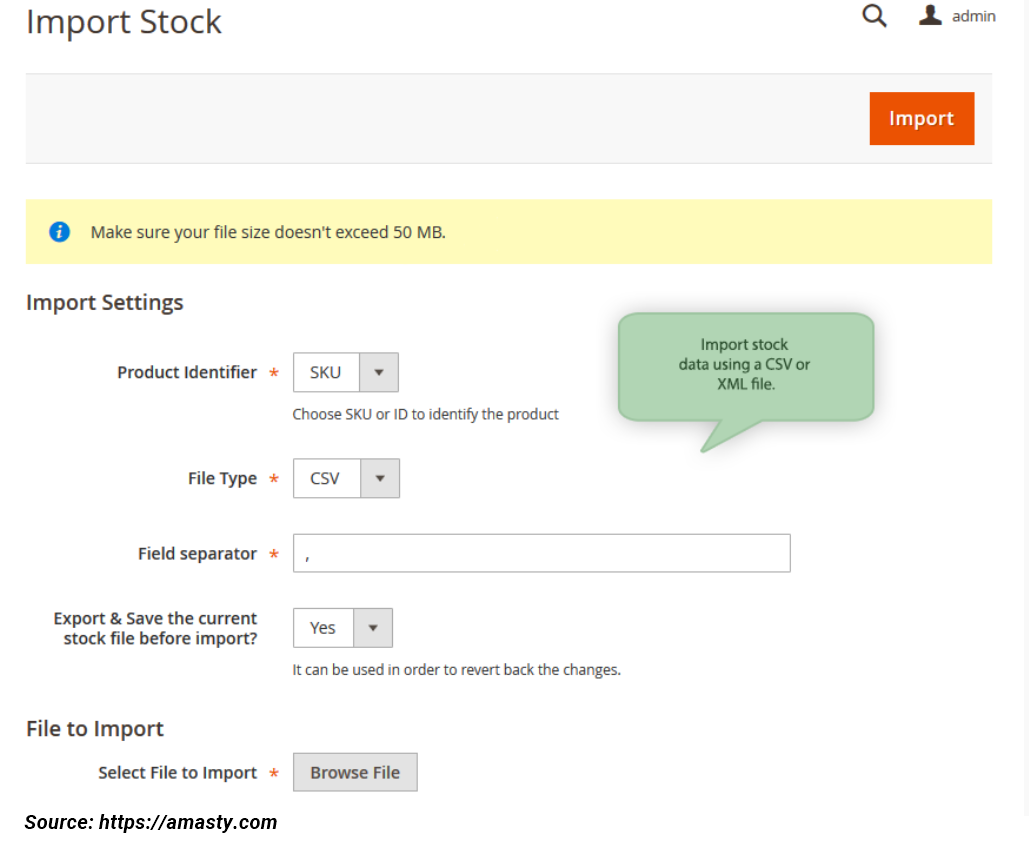 5. Stock Import by XTENTO. The extension made by XTENTO, a Magento select technology partner, is geared mostly for your inventory importing needs. It has a wide spectrum of methods to import stock level and inventory updates from CSV or XML files into Magento 2. You can easily manage and import all the files associated with the Stock entity, for instance stock quantity and availability. Thanks to smooth integration ability, this extension provides you with very fast and seamless update procedure of stock level for your products.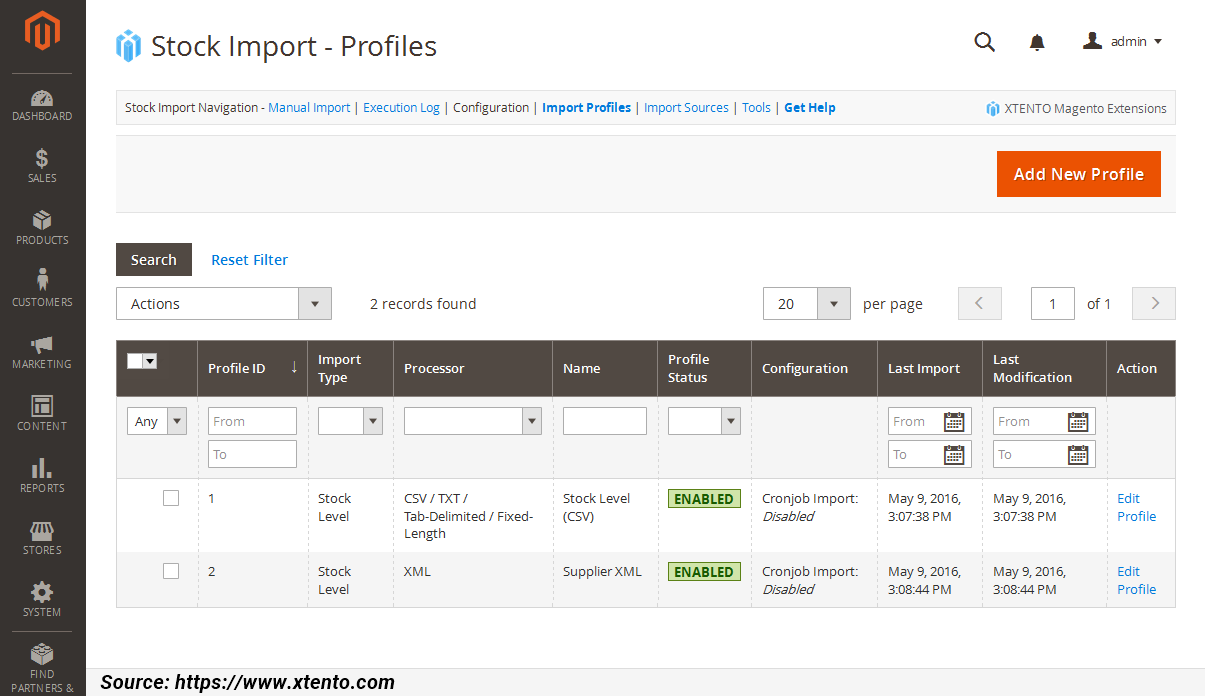 This is just a miniscule part of all the inventory management extensions developed for Magento 2 eCommerce platforms available on the market. They can be quite pricey or free of charge. In any case, you need a seasoned integration services provider to smoothly get them on board of your eCommerce project. Contact us right away to significantly boost your margins.