Digitalization completely changed consumer voice. According to the Deloitte report, 47 percent of millennials are influenced in their purchases by social media, compared to 19 percent for all other age groups.
So, the impact of channels and data is crucial for online retailers. It is the main reason why omnichannel is a must have for major eCommerce businesses. Omnichannel success depends on building seamless experience for the customers, whether they are shopping online from a desktop or mobile device or offline in a brick-and-mortar store.
Today it's not enough to be on trend, online retailers must not only use a variety of channels, they must predict consumer journey. Artificial Intelligence (AI) can become the magic eight-ball for this challenge.
AI will totally change everything in eCommerce ecosystem from optimizing internal business processes to understanding consumer behavior and mapping customer data. You definitely read a lot of comments about AI from industry leaders like Macy's, Walmart and eBay. But what results have companies achieved so far? And what AI models they have used?
The Most Innovative Retailers – AI Trailblazers
The retail industry players have always been pioneers in implementing new technologies and Artificial Intelligence was not an exception.
IBM study shows – 91 percent of retail executives said they believe cognitive computing will play a disruptive role in the industry, and 83 percent believe it will have a critical impact on the future of their businesses.
Effectiveness Model – Chatbots and Virtual Assistants
Who: The first AI trailblazer is Whole Foods Market. The company uses chatbot via Facebook Messenger to find the perfect recipe for the meal. Users need to add Whole Foods in Messenger and start communication with AI chef. For example, you need to type key ingredient (or even emoji) that you have and bot will offer different dishes for dinner or breakfast.
How: Chatbot chef was built by Conversable company. The SaaS platform provides conversational ordering experience via different channels, including Facebook, Slack, Twitter and many others.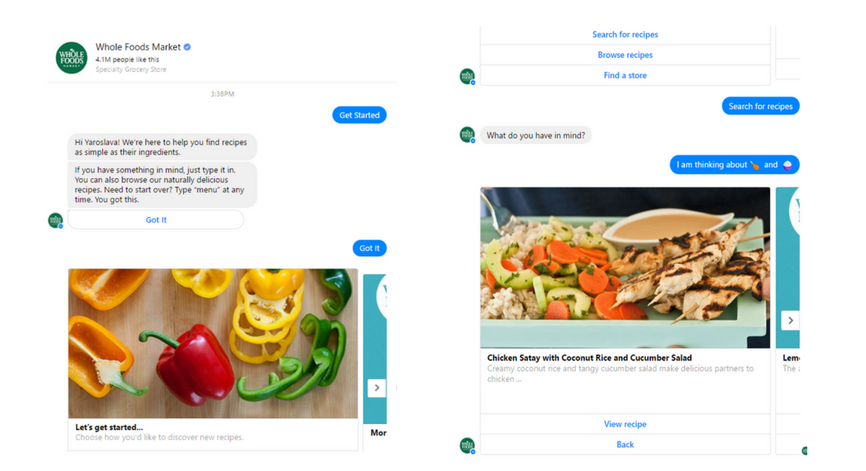 Who: Last year, The North Face introduces the Expert Personal Shopper (XPS) software and a mobile app for online buyers. With this unique solution, consumers can forget about scrolling dozens of pages to find the right item. XPS gathers data from answers and automatically calculates what type of clothes suits consumer's location, climate and needs.
How:The North Face solution was powered by IBM's Watson cognitive computing technology and Fluid Expert Personal Shopper. The team needed about 12 months for developing a smart assistant that can have AI-based conversations with consumers.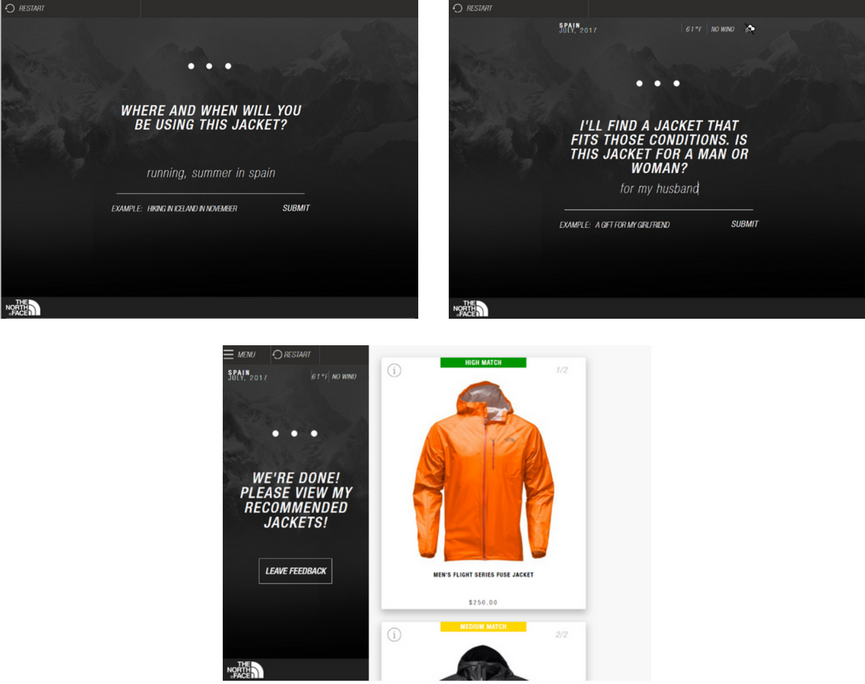 Efficiency Model – Inventory and Supply Chain Optimization
Who: A German e-commerce merchant, Otto uses AI to reduce products returns. Company analyzed that customers will return the purchase if the shipping process took longer than two days. Otto is a multibrand ecommerce store and sells items from many suppliers, so the boxes arrive at different times. To avoid this issue company created AI system that predicts what will be sold within 30 days. Thanks to their invention, Otto reduced products returns by more than two millions items a year.
How: Otto's AI system was built with the help of Blue Yonder technology. A deep learning solution analyzes more than three billions past transactions and 200 variables to predict customer behavior.
Innovation Model – Marketing and Personalization
Who: An award-winning online print company, MOO is just starting their journey into AI. Company uses machine learning to improve customer interaction and natural language processing (NLP) for content prioritization for users. The process is built around the surveys that customers receive after making an order. MOO solution analyzes answers and creates scenarios with product categorizations and tagging. Also, company implemented a basic NLP to FAQs page to simplify searching process.
How: MOO adopted AnswerDash tools for basic AI functionality. AnswerDash allows online retailers improve customer support service. The algorithm builds more predictable and personalized Q&A pages by analyzing content from search queries and converting it into new Q&A information.
According to IBM, online retailers only dipped their toe in the water and used only a small part of AI models and types:
Machine learning – about 24 percent
Virtual Assistants – more than15 percent
Chatbots – among 13 percent
In today's fast changing consumer behavior processes online retails must closely collaborate with technical companies to stay on the top of innovation trends such as AI. Only by combining both experiences and expertise, companies can build more unique AI models and dive deeper in AI features.