If you have found this article, most likely you are getting first money from selling online or just have put your products on e-commerce market. But you can definitely sell more by building trusted relationships with your customers through social media networks.
Social media today is not just for fun, it has become a powerful selling instrument for any business.
Just look through this list of smart ways to increase online sales using social media.
Why Do You Need a Social Media Strategy?
1. 79% marketers who use social media to increase sales have outperformed those who don't.
2. Companies that use Social Media Marketing receive more quality data about their customers.
3. According to the 2017 selling stats, 29% of respondents say that they constantly look for goods in Facebook selling groups.
4. 81% of customers conduct online research before making a purchase.
5. 47% of prospecting clients view 3-5 pieces of content before deciding to get in touch with retailers.
5 Beginners Steps to Launch Social Media With Eсommerce Website
6. Define your social-media campaign goals (interest in a specific product, brand awareness or just content sharing).
7. Accelerate your social media activities with marketing automation tools.
8. Create Monthly social media calendar.
9. Build a list of #hashtags that will respond to your goal and audience preferences.
10. Analyze all social activities every week and measure the results.
What Are The Best Social Selling Practices?
11. The top social platforms for selling are Facebook and Twitter.
12. To succeed on Twitter you need to do three things: post consistently, subscribe and repost.
13. Retweet your favourite tweets and give comments on the most shareable events in your sphere.
14. Twitter engagement decreases when you use more than 3 #hashtags.
15. Give customers a chance to show their personalities by asking them questions or doing some queries.
16. Meaningful Relationship Moment (MRM) is about real interaction with your customer. You need to struggle for that, otherwise, there is a very slight chance for your followers to purchase.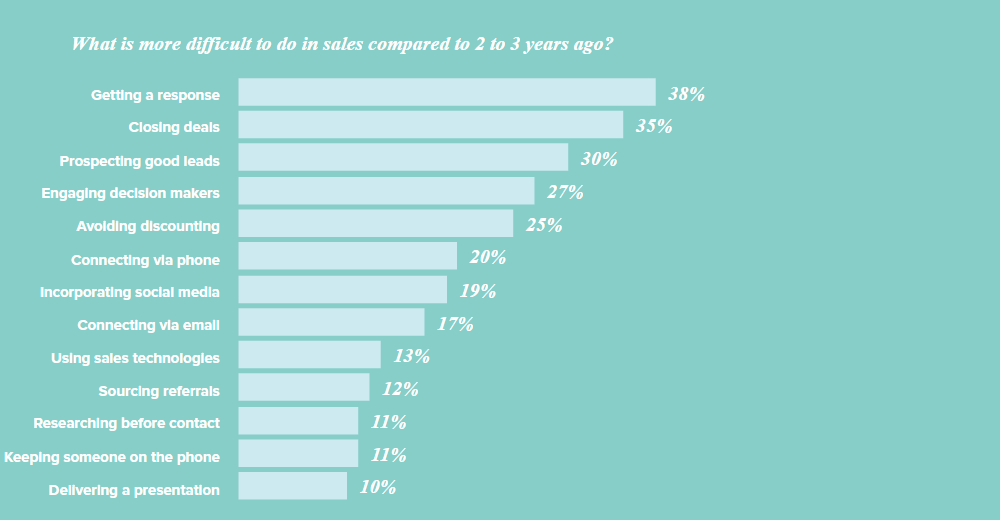 ( Source: Stateofinbound )
17. You will gain the audience only if you are going to post constantly. For this reason, people will return and become customers.
18. Add a share buttons at your product pages and increase engagement with buyers.
19. Give feedbacks and respond to comments, which are vital for your social presence.
20. Use social networks for consumer research and creating a Buyer Persona. Using a persona scheme usually increase audience engagement in 2-5 times.
21. Fill all your Social Accounts with proper pictures related to your Brand. Try to use only good quality photos on your pages.
How to Drive Sales Through Social Media With Valuable Content?
22. Good social media strategy will greatly enhance traffic of your ecommerce store.
23. Describe both your success and failure in case study.
24. Get attention of customers by releasing a success story about your Company.
25. Buffer says that Tweets with images gain 150% more reshares.
26. Use Canva for creating different types of breath-taking visual content.
27. Build a good associations with your company by creating a strong visual design.
28. Do not miss an opportunity to add some GIF animation, instead of posting some pictures, on Twitter.
29. Keep in mind that images for Twitter should have 1024px on 512px proportions.
30. Pinterest is a great place for posting infographics, which have a usual size of 800px on 2000px.
31. Use images in Facebook post with 1200px on 630px image dimensions.
32. Create a users group on Facebook and answer on all customer's questions.
33. Pin to top your most successful post on Facebook page, and get more views.
34. Put some quote on your company's photo.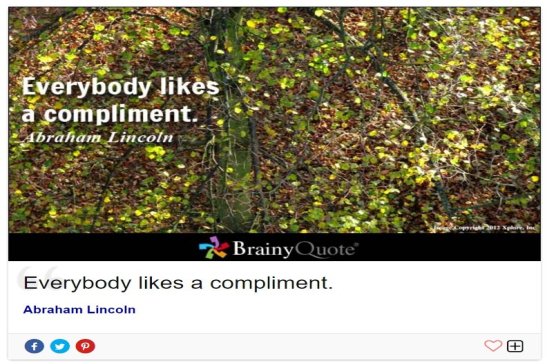 35. Screencrape all your positive reviews and share them across all social media, in order to strengthen relationships with customers.
36. To capture pics just from your screen use these tools: Gyazo, Monosnap, Jinx and Lightshot.
37. Diverse your visuals with some analytics or benchmarking charts, graphs and diagrams.
38. Holidays is a great time for posting emotional images related to family, children or other warm memories.
39. Positive and happy emotions encourage people to share your content and buy more.
40. Controversial content can go viral among huge range of clients on social media. Look on this example.The most shareable photo on Facebook by Walmart was devoted to Easter. And it's contained a hidden trick.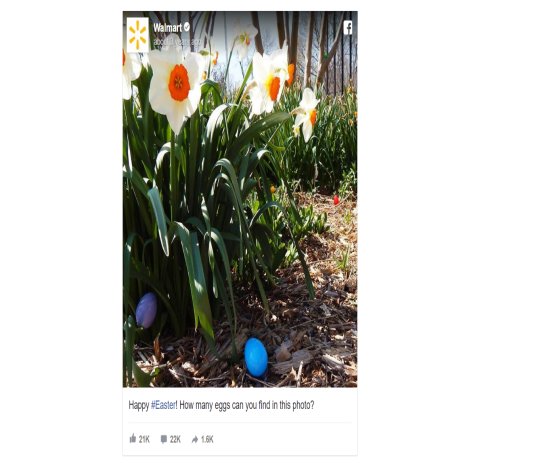 Are you a B2B marketer?
41. Linkedin social network is suitable for B2B businesses.
42. Describe your newly-listed products with slideshares.
43. LinkedIn are mostly used by Millennials, who are building their professional career.
44. Describe your personal experience, and distribute it into a e-book.
45. Generation-Z is using a Snapchat, so add it to your strategy to attract younger audience.
46. Provide to clients experience of learning in Podcasts, so they will remember your brand.
47. Native videos is the mostly viewed type of Content on Facebook.
48. You can easily make some video with the help of Animoto.
49. YouTube is extremely popular among millennials and billions of people share videos from it across various devices.
50. Promote your video using YouTube and Social Media. Create a list with distribution channels.
51. Pay attention to how long your video should be. Short videos take more views on Facebook, but 15 minutes videos tend to gain more advantages on YouTube.
52. Product overviews, product demos, how-to or shout-outs videos would be great for driving your sales
53. Include a full transcript of your video in your description.
54. Interact with customers by making some interesting quizzes.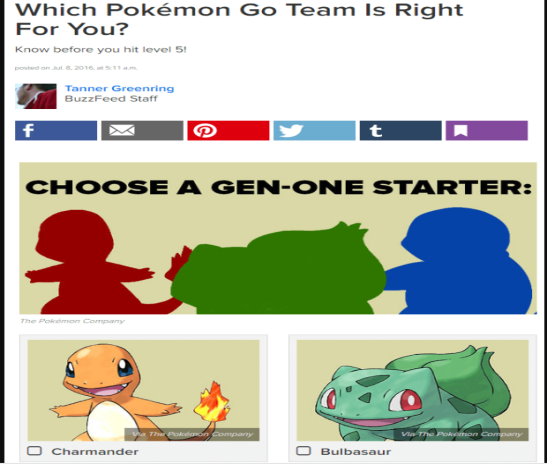 55. Such tools, as Qzzr and Survey Monkey, are perfectly designed for surveys.
56. Remember! Stop being meaningless, you might scare your customers with over-used phrases.
57. Fulfill every post with Call To Action (CTA), because customer expect to read it at the end of the post, but do not overuse it.
58. You do not have to invent something new all the time. Just re-share your previous content two-three months later.
59. Do not forget that all tweets have only 140 characters long, but you need to include #hashtags in there.
60. The most popular social network using #hashtags for selling is Instagram.
61. In Instagram, it is possible to upgrade your post with up to 30 hashtags. But you'd better not over spam and use somewhere around 12 tags.
When is The Best Time to Post on Social Media?
62. According to statistics, the best time to post on Facebook is Sunday and Saturday evenings, 1 pm – 4 pm
63. Do not forget that you have a unique strategy and you can set timing factors only based on your customers behaviour.
64. All days have different connotations for people. They would like to see something healthy and encouraged on the beginning of the week and to scroll over the entertainment stuff in the end.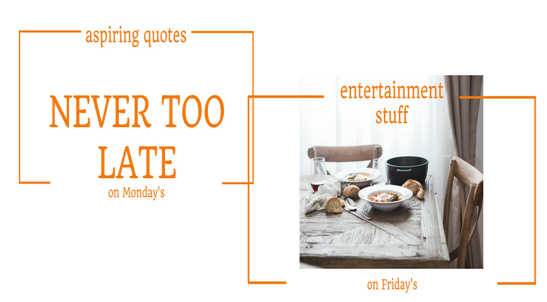 65. Data says, that the amount of Tweets for business may rank up to 50 per day, but you'd better begin with 11-14 tweets and retweets and never more than once per hour.
66. The best day to tweet is Wednesday. Schedule your tweets for at 12-1 pm or 5-6 pm, if you are not going to tweet everyday.
67. Share on Instagram in the morning, around 8-9 am, or at the night time, close to 2 am.
68. Recommended posting frequency on Pinterest is between 3 to 15 Pins per day.
69. Best time to post on Linkedin is between 10 and 11am. Making 1 post per day on Linkedin would be enough.
70.People who follow you expect to have an answer from you during 1-2 hours. There are many new inventions on a market that could help you to respond timely.
71. Artificial Intelligence inventions, such as Einstein-system, open new fields of knowledge for your advertisement campaigns.
How to Optimise Your Social Madia Marketing?
72. Three whales to build your own Content Strategy are: PLANNING, ANALYTICS and ENGAGEMENT.
73. The really important part of selling products through social networking is to use Analytics. It helps you to see social media sells stats and to use it for creating a better customer experience.
74. Google Analytic tool is able to show you see social network work best for your web site.
75. Go to Twitter Analytics and measure impressions and engagement of your posts on Twitter.
76. Track clicks on the links in your tweets with Bitly or Google URL Shortener
77. Check Impressions in Pinterest Analytics to monitor users interactions.
78. Get a business account on Linkedin, in that case you'll have access to Linkedin Analytics.
79. Metrics help you to identify posts that work superiorly and others that need a review. One of the important metrics that you need to take into considerations is "bounce rate".
80. Post up favorite councils among the circle of your loyal customers with Google Hangout.
81. Facebook for business resolves many issues regarding selling through Facebook. It is equipped with many options to boost your sales.
82. Pinterest has invented Pinners for selling products just in one click on them. Add buyable Pinners with your goods to Pinterest.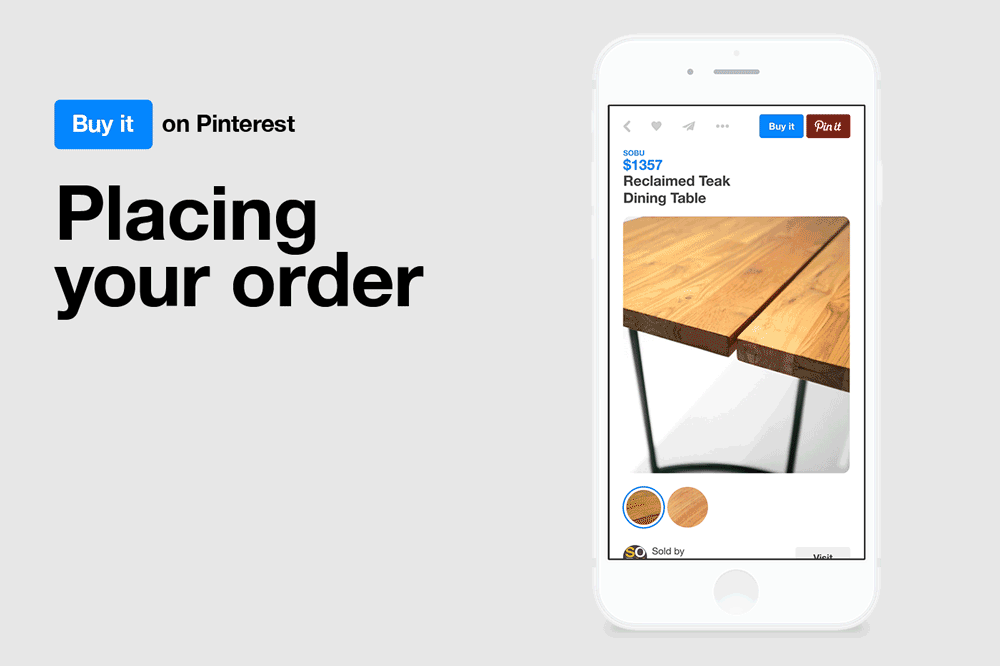 83. Pinterest Summary Cards are designed to give users preliminary information before clicking on a link.
84. Google Alerts is a great tool to follow mentions of your brand.
85. Give a try to Twitter chat or Twitter party. Collect customers in one place and collaborate with them in a friendly way. For productivity, use TweetChat.
86. Do you know what is called Twitonomy? It is a helping tool able to find a personal hashtag correlated with your content.
87. Store all your hashtags in one place using Hashtagify or find more ideas and trends in REAL TIME with TrendsMap.
88. You need only 1 or 2 catchy hashtags on Facebook.
89. The smarter way to share on social media is to use content-planners such as Buffer, Hootsuite or CoSchedule.
90. Get on professional level, and adjust some ads for Facebook or Instagram with Qwaya.
91. Such apps, as Shopial, Chirpify and StoreYa, are designed not only to curate your content, but to integrate all your social media channels into one convenient selling system.
If you have a good eCommerce selling platform, but you are not sure how to full it with all social selling tools and features, Maven can help you to do that.