When a Ukrainian startup moves to Europe, it is considered a smart decision. Whereas when a European moves to Ukraine to build his startup – it is not a usual matter. And this is the kind of story we are giving you today. In 2011 a Dutch IT entrepreneur Leander Biltges moved from the Netherlands to Kyiv to build his company called GazZup. In his interview for AIN.ua Leander is telling how it works and why he recommends Europeans to come to Ukraine with their ideas and money.
How did your career develop before you moved to Ukraine?
I used to live in a small town called Venlo on the border with Germany (Germans would come every day to shop in our city because it was cheaper). My IT career started in 1984 when I got my own computer. In 1999 I created my first website, back then the Internet was in its early stages. That is how I became a developer. I had a lot of ideas regarding ways to make money online, some were better than others. My first IT company was a small website development studio, which also provided online consulting and support for other companies and was rather successful.
I will tell you about another successful startup of mine. I had a cat. He needed some cat furniture. I googled it but found nothing. Then I decided I would make it myself. I'm not an expert on wood, but I managed to build something up in my basement. My neighbor liked it and asked me to make the same thing for him. Then another neighbor came. I decided to try and sell it online and it became a hit.
In no time I have turned from a developer into one of the most prominent producers of cat furniture in the Netherlands!
In 2 years I had a company of my own and a team of 27 people in Poland. We sold the furniture to the largest companies in Western Europe. And that was my first work experience in Eastern Europe.
Two years later I realized that cat furniture was not what I wanted to do in my life. So I sold the company and became a developer again.
Tell us about your first visit to Ukraine.
My first wife was a Ukrainian. We met online. She was telling me about Ukraine with great passion, and my first visit happened 15 years ago. Later we got divorced, she stayed in the Netherlands, and I decided to move to Ukraine.
I came to Kyiv to build my startup on September 2, 2011, and my adventure in Ukraine began.
Tell us about your project. How did you come up with GazZup?
Initially this was my son's idea. In 2004, when he was 10 years old, he was very into car tuning. And one time he asked me to make a website about car tuning for him. He was happy when I did. But I did not expect this website to get that kind of traffic. Then I placed some ads on it, and it started to bring a little revenue.
Later, one of the website visitors asked if he could post pictures of the car he wanted to sell on our website. That was a tuned green Opel Calibra. By the end of that year we had over a hundred ads of cars for sale. By 2010 we were one of the largest websites about tuned cars in the Netherlands. At that point I thought about going global.
That was the first thing we did in Kyiv: we turned a local website into a global one. TuneZup was launched in 2012, but unfortunately it did not have the success we expected. In the meantime, owners of smaller websites became interested in the software we developed for TuneZup, who made it and where they could buy it or download it. Most of these websites used software for forums, such as PHPBB, but they wanted something better. When they learned that this was our own product, they asked if we could make something similar for them. This way the idea of GazZup took shape in 2014. I could work in IT again and concentrate on the product.
We wanted to offer a simple solution for clubs and car enthusiasts who wanted to create a car community, a forum or an online shop. Most car enthusiasts are not good at programming. GazZup does not require users to have any programming skills.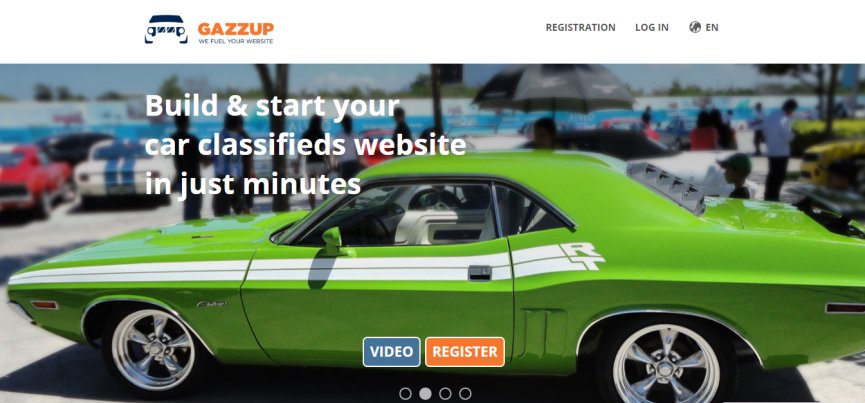 Gazzup.com
Imagine that you want to create a website about Honda. You want to communicate with other Honda enthusiasts, sell and buy cars and spare parts, exchange pictures. With the help of GazZup you can create such website within minutes, no development, hosting or stress involved. You just need to decide what exactly it is you want, and GazZup will do everything for you. The site is automatically filled with useful content based on chosen subject and it immediately has target advertisers.
We can handle millions of requests from all sides every day, making updates and modifications avoiding stress for the website owners or the advertisers.
Is it free? Is it advertisement that brings you profit?
The era of paid software is over. When it comes to consumer market, everything should be free of charge, because users are used to it now. Google, Facebook, Twitter – everything is for free. Why would we ask our users to pay?
Our earnings come from sales of car dealer advertisement on these websites and we share revenues with site owners. In addition to creating a web-builder for car websites, we have added our advertisers and auto dealers in. They get deep targeting of their products in our network. If they have products for Honda, say, car or spare parts, we will display them only on Honda-related websites. Of course, we have strong competitors, like Facebook or Google. But only through GazZup you are linked directly with your target audience.
We launched our platform 6 months ago, and we already have advertisers and online shops. Since its launch we have created over 300 websites, and this involved no marketing budget. Now 300,000 unique visitors access the websites in our network per month.
The idea was born in the Netherlands. But why did you decide to implement it in Kyiv?
Dutch universities produce 300 new developers per year. Ukrainian universities produce thousands of them. And the best graduates in the Netherlands are immediately offered high-paying jobs in major IT companies. When I decided to launch a startup, I had about 50,000 – 60,000 euros. With this money, I could hire a good IT specialist for six months in the Netherlands. And later I would need to attract investments, which is very difficult in the Netherlands. The other option was to go somewhere where you can hire a lot of professional developers for less. And Kyiv is such place.
I could go to India, but I have not had any experience there. And in Kyiv I have a friend Dmitri, whom I trust. We met a long time ago at an IT Forum in the Netherlands. He, too, has a small IT-company in Ukraine, and they have been developing websites and software for Eastern European customers. When I was planning GazZup, I looked for programmers who were able to put my ideas into practice. One day Dmitry said: "Come to Ukraine!"
So you had here someone you could trust?
Dmitry helped me a lot. He believed in my idea, and offered me to work from his office at the initial stages and did not take a penny. When the number of employees began to increase, we moved to another office in Leo Tolstoy Street.
Dmitry also explained me the intricacies of doing business in Ukraine including legal aspects, taxation peculiarities, work with individual entrepreneurs, what the decent level of wages for my staff should be. Now we communicate a lot less, but turn to each other, when necessary.
When you first arrive in Ukraine to do business, there are two options: hire very expensive lawyers and advisers, or make friends with local businessmen and turn to them for advice.
The costs were rather low, I had a place to stay, I hired developers with a two-month probation. Should it have failed, I would return to the Netherlands having lost several thousand euros, not tens of thousands of euros, which I would have needed to spend for such attempt at home. But we were lucky. From the very beginning I found a good developer, and the company started to grow.
But you could hire an outsources team here and manage it from the Netherlands, couldn't you?
Yes, but an IT specialist needs to be in the center of development process. When you are together all the time, everything evolves much faster. If a mistake occurs in the project, we will immediately spot it together. But if you cooperate remotely it can happen in weeks or even months. Once I left for the Netherlands for two months, and during this period work efficiency decreased dramatically.
My first developer spoke poor English (I asked him to take a language course). We often communicated using expressive gestures, and it worked for us.
In the Netherlands you become a developer because this work is well-paid. It is higher than what Ukrainian developers make. But in Ukraine young people are interested in creating something new, while in Europe money is the only motivation. This is what makes your country unique for IT.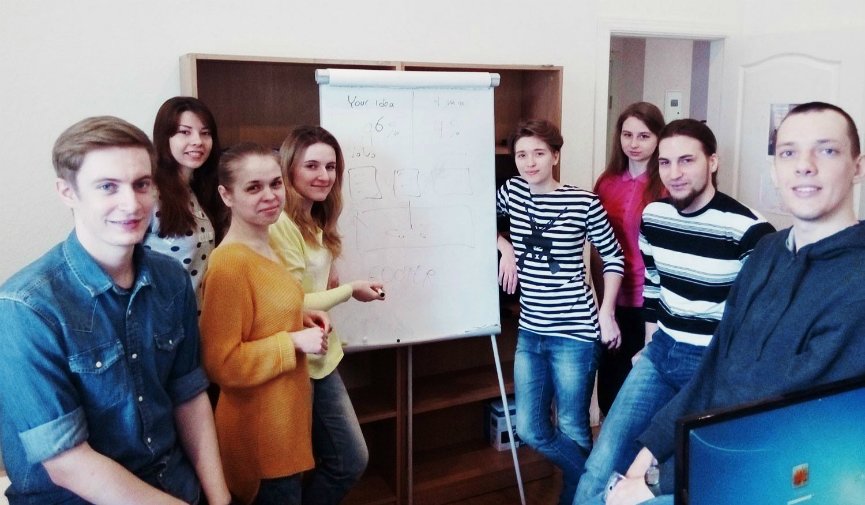 GazZup Team
Where is your company registered?
In the Netherlands. It makes sense from tax legislation point of view. Many companies prefer to be registered in the Netherlands, for example Apple, IKEA and even U2.
Describe your first impressions of Ukraine.
The first impression I had after leaving the plane was: all people were white! When you come to Amsterdam, Paris or London, the ratio of black and white around 50/50. And at first I could not figure out where all the people of colour were!
The city itself is stunningly beautiful. The not-so-good thing: for some reason I decided to take bus from Dusseldorf to Kyiv. It takes 36 hours, but in the end this turned out to be the best decision. I could watch the differences as I was going through different countries: the Netherlands, Germany, Poland and Ukraine. It was a one-of-a-kind experience. Of course, physically it is very difficult, but I would still highly recommend you do the same thing at least once in a lifetime.
In fact, Kyiv is very similar to other large cities in Europe. Some friends of mine traveled to Kiev by plane. They later said: "Oh, Kyiv is just like Paris." That is because they came out of the plane at the Boryspil or Kyiv airport, went downtown and saw nothing else, so they did not understand what Ukraine is really about. They did not go to the Left Bank of Kyiv, they did not see the areas where people live and work. I rented an apartment in the Kharkovsky district, and it was an amazing experience.
The impression you get in Ukraine is much better than what you expect it to be when you are going here. Because television in the West distorts the picture. They always show only one side: either "this is total horror" or "it is so great here." In Amsterdam itself there are districts that are similar to Troyeshchyna in Kyiv, and the contrast between them is about the same as here.
As for the people, Ukrainians are more sincere than the other European nations. If my Ukrainian friend has only a piece of bread left, he would share it with me. Relationship with friends and family is usually closer in Ukraine than in other nations. All Dutch people are little individualists.
Did you have any problem moving here?
When I came here, I could only stay in Ukraine for up to 90 days within six months. I had to pay fines every time I was crossing the border and each time I could potentially be sent back. But in 2014 I married a Ukrainian woman and we had a child together, at that point I was granted residence permit and from then on I had no problem at customs.
I no longer need a visa to come to Ukraine because there is an agreement between our countries. But back when I met my first wife, I still needed a visa, and it was a disaster. I had to come to the embassy on certain date, apply and wait in a long queue. And if you do not make it before 5 p.m., it will be closed and no one cares about your problems, you have to come next week again. Later you had to come to the embassy again to pick up your passport.
Now there are no problems with visas, but if you want to stay longer, paperwork can be a pain the back. Some foreigners prefer to go the other way: pay a little there, a little here… It is not worthwhile: you will pay ten times more, everybody will try to deceive you.
How have the living conditions changed: your home, your lifestyle etc.?
In the Netherlands I have a large apartment with three bedrooms, two bathrooms, a living room, two halls, two balconies, and all of that for me alone. I used to think it was not enough. When I came to Ukraine I learned that a whole family can live in a small studio apartment. And I learned to appreciate what I have. At first it was difficult to get used to it, but now I really feel it is OK. I have a studio in Kyiv and I like this place.
I drive a car in the city, although tax would have been cheaper. In the Netherlands taxi is for the rich, their rates are so high that ordinary people simply won't use it. In Ukraine taxis are cheap and handy, but rather dangerous. The cabbies drive like kamikazes.
I am a vegetarian and do not drink alcohol. But there are two things that are inherent to a Ukrainian dinner: tables are crammed with meat and there is always vodka. And when the hosts learn that you do not drink, you can see them get disappointed. At the same time, I'm a fan of Ukrainian cuisine. I love dumplings with mushrooms or potatoes, I like borscht: my wife cooks it without meat.
How have your expenses and income changed after you moved?
I was fully involved in the project that I have invested in. That means I stopped getting salary. So I needed to constantly cut my expenses. Probably not to the level some Ukrainians have to, I simply don't know how to live on 200 euros per month. But compared to my Dutch friends I don't spend much.
In reality it is not so hard because everything (from bread to transport) is so much cheaper in Ukraine. In the Netherlands you don't do a lot of shopping. That is why most foreigners in Ukraine spend so much trying to impress girls. What they don't know is that it does not work.
Do you still work on growing your startup or GazZup has investors now?
Two years ago we were running out of money. So I started to look for a partner and met a 70-year-old rally driver, an avid car enthusiast and a very successful businessman. He started to invest in our project (he still participates in rallies on regular basis, and last year he won a race in France in his class. If I were his age, I would probably be in a wheelchair by now).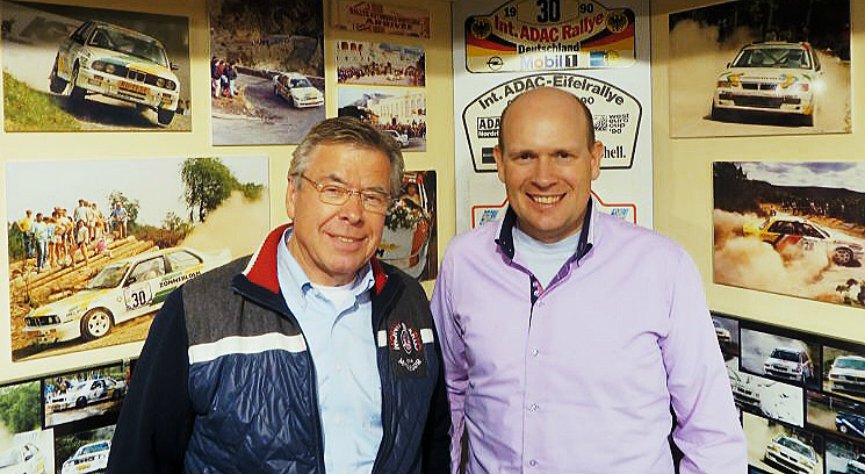 Leander with Henk Vossen
We are planning to expand now, that is why we are looking for investors now.
How much have you invested in this project?
As of today it is approximately 200,000 euros. But we are planning to bring 600,000 euros more.
How did the revolution influence your business and your fund-raising process? Did you consider leaving Ukraine?
Back then I was in the process of negotiations with investors, they asked us about Ukraine, and I told them it was such a great country. And then revolution came along. Nobody invested in us back then: investors were afraid to do that.
I was somewhat afraid myself, I did not know what was going on. One of my friends moved his team to Turkey to wait for the situation to calm down. I was considering my options, whether I should go or stay. What stopped me was the fact that it was all going on downtown. You move three streets away, and life is as usual. We decided to work from home, and if things got worse, we were planning to move to Poland. Fortunately, we did not need to.
And then national currency collapsed – and everything became very cheap. Our rent became three times cheaper. This is perfect time for foreign companies to enter the market to do business: resources are very cheap and specialists are great. And you have everything you need to succeed. Cheap and good-quality housing, restaurants: Kyiv is now one of the cheapest cities in Europe with 1 million+ population. And although it is bad for Ukrainians, it is truly great for foreigners.
What can you say about business climate in Ukraine?
In Europe, and in the Netherlands in particular, everything to do with business is heavily regulated. From the height of the chair you are sitting in and to the air density in the office. Everything is put on paper and there is not getting out of it.
It is easier in Ukraine. I had to fire an employee here. If I had to do it in the Netherlands, I would probably regret ever starting my business. It is a huge pain in the back, which can result in years of settlements for this employee. In the end you are afraid to risk to hire people because, and you end up doing it all by yourself. In Ukraine I can afford this – if a person does not fit in, we will simply part ways.
Ukraine let people with ideas implement them. The country needs investments from abroad and people who can bring them here. That is why they need some freedom.
What are the things you don't like in Ukraine?
I don't like Ukrainian winter. In the Netherlands there is no winter as such. There are three days a year when the temperature falls down to -3 degrees Celsius, which causes nation-wide panic. I am a summer person, I love the sea, the sun, the beaches. I hate winter. That is why I cannot imagine spending the rest of my life in Ukraine or a different country with this kind of climate.
MavenEcommerce offers top-notch outstaffing service in its Ukrainian office. For more information please follow this link.