Start planning
Very often even work of a minor size requires a plan because it helps to organize your thoughts and find a logical solution of a problem. The issue of a website design is not an exception. The best way you can start creating a site structure is to get a plan of your work. Take into account all the factors which can affect this process, for example your target audience, budget, timeline, competitor research results etc. These elements will help you to set accurate objectives and decide what exactly to start with.
Look for a qualified specialist
Obviously, the question of website design may be completely new for you and you may be looking for some help. There are several rules you should always keep in mind while choosing web specialists and working with them. You should explain your wishes and requirement as accurately as possible, and check whether your potential employee understands you. Besides, don't forget to set a timeline for your website creation. Anyway, remember that you should always be an active participant of your website creation.
Take care of a hierarchy
Logical order is a thing without which your website won't function properly. A website is like a puzzle, and if all its pieces are put together correctly, then a customer won't get any trouble using it. While creating a website structure you should think of its hierarchy – the way you will organize the information on your store site. There is no doubt that it must be logical, not overcomplicated and easy to understand. It's important to take into account namely visual hierarchy. As we know, people accept a great piece of information using visual receptors and, consequently, this factor plays a crucial part when users are visiting your website (That's why "Add to cart" button should be big and above the fold). See how BestBuy uses hierarchy in their menu and buttons.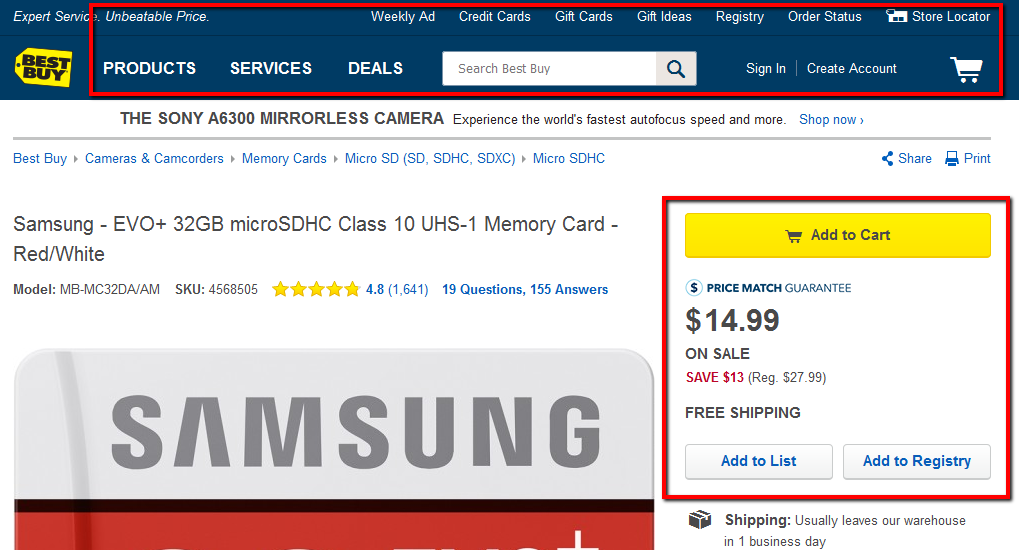 Your site can be divided into several parts which differ in the level of their importance. Logically, you would like to draw users' attention to those which are more significant than others. To do this you could use the main principle of visual hierarchy – the more important the website part is, the more emphasized it must be.
Simplicity in website structure
A complicated website structure is frightening. Customers want to see a website which tells them itself how to use it and requires minimum effort and time to do this. Simplicity will allow users to browse your website easily and find everything they need intuitively. The more intuitive the website structure is, the less cognitive load it has. Consequently, customers are much more eager to make use of it as it doesn't require a great mental work. Besides, it's much easier to accept information when pages are not overloaded with the unnecessary stuff and are filled only with the main data. Of course, someone may ask himself a question – what to do if his online-store offers a wide range of products or services? In this case, the best way out is to keep "category-subcategory" flow as logical as possible and offer product filters which will ease their search and save time. According to Hick's law, every additional choice increases the time required to make a decision. So make users' life less difficult – avoid offering long lists of all possible options and let them concentrate on what they really need. According to
Kissmetrics
, if you're an owner of Pet Food shop, your website structure should look lie this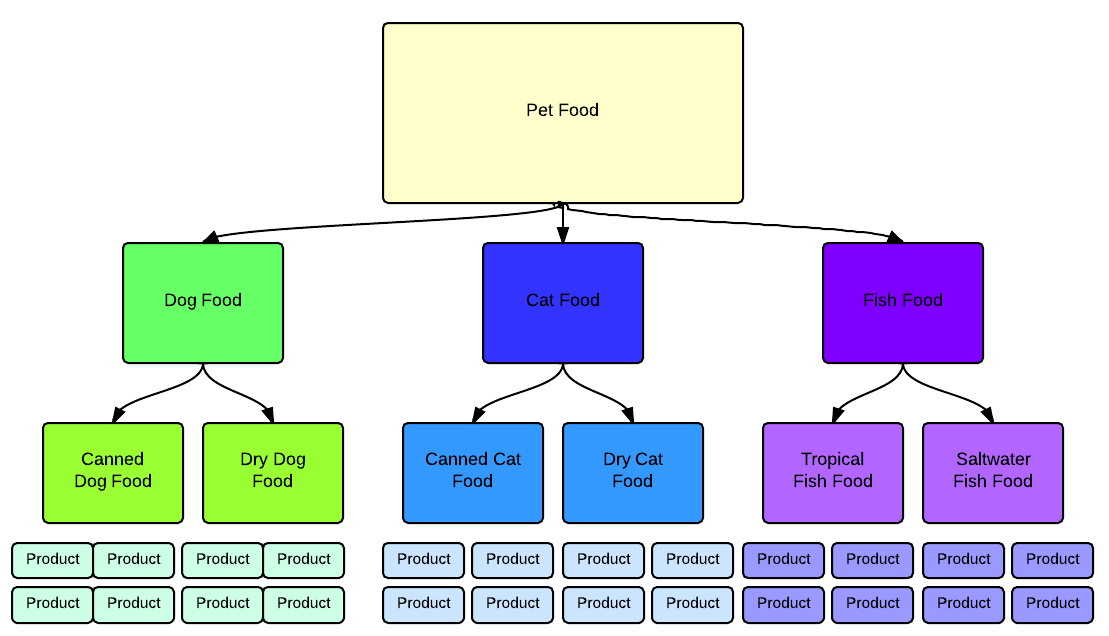 Navigation peculiarities
As we've mentioned, a good website has an intuitive navigation, but what does it mean, in fact? Your website should have visual clues which will help users not to get lost visiting your website. To do this you can use the power of size, color and place. You should keep in mind that a good navigation can always tell users where they are now and where they can go. In order to provide customers with such options, make sure your navigation buttons can be easily found and identified as such. Moreover, check whether the text on them is comprehensible, i.e. users will understand where this button will lead them. Besides, the access to your website mustn't be overcomplicated, too. Don't make users fill out several pages of registration form before accessing your website. On the contrary, be unobtrusive and let customers look around, find out what services or products you've got, and only then offer registration option. To cut the long story short –
make your website usable
.
Create a compelling content
Content is a weapon you can use to excel among the modern diversity of online-stores. To do this it's necessary to focus on your visitors and learn their interests. At the same time your content mustn't be trite and should include something peculiar. This may be a brand-new idea or a fresh view-point on a topic discussed earlier. The way you will tell about it is also crucial. You should also take into consideration the fact that most users scan the text first and if they find it involving, they get involved into a process of conscious reading. That is why it is so important to have some anchors which will draw customers' attention to the text. These may be capital letters or words in bold, or a captivating beginning of the sentence which asks to read it further. However, don't overdo it. Your content should include text written in a simple way which will be comprehensible for various visitors. Complicated sentences and intricate words will cause difficulties and lead to the decrease of website traffic.
Make it compatible
Don't forget to tackle the problem of compatibility and make your website accessible from various platforms and devices. Make sure, your website looks great in all browsers, too, and there are no difficulties with different screen sizes.
Add some aesthetics
Of course, one can't imagine a cool website without great pictures. Website general look is the first thing which catches visitors' attention even if they are looking for specific information. Therefore, get only professional photos or pictures, which correspond to the main principles of composing. This is a rule of thirds, which explains how to place the important image components so that they will be able to catch attention. Gestalt design principles will help to create the general captivating website look, which is very important as people accept the whole picture first, and only then pay attention to its parts. Moreover, keep in mind that everything must by symmetric as it is easier for users' perception. It's also necessary to point out the importance of colors you choose for a website. Each color has its own psychological aspect and is suitable for this or that business industry. Different colors trigger different feelings for us. Black is often associated with accuracy and credibility, and is more suitable for business connected with finances or manufacturing. Green is associated with nature and youth and is best for medicine, science or tourism. As you can see each color has its own peculiarities in marketing use and must be selected very carefully. To do this, you should take into consideration the type of a product you sell and a target audience whom you offer it. Moreover, make sure that background and text colors do not clash and users can read the words without any difficulties.
Don't forget about space
Check whether you have some space between texts or a text and images. This will ease the general perception of both website in general and information in particular. Besides, space may be used not only to make the text more readable but also to make a website look more balanced. Famous brands use white space as a part of their design, which adds their website more elegance. Apple is a great example of how free space can make your website look great.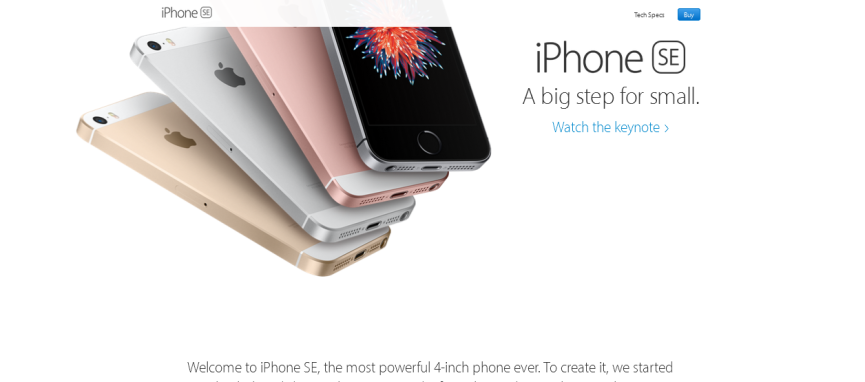 As you can see, website creation is a time-consuming and tedious process and in order to progress in it you have to understand the way users accept a website. Nevertheless, it is worth of all your efforts, time and money, as a great website is a direct way to your business success.

What role does a website design play for online-store prosperity? In fact, its part is really important. Website isn't just a face of your business. It's something much bigger. A well-designed website can bring its owner a good profit, while the site with poor design can lead to the complete downfall of business. A perfect website design is a dream of every person who possesses an online-store, but here comes the question – how to reach this ideal? Obviously, there is a set of principles one should know to make an excellent website, and we offer you to get acquainted with the main of them.