Ready for a new E-Commerce trends?
The end of the year offers an excellent opportunity to review the e-commerce trends that had defined the year and to prepare for what lies ahead in 2015.
"The only thing we know about the future is that it will be different." – Peter Drucker
And while nobody can accurately predict what is to come, we can be sure that some trends that began in 2014 will accelerate in 2015.
E-Commerce Forging Ahead
Looking at 2015 eCommerce trends from the soon-to-be-over 2014 it is already clear that the biggest challenge (and opportunity) for merchants in establishing a competitive advantage in the e-commerce landscape will be marked by their attitude to all things
mobile
. The ability to deliver usable interfaces for customers across all device types (fast) will become the biggest pain point for merchants who fail to adopt – and a reward for those who not only take mobile customers seriously, but actively cater to them with a dedicated mobile website, an app or a responsive website. Sure, drone delivery and other exciting news topics will get more than their worth in hype, but it won't be drones (yet) that will have to work hard to speed up your website for mobile devices. This is why in 2015 we will continue to venture into the topics on e-commerce website performance, while also offering insights into the long-awaited and soon to be released updates to Magento's Community and Enterprise editions, creatively named "Magento 2". We will continue to identify and share e-commerce industry's best practices and unearth actionable consumer insights to help keep your web store in top shape.
And Looking Back
During 2014, we explored the best-in-class Magento extensions that help delight, engage and motivate customers and make Magento store owners to stand out from the competition. We also offered insights into some of the finer points of setting up and optimizing Magento stores and noted that in spite of all the investments by the shop owners, shoppers are still not very satisfied with their e-commerce experiences. Already in 2014 it became evident that the rise of the mobile shopper is the most significant trend of the year, as mobile use explodes and prepares for domination in e-commerce.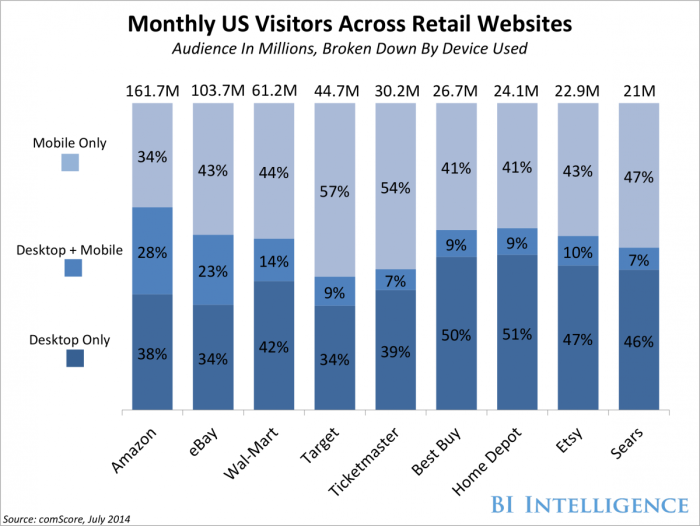 Our
five best-read articles of 2014
helped us identify the importance of having a fast-loading (as opposed to feature-packed) e-commerce website:
1. Why Your Website Got Slow
– Is an infographic that had put on the map the jaw-dropping web page size growth from 1077 to 1677 kilobytes, or up 67%, in just one year! Only 14% of e-commerce websites got faster while a whopping 49% got slower in 2014. When slower mobile Internet access is considered, this causes mobile customers to leave e-commerce stores without buying. Best practice retailers (the 14%) have intentionally avoided this trend.
2. E-Commerce Customer Behavior
– Is also an infographic, but one that looks at e-commerce from the perspective of customers' behavior. Again, the data revealed that websites that are slower than 3 seconds can lose more than half of their visitors! Users just don't see any difference between a slow website and a website that's out-of-service.
3. Customers Want Faster Website – Not Features
– Is a post that explores what exactly is a "fast" website, from a user's perspective and suggests implementing a Performance Budget as a tool for website design that allows for a disciplined and thoughtful approach to creating – and keeping – web sites fast.
4. What Affects the Cost of a Magento Store
– Pricing a turnkey Magento store is notoriously hard, as every store is unique, and the customization options offered by the Magento ecosystem can easily cause the project to spiral out of control. As with any software project, planning is essential, so we explored several less-than-obvious topics that can affect your budget.
5. Get Back Online Shoppers Who Abandon Carts
– It is no secret that the vast majority of online shopping carts are abandoned. The infographic explores the reasons why buyers are reluctant to complete purchases and offers proven user interface tricks with the potential to increase your conversion rates.
More to Explore About E-Commerce
Feel free to explore all of our blog
articles
we had published on e-commerce best practices and consumer behavior, along with several Magento store
extensions
we recommend as enhancements to standard Magento functionality. We hope your year has been just as fun and eventful as ours and wish you a Happy New Year from everyone at MavenEcommerce! Featured image credit:
Retronaut