New York's cookie secret is out Worldwide thanks to a newly redesigned online store
October 27, 2014
New York City, NY, USA
Since 1983, New York City residents have been enjoying delicious surprises in simple tin boxes with a Gimmee Jimmy's Cookies logo, left inside apartments by landlords and real estate agents to greet their new residents. Sometimes, the tin would actually be the only "furniture" waiting inside the newly rented apartments. The artisanal bakery making the exquisite cookies from all-natural ingredients right before they are shipped had been one of New York's best kept secrets. Not anymore. From now on anyone with a credit card and an address almost anywhere on Earth can choose a delivery date and pick any item from GJ Cookies catalog on the newly updated
website
.
Limitations of the Previous Web Store Platform
The previous website platform, Yahoo's Bigcommerce, had several downsides:
A 2% transaction fee on all orders
Additional credit card processing fee
Complex store administration due to many standard features that are impossible to turn off
Lack of inventory management options for processes specific to GJ Cookies
GJ Cookies originally chose the Bigcommerce due to the platform's turnkey nature. Because GJ Cookies products are made to order for a specific shipping date, the product sales are tightly connected with the baking schedule, requiring the sales and the production to work in concert. The lack of customization for this specific process, as well as the high transaction and credit card fees, combined with the inability to turn off unnecessary features in the administrative panel had sent the Commercial Director to look for better-suited alternatives.
New Web Store Platform Chosen
Maven offered the GJ Cookies team to swap their Yahoo Bigcommerce website for a new open-source based Magento Community Edition. This solution helped to avoid the transaction fees, adding several features that met the sales-to-production cycle needs, as well as helped to expand the company's marketing visibility while simplifying product administration. Allowing to meet the bakery's freshness promise while expanding the customer geography and meeting all feature requirements at a reasonable cost is that convinced the GJ Cookies team to hire MavenEcommerce Magento experts for this new project.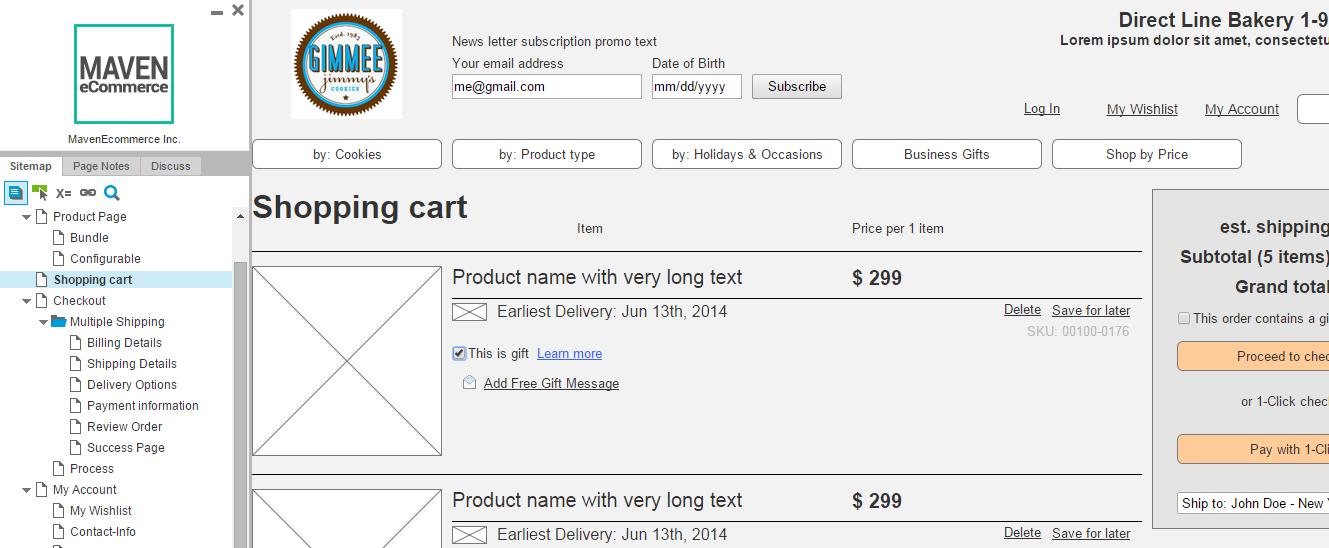 GJ Cookies Wireframes Screenshot
Custom Magento Features
MavenEcommerce has offered to rebuild the website from scratch, starting from wireframes and user experience design on the front end as well as architected the back end of the new solution. The complete Magento solution provides the following features:
A custom Magento website theme bult to specification
One-Page Checkout with Gift option and Shipping to Multiple Addresses
Easy product management with spreadsheet-based Import/Export function
Paypal and Authorize.net payment processing integration
SellerCloud extension for multichannel sales (Amazon, Ebay, etc.)
Shipment cost optimizer based on delivery date
The new Magento store offers only the useful features and no clutter. It allows customers to select optimal shipment options based on expected delivery date. The new store has allowed GJ Cookies to eliminate transaction costs and to continue to deliver on the freshness promise, even for worldwide orders.
About Gimmee Jimmy's Cookies
Gimmee Jimmy's Cookies offers only freshly-baked, carefully sourced, expertly crafted baked cookies, cakes and desserts. They use only the freshest all natural ingredients without anything artificial to create birthday gifts, corporate gifts, student care packs, fund raising sets and corporate premium gifts. Because all natural products have limited shelf life, GJ Cookies products are made-to-order and are shipped almost immediately. B2B customers represent service providers in Real Estate, Automotive, Banking, Restaurant and other industry verticals.