MS Mode
, and others, we share our advice on how fashion retail online is different from other industries.
Why online fashion stores are so different?
Fashion is still very much focused on visuals, even online. Not only your website must be beautiful and immersive – meaning design, usability and content will all require significant attention – but it should also allow each customer a degree of personalization and should be intuitively easy to navigate. Easier said than done, but we have compiled some advice to help you avoid several expensive blunders.
What fashion shoppers expect from The Look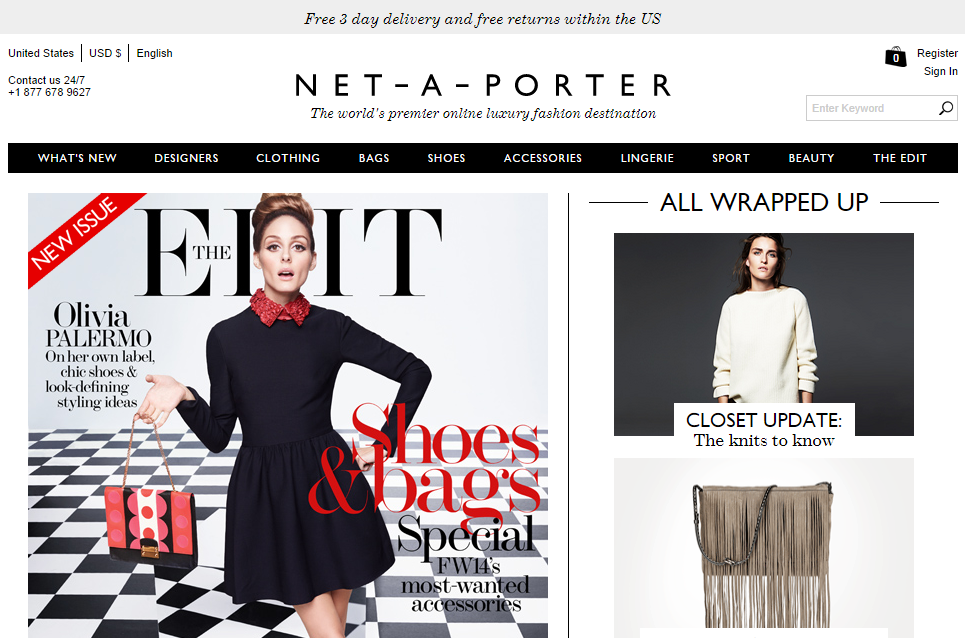 Net-A-Porter Homepage Your homepage is the online window to your store and your bestsellers need to be showcased there front and center. You will need high-quality images showing each article's fit on a model as your customer is visually trying your fashions on. So even if a customer's first reaction is to buy, your goal is to ensure that her considered reaction is not to return the merchandise. Before you think about creating or updating your e-commerce website selling fashion, make an audit of the content and creative resources that you will need to have available to have a very high image and video quality, several images for each piece taken from different perspectives and image format that will be consistent throughout the website (it will likely be Portrait orientation for all images, but Landscape for video, which will impact the overall website design).
How fashion shoppers expect from online product descriptions
Groups of products, referred to as Lookbooks, Shop-The-Look, Buy The Look, etc. are great tools to showcase collection packages and moods. Some fashion commerce websites attempt to catch visitors' attention with fashion articles, copying the fashion magazines' text approach, but we think that the most appealing way to explore your store is by immersing visitors into a variety of possibilities your collection offers them.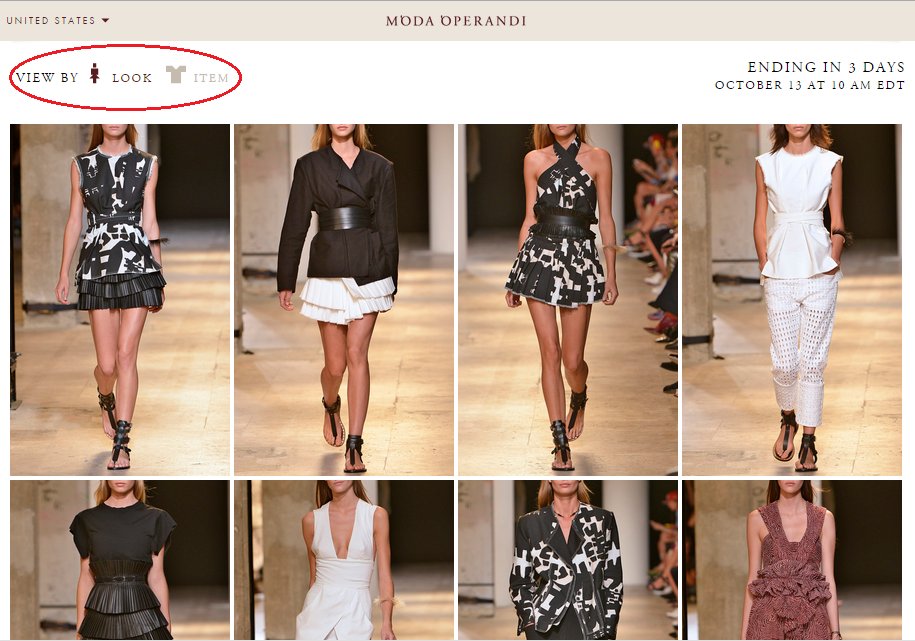 Moda Operandi shop by look No screen size or resolution will perfectly describe the shade, the feel of the fabric and the exact size of your fashion products. This is the perfect opportunity to curate entire outfits by creating product groups, or bundles. By definition, these products should complement and match each other, reducing the risk of returns due to color and fabric mismatches. Notice that the Moda Operandi website uses the Look (as opposed to the Product) as the default display option. Once your customer selects a visually appealing Fashion Look it is time to reveal key details about the individual products: their name (ideally including the piece type, the fabric and its dominant shades) and the product price.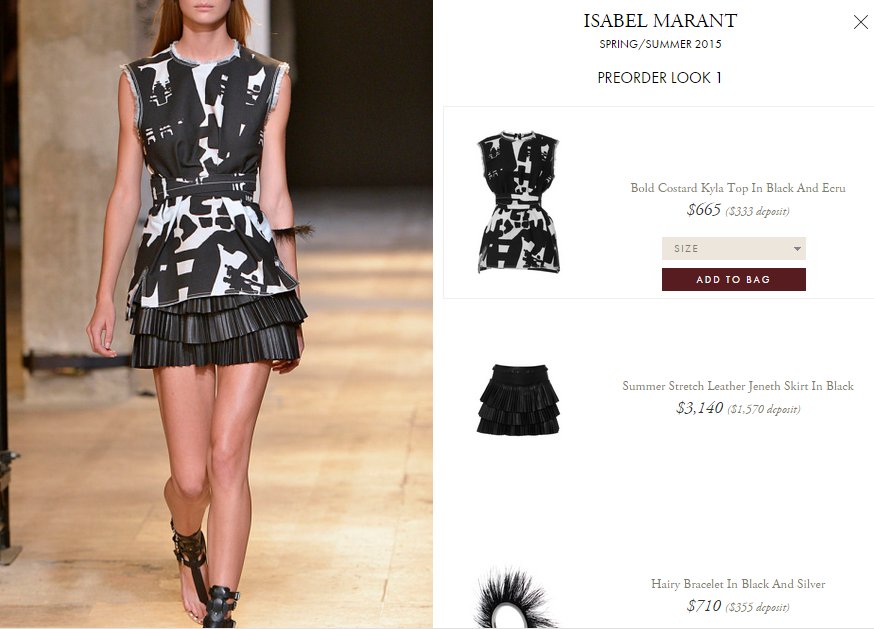 Moda Operandi pieces creating the look Most of your products will have many attributes: sizes, colors, fits – meaning they will be
configurable
. While in most ecommerce stores configurable products take up to 10% of the inventory, the vast majority of products in Fashion retail will be configurable – meaning most articles will have several SKUs associated with each one. Your task will be to offer your customers an easy way to filter various attributes while maintaining a complex logic behind matching products.
When fashion shoppers are ready to complete the sale online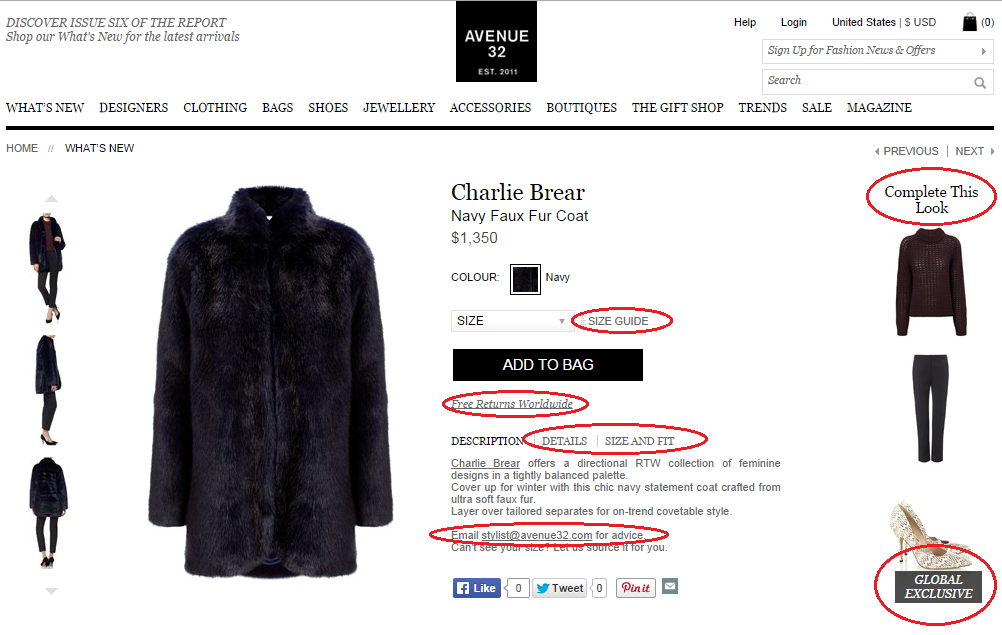 Avenue 32 add to bag features Your customer is now looking at an item, unsure whether she wants to get closer to the product or if she should continue browsing. This is the time to show off your expertise and service: information (size chart, fit guide, brief and additional product details), returns policy (make it visible if it's free), delivery (how fast and at what price), ways to contact you (live chat, email, phone) and calls to action for those who are just browsing (related products and special deals) must fit on the screen elegantly. This is very well executed by the architects of the Avenue 32 store, but will always remain a challenge – especially on mobile devices. Most of the website visitors will just browse, but once they make up their mind, the purchase process should be seamless and fast. If your fashion brand follows the seasonal collection strategy, accurate and relevant discount pricing for out-of-season and past collections items. Online fashion retail requires the implementation of a fairly complex discount management strategy for collections, groups of products and individual pieces – and this process is best manages by discount rules. With planning, automated discounting can also become a powerful tool for both generating repeat customers and for smart inventory management.
How Your Mobile Customers' Needs are Different
Online shopping increasingly means mobile shopping, too. The challenge is that fashion customers are expecting a rich and elegant experience with a fast checkout on screen sizes that are much smaller. Your choice in Mobile is essentially between a dedicated Mobile Site and a Responsive Web Design.




One of our clients, a mass-market fashion retailer from the Netherlands
MS Mode
chose to create a separate Mobile Version of a website for users accessing it from mobile devices, which allowed them to forgo a wholesale redesign of their desktop website. A Mobile Version also allowed MS Mode to optimize browsing for performance (due to a large number of media on the desktop website), offers a mobile-specific navigation interface geared for tapping and helps customers find directions to the nearest offline stores. Responsive design is a better fit for companies developing their web stores from scratch. While creating a Responsive fashion commerce website is a more complex task, in the long run it allows for a unified management of advertisements, tracking, redirects, payment and gift codes in one location, as well as does not risk inaccurate website traffic statistics. Regardless of the choice, make sure that your brand's fashion website loads fast on most common devices and even over spotty mobile Internet connections.
Tools for Keeping Your Online Customers
Every time your customers browse fashion items in your store they create opportunities for you to build a personalized relationship with them. Enabling this experience requires the use of an integrated CRM solution like
OroCRM
combined with email campaigns segmented according to customer profiles. Your registered account holders are your marketing database, allowing you to offer personalized discount invitations and other relevant marketing campaigns: notifying them on collection previews, new arrivals, birthday discounts, etc. Don't insist that your customers create an account, but make sure you offer discounts or gifts for those who do. Simpler strategies matter, too: the knowledgeability of your customer support staff, the degree of accuracy of your product descriptions and the accessibility of your returns and replacement policy. When you sell online there is no reason not to sell globally, but keep in mind that localization does not only mean translation to other languages, but also different size charts, payment systems and customs rules.
Creating A Fashion Business Online: Summary
In some ways, fashion business is unlike any other e-commerce business. Make sure you discuss the following important questions before selling fashion apparel online:
image size, quality, quantity – and your capabilities to generate them consistently
website speed under heavy workload – your customers are guaranteed to browse heavily
product configuration and discount strategy – to automate tedious processes right away
your current software infrastructure – and how it will communicate with your website
Magento is the technology of choice when it comes to

fashion e-commerce

, so feel free to reach out to MavenEcommerce if you have an online store idea to discuss. Our advice is free, but we do ask difficult questions!

Want to build or update an online apparel store for your fashion brand? Your customers are looking for your products online and their actual shopping experience in large part depends on you. You may wonder how selling fashion may be different from selling, say, electronics, or anything else online. Trust the practitioners: fashion retail is unique in several important ways. Having launched many Magento stores for fashion brands like Scotch and Soda,