Wiser Automates Price Competitiveness
In the era of Google Shopping, Nextag, Pricegrabber and other price comparison resources, how do small businesses remain price competitive with the likes of Amazon, eBay and other e-commerce giants?
The video above shows how customers search for products and how Wiser helps optimize the pricing strategy.
If your business sells products that are also available elsewhere on the web, ignoring your competitors' price changes is not an option. Wiser, a software-as-a-service integrated with Magento in the form of an extension, allows store owners to automate pricing rules so that your store prices dynamically adjust based on your competitors' changes.
Wiser Features
Wiser dashboard provides a product price history graph that shows product prices of all the other merchants, allowing to monitor and compare price changes and automated repricing rules to match certain retailers, beat their price or even allow the algorithm to do your job – with minimums and maximums set by you.
The automated tools enable your store to react instantaneously to price changes by your competitors.
Price History Competitive Intelligence
Wiser displays product price history of competing retailers in a convenient dashboard where you can monitor and compare competitors' prices over time and inform your own pricing decisions.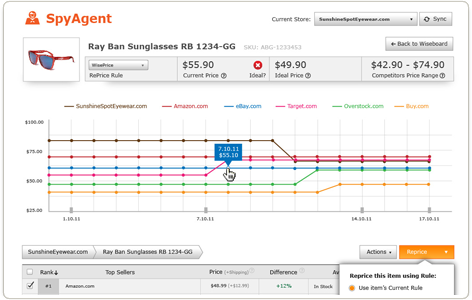 Wiser competitive pricing screenshot
The tools ensures that your price strategy (with a minimum and a maximum price floors and ceilings) will always attain optimal price points to increase sales and profitability.
Real Time Pricing Strategy Flexibility
Advanced rules help define profitability levels, repricing thresholds, automated rules for markups and markdowns automation. These can be automated, or you can just monitor your competitors on a daily basis and make changes manually. While others have to rely on old-fashioned, tedious research, Wiser does all the hard work for you.
Magento Sync Ready
The Wiser Magento extension's sync function works instantly, without the hassle of generating, uploading and verifying file and product imports. Once the extension is installed, Wiser just works.
Starting with Wiser
Starting with Wiser is relatively easy, so the installation and setup are worth it when it comes to testing out the product for 14 days for free, but the account with the provider is required. Plans aren't cheap, but they are geared at fairly large marketplaces with up to three stores with less than 15,000 products, starting at about $800/month (699 in Euros). Feel free to contact Maven if you are having difficulties and need assistance with Wiser extension installation for Magento.
Summary
We recommend Wiser for medium-sized retailers, brands and manufacturers who sell products that are available from multiple online merchants. Wiser allows marketplaces to price products competitively by automating the process of increasing and decreasing product prices to stay relevant in fast-changing markets. If you are currently price products manually, based on manual research you need to consider this full-featured dynamic pricing and merchandising engine that monitors, analyzes and reprices retail products in real-time.
Contact Maven to assist you with Wiser