OroCRM Integration
OroCRM is not just a Magento store CRM extension, but an open-source CRM Platform that complements the Magento functionality with both Sales and Marketing tools. Moreover, it is not just a tool, but a platform, meaning that its list of useful features and extensions will only grow with time, improving and extending its capabilities. We review the features of this system to make it transparent why we recommend the ORO CRM extension, the most flexible and future-proof CRM system in our view.
Why OroCRM?
OroCRM is an excellent tool for Magento store owners, especially for those who do not yet use software solutions to attract and retain customers. Traditionally, Campaign Management (Marketing Automation) and CRM (Sales and Loyalty) are separate systems that don't intuitively interface between each other, nor do they seamlessly integrate with an eCommerce store. Not so with OroCRM: this Magento add-on allows store owners to attain a much more detailed view of the customer journey – from the lead funnel to encouraging customer loyalty. Most of the synchronization is automated, but the CRM setup options allow for plenty of customizations to fit each store's specific business processes. The three-pronged approach of OroCRM allows to have a unified 1. Marketing, 2. Sales and 3. Third-Party Support that takes Magento store's customer service functionality to the next level.
1. OroCRM Marketing Tools
ORO CRM Marketing tools consist of powerful Data Integration, Customer Segmentation, Campaign and Reporting features that allow both an individual customer approach and a bird's eye view of the overall Marketing activities.
Data Integration
OroCRM automatically imports and structures customers, orders and shopping carts from a variety of marketing systems in a unified interface. Data from Magento store database, Sopify, ATG, Prestashop, Hybris, Demandware, Amazon, EBAY and Microsoft is easily integrated by OroCRM, providing a rich understanding of customers'shopping behavior.
Customer Segmentation
Once data is loaded, customer segmentation tools then allow users to segment customers by sales channels and campaigns, with filters, customer behaviour tracking functionality, customer engagement tracking and customer satisfaction metrics.
Tools for Campaigns
Campaigns are easy to set up and manage, with key performance indicators of each campaign displaying a timeline graph with events triggered by it. Automated marketing features and KPIs allow to track campaign effectiveness for each campaign by user and product segment.
Reporting
OroCRM Dashboards are intuitive and customizable. Users can use built-in system dashboards, or create the reports and dashboards needed to make the most important processes and activities visible. The systems comes pre-loaded with canned charts and reports, with the ability to add as many more as needed. Leads, Opportunities, Contacts, and Accounts are all tracked by Source, Stage and provide the ability to check the individual account interaction history.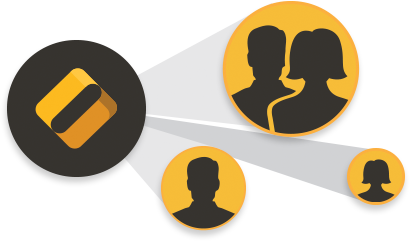 2. OroCRM Sales Tools
The Sales tools offered by OroCRM take fairly standard CRM features, but make them more accessible, more automated and more integrated with a Magento store than any other CRM system. Sales features include Contacts and Activity Management, Organization Management and Multi-Channel Sales Workflow.
Contacts and Activity Management
Individual Contacts are fairly standard feature of any CRM system – only with OroCRM this data no longer has to be manually entered, as the system intelligently captures user account data from multiple sources. Leads and activities are connected with each contact seamlessly. A wealth of built-in tools like Calendar, Notes, Tasks, Reminders and Case Management are built-in and can be used as much or as little as the Sales team needs them.
Organization Management
OroCRM is flexible enough to support managing multiple business units, multiple sales channels and multiple user types. Several stores and workflows can be managed by a variety of built-in user account permission groups.
Multi-Channel Sales Workflow
Built-in multi-channel sales workflow integrates data such as customer information, sales history and abandoned shopping carts to help deliver sales flows that maximize conversion. This feature provides intelligent suggestions about sales channels that generate the most conversions.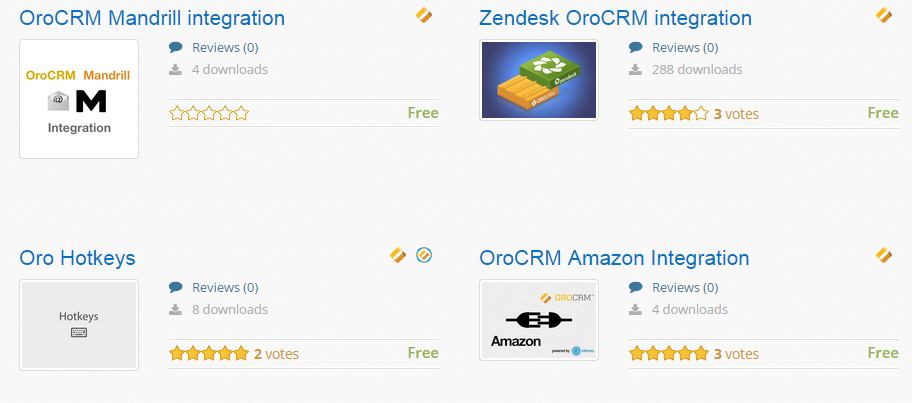 3. The OroCRM Developer Marketplace
The most important feature of the OroCRM, however, is none of those mentioned above. Unlike any CRM solution for Magento, OroCRM is built as an open-source CRM platform open to third-party extensions. This growing library is, in our view, the key to this system's viability and interoperability with a variety of already customized Magento stores. Already, extensions connecting OroCRM with business intelligence, contact management, email marketing, loyalty programs are available in the OroCRM Marketlace. This CRM connectivity to eBay Stores, Amazon Stores, Zendesk, Sweet Tooth and other popular Magento extensions ensures that the Oro ecosystem will grow in functionality. We think that this ensures a reliable solution with as little as possible data entry overhead and near-ERP level of functionality.
Summary
Overall, OroCRM offers much more in terms of automation and customer support than any CRM system available within the Magento ecosystem: it is a fantastic tool unifying Marketing activities and Sales data into one system that automatically captures data from Magento stores. This allows store owners to obtain better customer at their fingertips and to build a unified lead generation and customer nurturing system. By offering a developer marketplace, the publisher of the OroCRM has chosen a growth path that is sure to expand the system's functionality and to provide many more integration options for the future. Feel free to contact us and discuss how your Magento store can integrate with a CRM system that minimizes manual entry and enables better customer service provision.
Contact Maven to assist you with OroCRM