MailChimp Integration
Does the word combination "email marketing" make you cringe? Burnt by the consumer response to unsolicited email blasts (spam) store owners still shy away from keeping in touch with their customers. That's a shame, because when used properly, email marketing to your current customers is possibly the most underrated yet most effective marketing channel.
Why Use Email Marketing?
With open rates for women's fashion retailers near 35%, email is probably the most effective marketing tool in industries with fast product cycles. Most customers expect welcome and reminder emails for several actions: newsletter sign up, account creation, favorited items or added products to the wish lists, abandoned shopping carts, etc. When emails are targeted and provide a shortcut to a potentially desirable action by the consumer, emails are no longer perceived as spam. Having a customer's email is an asset, when used wisely. Ensure that your contact with the consumer is geared for the long run by using the following as guidelines:
frequency: one email per week is not perceived as spam
clear subject lines: matching email content
relevant content: seasonal, personalized
special offers, but not all the time
voice consistent with brand image
unique email topics and offers
Had you ever signed up for a newsletter and actually missed never getting a confirmation email? Similarly, don't let your customers down – especially when they expect to hear from you.
A Great Example for an Abandoned Cart Follow-Up Email
Why Use MailChimp?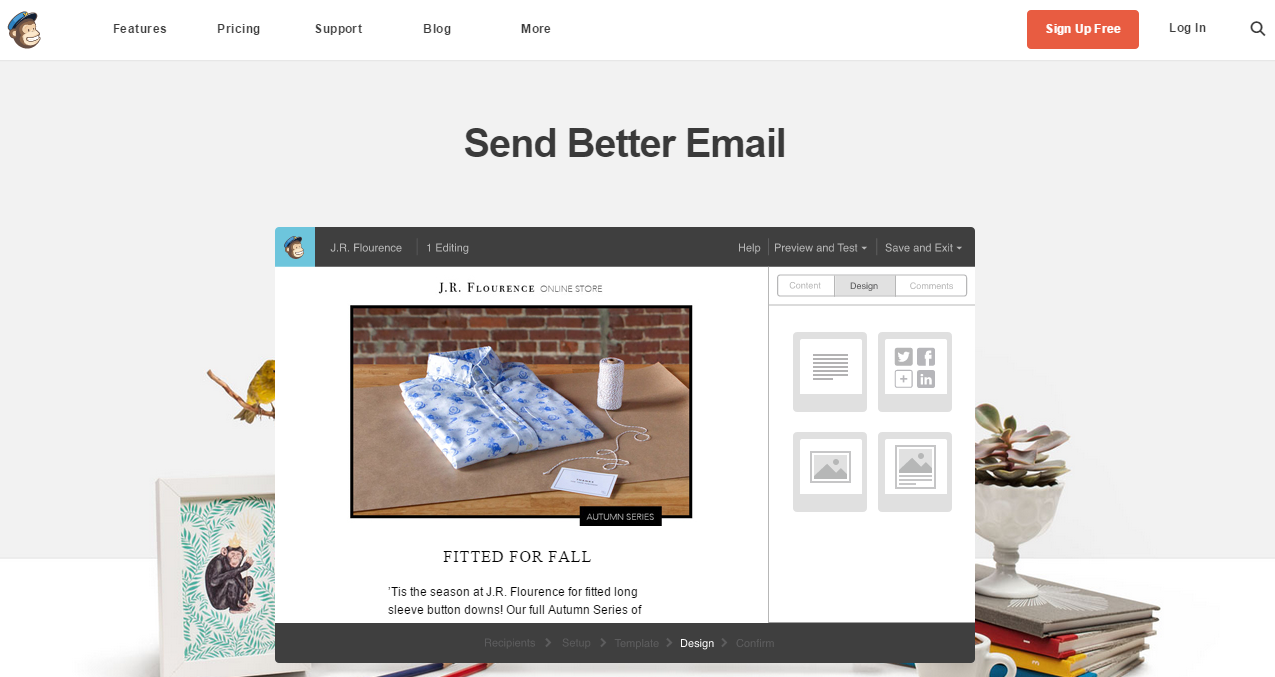 MailChimp homepage
MailChimp is a de-facto leader in email marketing automation, operating on a freemium subscription model with a usable free service at low email transaction volumes. The MailChimp Magento extension allows you to to:
synchronize Magento's newsletters subscribers with your MailChimp lists
Supports multiple lists and interest groups
send data both ways
integrate transactional emails via Mandrill
Once you integrate MailChimp (and create and account with them if you don't have one already) you'll get access to all of the DIY email creation and send optimization tools:
drag-and-drop and templated email design
emails optimized for mobile users
automated email workflows setup
delivery time optimization
analytics
…and more
MailChimp is designed for the DIY email campaign marketer in mind, is fairly easy to set up and use and makes every business look professional.
Starting with MailChimp
MailChimp is a freemium SaaS with a free plan for small businesses and entrepreneurs, with further paid monthly plans priced based on a combination of email addresses you have and number of emails you send out per month.
MailChimp Takeaways
MailChimp is a CanSpam Act compliant email service provider that easily integrates with your Magento store. If you are planning to communicate with you customers via email, MailChimp offers the best value and easy-to-use functionality that keeps your email messages out of your customers' Spam folder.
Contact Maven to assist you with MailChimp