Bronto Integration
Bronto is an e-commerce Marketing Automation extension for Magento. If you're running an e-commerce store you have customer data by definition: names, phones, emails, abandoned shopping carts, wish lists, purchase history. Making that data work requires time and resources, but Marketing Automation allows the store owners to increase revenue with minimum effort.
Why Use Marketing Automation?
Usually the term "marketing automation" refers to email campaigns (to drive website traffic) and social media monitoring (to make sure that a brand's positive mentions in social media are magnified and negative ones addressed in a timely manner). Generally, marketing automation is more focused on customer service. Email marketing may have a dented reputation, but it is very much in use because it is still the most effective marketing channel. Because of the anti-spam legislation and mailbox filters it has become harder to use mass email marketing, which makes intelligent use of it much more important. Having reviewed the top email marketing solutions (Marketo, Hootsuite, HubSpot, Act-On, Pardot and Silverpop) we are not convinced that either of them can adequately meet the needs of an ecommerce store, as they are still quite general and are not focused on improving revenue. This is why we review marketing automation solutions built specifically for e-commerce stores.
Marketing Automation in Ecommerce
Consider this: 70 percent of online store visitors who add products to their shopping cart exit the website without completing the purchase. Marketing automation for an online store must, therefore, first and foremost focus on increasing sales, and help with customer service as an added benefit. The abandoned cart alone represents a substantial revenue opportunity for a follow-up reminder and over half the visitors appreciate a reminder email that prompts them to return and complete the purchase.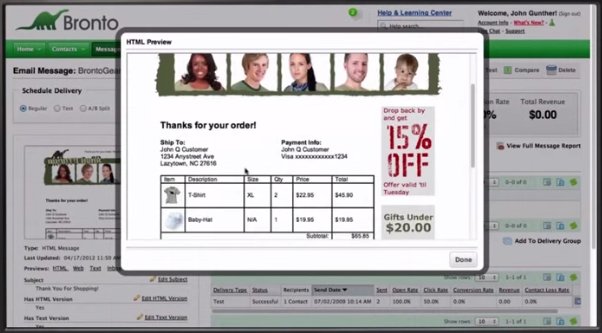 Cross-Sell and Up-Sell Messages within the Order Confirmation
There are countless opportunities to legitimately connect with consumers without being too pushy as many user behaviors can be segmented, categorized and personalized with unique propositions presented to each customer type:
Abandoned shopping cart reminder
Product suggestions in the order confirmation email
Introduction to your customer community on your social media
Product use tutorials and learning materials as customers await delivery
Customer survey shortly after the product should have been received
New product or a discount in a preferred product line
Gift offers to high average purchase amount customers
Reminders to past gift purchasers
Seasonal reminders to make sure products can be delivered on time
Reconnecting with lapsed buyers
…and so on
Even transactional emails (purchase confirmation, shipping confirmation) can be used as opportunities for upselling and cross-selling. Considering the complexity in segmentation, customer behaviors, individual personalization etc. we found Bronto to be the most flexible and easy to use solution – little wonder they are the undisputed leader in Magento Connect store in the Marketing Automation category.
Bronto Marketing Automation Features
Bronto has many features available in many marketing automation systems. We'll only review those that make Bronto an especially good fit with a Magento e-commerce store: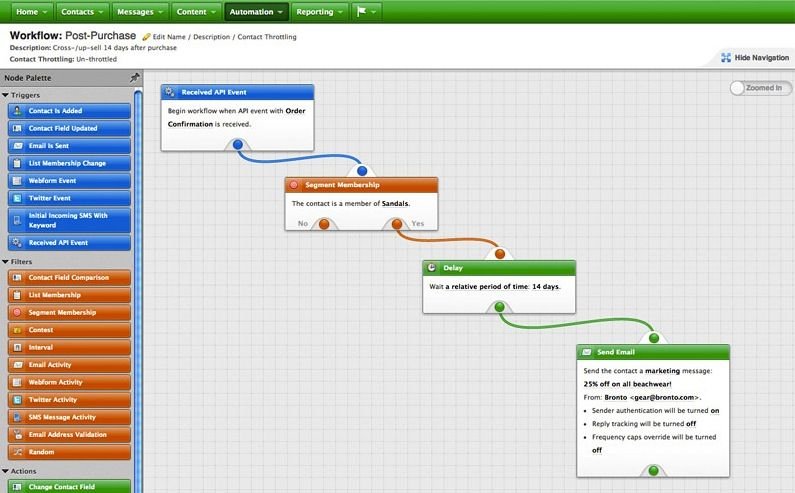 Intuitive User Inteface for Automation
Automation
The event-triggered automation within Bronto is the feature that truly addresses the needs of ecommerce stores and separates it from all the other marketing automation providers. Behavior filtering, choice of email or SMS channel for message delivery on a a drag-and-drop screen makes an otherwise labor-intensive process a breeze.
Cart Recovery
Following up on abandoned shopping carts is the area with the most revenue recovery potential in e-commerce, and here Bronto does a very good job. The software identifies abandoned carts and triggers automated, personalized messages.
Campaigns
Bronto's friendly drag-and-drop interface simplifies customer segmentation. All of the above-mentioned scenarios of customers and behaviors that we could some up with can be easily set up in just a few clicks for each scenario. The contact management and list management features are integrated with the campaign data – essentially representing a mini-CRM system.
Reporting
Customers' average order value, order totals, total revenue and the other recency, frequency and monetary value (RFM) metrics are built-in. The reporting dashboard allows to easily see first-time buyers and to segment customers, as well as shows campaign statistics.
For an overview of how Bronto looks and works watch the short video below:
Summary
Bronto by far exceeds the capabilities of any marketing automation systems in terms of what's most relevant for maximizing revenue in an online store. Feel free to contact us and discuss how we could help integrate your Magento store with Bronto or with another marketing automation system that will improve your customer service and revenue.
Contact Maven to assist you with Bronto