Jirafe Integration
Jirafe is an Intelligent Customer and Product Decision Tool. Can you name your store's KPIs (visits, conversions, purchases, average order value), which products are your best sellers, which marketing campaigns are working (and which don't), which products need discounting, which users have lapsed and need reminder emails? Answering these essential questions is what the merchandizing and marketing intelligence extension Jirafe is called to do in a fast and easy way.
Do you track your website traffic with Google Analytics?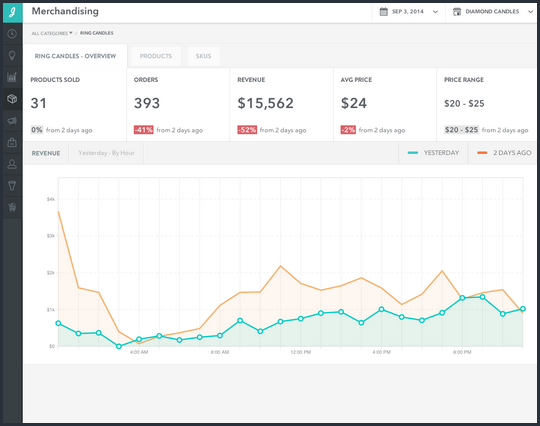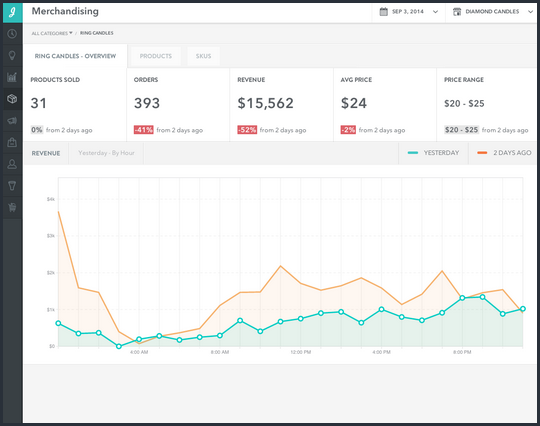 Looks like Google Analytics to me…
Imagine you approached your store's customer and product data with a Google Analytics-like product – and you'll instantly get the idea of what Jirafe is like. It shows the most essential store data in dashboards, with customer data, product merchandising data and insights (advice) on how to optimize both presented with relevant context.
But Magento has a Dashboard Already…
Since Magento administrative module already has a dashboard, the question of value of this yet another dashboard layer is legitimate. Jirafe is both less and more than the standard dashboard: it presents information following a pyramid principle, meaning only the essential summary information is presented from the start (less), with additional data being revealed based on the context of the user's interest (more). If you download product and customer data in CSV or Excel formats for analysis, Jirafe could be an intuitive replacement for intelligent decision making regarding your products and customers, removing the need for manual data downloads, processing and manipulation for planning and decision making. See what store insights you could get with Jirafe in this 9-minute video below:
No Time for the Video?
We review how Jirafe is different from the standard Magento dashboard.
Jirafe Dashboard
The main Dashboard gives a snapshot of how the store is doing at any given moment or at a specified time period. It is a CEO-ready visually pleasing summary of visits, conversions, orders, revenue and products ordered. The dashboard functions as a gateway to detailed visual reports on data like the purchase funnel, order list, specific customers, merchandise statistics and marketing campaign performance data. It neatly summarizes the various channels, campaigns and promotions that lead to sales – and those that don't.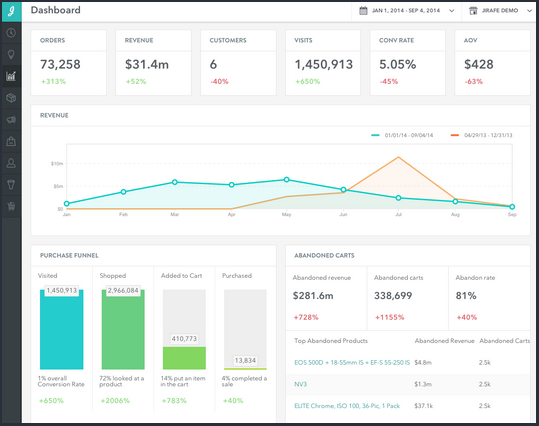 Jirafe Dashboard Screenshot
Customers
Customers in Jirafe can both be approached as ranked groups (for marketing campaign purposes) and as individuals. Bulk customer analytics focus on channel and media mix, conversion patterns, purchase patterns, and customer behavior to most effectively connect product mix, promotions, messaging and media choices with customer group preferences. Individual customer view offers functionality usually associated with a CRM system: it identifies the customer, lists order history, but also gives the context about which purchasing groups the user belongs to based on hard data.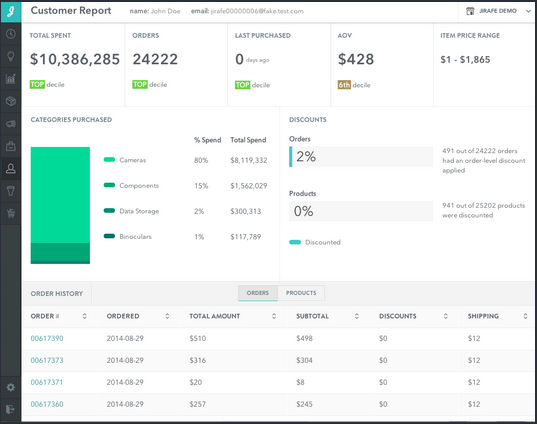 Jirafe Customers Screenshot
Products / Merchandising
Jirafe's Product section zeroes in on the profitability of merchandise by category and by product SKU. Stores with hundreds of SKUs and several product categories will especially benefit from being able to quickly assess sales performance and to visualize product demand curves, helping category managers to identify portfolio expansion opportunities.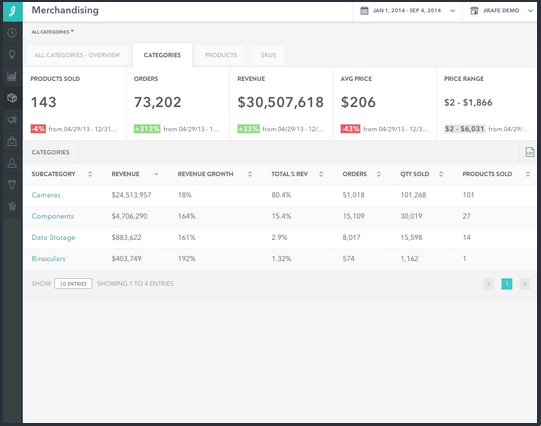 Jirafe Products Screenshot
Jirafe Insights
Insights relate to both customer categories and products – and this single feature is what makes Jirafe truly valuable. Campaign analysis is focused on improving conversion rates by identifying buying patterns. Products are analyzed from the merchandising angle so that retailers can categorize products to highlight, products to discount and products to discontinue. Jirafe Insights are auto-generated suggestions that are derived from the analysis of the actual shopping behavior, so they take up to a month of usage to materialise. "What new sales and marketing initiatives can I implement to increase sales and profitability?"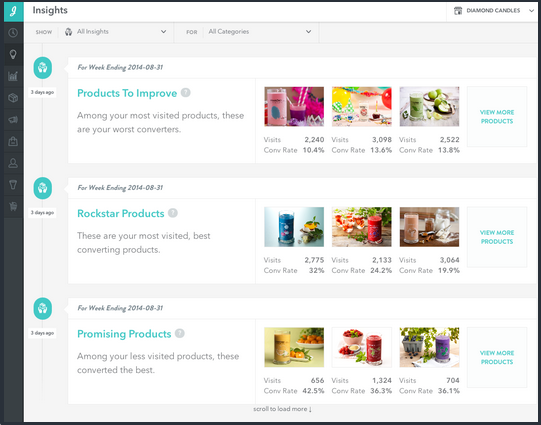 Jirafe Insights Screenshot
What Jirafe Isn't
Jirafe is a great tool, but it should't be seen as the only extension to consider for your Magento Store. For example, Jirafe will allow to categorize customers (by low average order value, best customers, lapsed customers), but the follow-up campaign will need to be executed with an email solution or a marketing automation solution.
Cost and Time to Implement
Jirafe operates under a SaaS subscription model with monthly cost starting at $99 for stores with up to $1 million annual sales and 5 users.
Summary
We highly recommend Jirafe as a tool for generating actionable insights for marketing campaigns and optimization of the product mix. There are many reasons to like Jirafe – the ones that we especially appreciated are:
readily available product and campaign insights
clean interfaces that get right to the point
clear language written for humans
intuitive app-like functionality
The only downside (one that is unavoidable) is that the extension needs time (about one month) to crunch data and generate actionable insights – its key feature by far. Feel free to contact us and discuss how we could help integrate your Magento store with Jirafe to help you gain insights into your customer segments and your product mix.
Contact Maven to assist you with Jirafe Analytics